My oh my, these brownies are something else. Brownies that you dream about really. These fudgey, rich brownies are spiked with whisky and coffee and then served with a dollop of double cream and a warm whisky butterscotch sauce on top! Dear Reader, this is a pushy recipe!
I based the brownie on the original brownie recipe from Chicago where they were invented. I added a dash of whisky and coffee, a dollop of double cream and rich whisky sauce. The idea for these brownies came from a dinner out with friends. I always marvel at people who can drink coffee before they go to sleep and that call it a nightcap. I understand those that want to drink whisky to lull themselves to sleep so I combined the two and called these my "Nightcap brownies".
I made this for a winter dinner party I was having. I promise that these brownies will keep your warm from the inside. There's no need to go out to eat something delicious when something incredible can be made and eaten in the comfort of your own home.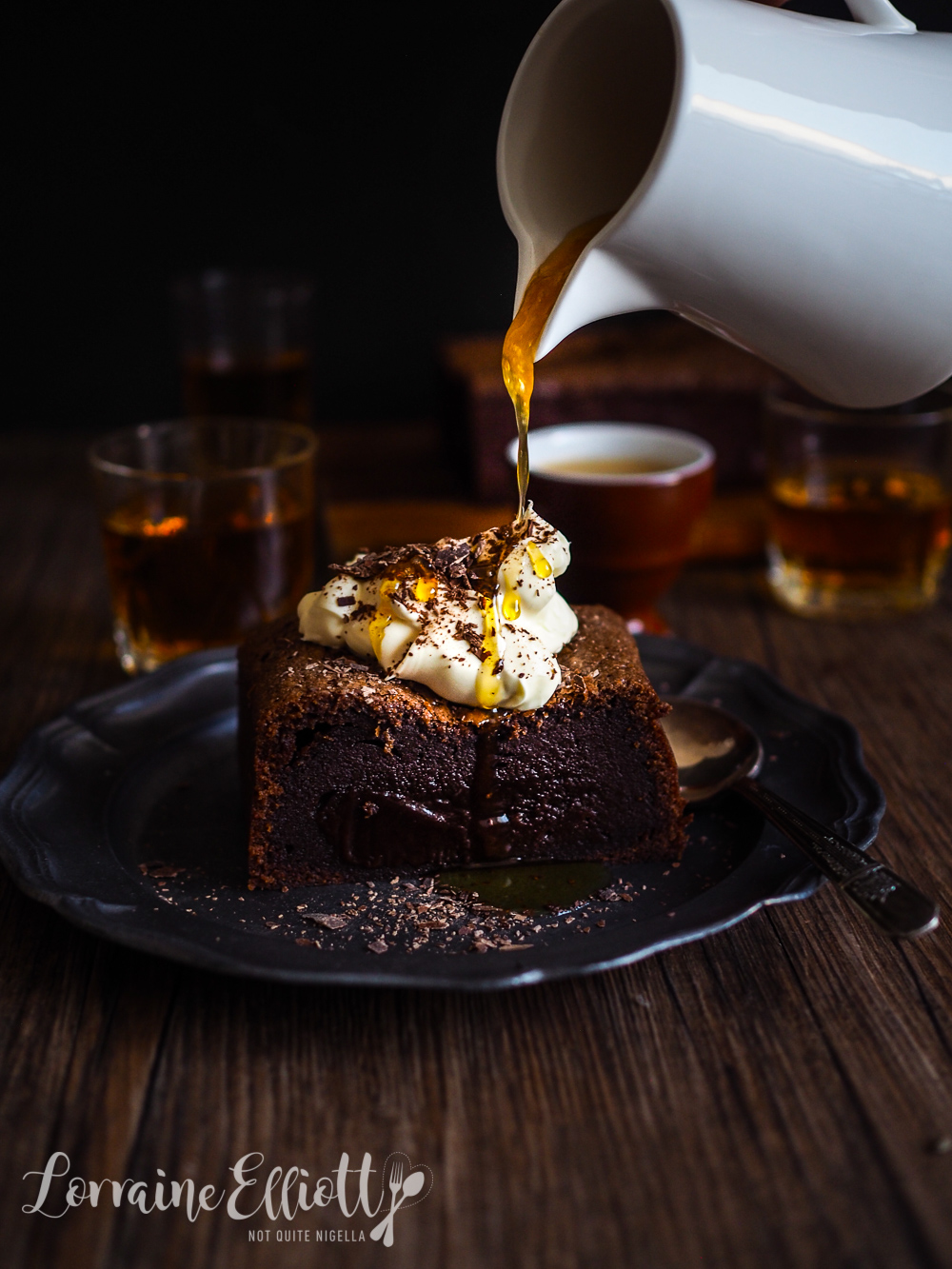 Something usually hits me mid winter and I get really, really sick of the cold. We usually go away for Mr NQN's birthday in August but we are saving his leave for a trip in November. And this winter I got sick of waking up chilly and layering on clothes. I also got sick of my winter wardrobe which is very dull and boring compared to my summer wardrobe.
I was so cold I'd write in the afternoons while wearing my robe. I got to thinking, "I wish I could do everything in my robe". My house robe isn't just any robe. It's thick, luxurious and feels like fur and I call it my "furnace". I could be naked underneath it and still feel toasty warm.
"I'm going to wear this out one night," I threatened Mr NQN. "What if it falls open?" he said slightly alarmed. I explained that I would wear clothes underneath it but this would be akin to wearing the warmest, most comfortable coat you could imagine.
And on one night I had enough of the cold and did just that. I wore one of my favourite dresses, heels and then wrapped myself up in my robe. I let my friends Monica and Marco know that I would be turning up wearing a robe (just in case they weren't up for being seen with me) and with their full support I went out into the night.
Admittedly I chose the wrong restaurant to do this in. I knew nothing about it and when I swanned in in my heels, short dress and robe I realised quickly what a mistake I had made. It looked essentially like a take away place. A group of about ten young students looked at me confused. I could see their calculations...robe? High heels? Fancy restaurant dress? Has she escaped from a facility?
I gave them a broad smile and sat down. Apart from that table nobody else really seemed to care. The service staff were really, really friendly. Other customers helped me and went out of their way to be nice to me in what was essentially a cheap and cheerful Chinese hot pot place. And the whole night I felt toasty warm and comfortable. I found that going out in winter isn't so bad after all - especially while wearing a robe!
So tell me Dear Reader, have you ever worn a robe out? Can you have coffee before you sleep? Do you drink whisky to help you fall asleep?
DID YOU MAKE THIS RECIPE? Share your creations by tagging @notquitenigella on Instagram with the hashtag #notquitenigella
Chocolate Whisky Brownies With Whisky Butterscotch Sauce
An Original Recipe by Lorraine Elliott
Preparation time: 30 minutes
Cooking time: 60 minutes
400g/14ozs. dark chocolate chips (good quality)
400g/14ozs. butter
340g/12ozs. caster or superfine sugar
120g/4ozs. flour
8 eggs, room temperature, lightly beaten
3 tablespoons whisky
1 teaspoon vanilla
1 teaspoon instant coffee powder (optional)
Whisky sauce
150g/5ozs. caster or superfine sugar
50g/1.7ozs. butter
50ml/1.7flozs whisky
To serve
200ml/7flozs. double cream
1/4 cup chocolate flakes
I made a half batch in a loaf tin
Step 1 - Line the base and sides of a 20x20cm/8x8inch square tin. Preheat oven to 150C/300F. Melt chocolate and butter in a double boiler or microwave until smooth. Place in the bowl of a mixer fitted with a beater attachment. Add sugar and flour and beat until smooth for about 3-4 minutes on low to medium speed. Add the eggs, whisky, vanilla and coffee powder and beat until combined.
Step 2 - Scoop into the tin and bake for 45-50 minutes or until the top has set and springs back when touched. Allow to cool in tin. The centre of mine was still gooey soft but set as you can see from the pictures.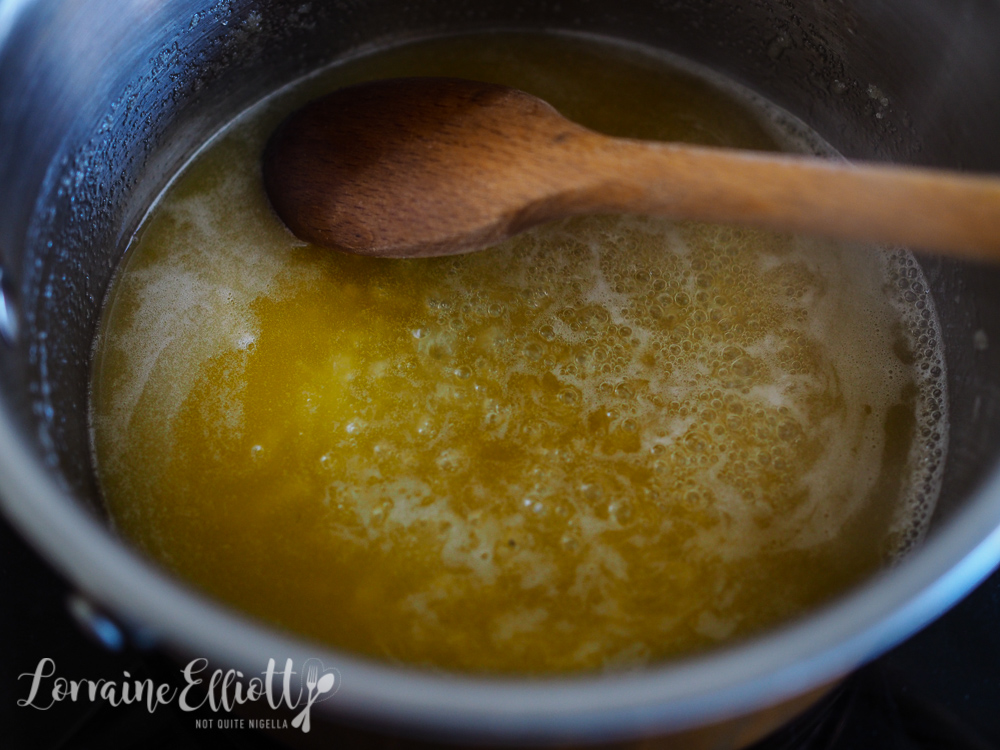 Step 3 - Make the whisky sauce by melting the sugar and butter together until smooth and liquid. Add the whisky and cook until syrupy.
Step 4 - Cut brownies up and top with a dollop of cream and sprinkle chocolate flakes over. Serve with whisky sauce on the side.