This rich Venezuelan Chocolate Marquesa Cake is a delicious, no-bake chocolate biscuit cake that layers chocolate pudding with milk dipped Marie biscuits. It's very easy to make, looks spectacular and tastes even better! This is a pushy recipe Dear Reader! I called her Alejandra.
Biscuit or cookie cakes are one of the easiest no-bake, no-oven cakes because they use packets of biscuits instead of cake (tiramisu is one of the most popular and well known biscuit cakes!). I love biscuit cakes because not only are they are easy to make, they are delicious and when they are cut they look spectacular.
This Venezuelan Marquesa Cake is not a traditional Venezuelan cake. It is said to have arrived in Venezuela at the beginning of the 20th century. Some say that it was created as part of Creole cooking while others say that it was created for Prince Luitpold who loved chocolate or for French aristocrat Marie de Rabutin-Chantal, Marquise de Sévigné. But it is at its base a very easy to make biscuit cake with layers of plain biscuits layered with a rich chocolate cream. It requires no oven and you can make this in about 25 minutes (although it gets better overnight). It also reminds me of the English biscuit cake that Queen Elizabeth apparently loves.
Tips for Making Marquesa Cake:
1 - This version contains egg yolks to enrich it but if you are avoiding raw eggs you can omit them.
2 - I also like to dip the Marie biscuits in a mixture of milk and Baileys or Kahlua because Marie biscuits are very dry (and a bit of a boring basic biscuit tbh) and need a bit more flavour. If you want to avoid alcohol use coffee or chocolate milk. I also love making this with Biscoff cookies as they taste better.
3- Also make sure to dip the biscuits for around 5 seconds to help them soak up the flavour or the cake will be dry.
4 - f you omit the egg yolks and use alcohol instead of milk you can keep this at room temperature instead of in the fridge.
Other no-bake cakes: 15 Minute Strawberry Chocolate Icebox Cake; Raw, Healthy Vegan Birthday Cake; Fig & Pomegranate Cheesecake and Lemon Myrtle No Bake Cheesecake.
A few weeks ago I received the loveliest message from a Dear Reader about one of my cakes. Cindy wrote, "Hi Lorraine, I've commented on your posts before but I had a funny story to share so I hope you don't mind the DM. I made your delicious pear & passionate cake to bring for an after church cuppa last Sunday. It disappeared very quickly! Then today, I was looking at the newsletter and saw this jump out at me. I will most certainly direct everyone to your website! Kind regards, Cindy."
And after that she sent me a screengrab of the following message where someone else in her group was asking for the recipe for the Pear & Passion Fruit Cake! Apparently many people had asked for the recipe and Cindy was going to kindly point them to the recipe which really made my day and gave my Monday a great start. Sometimes readers ask me what they can do for me in return for the recipes and one of the best things is to share the recipe on the blog with them. Maybe they'll become a reader too and maybe they'll make the cake - fingers crossed! :)
So tell me Dear Reader, do you like biscuit cakes? If you enjoy a cake do you ask for the recipe?
Did you make this recipe?
Share your creations by tagging @notquitenigella on Instagram with the hashtag #notquitenigella
Venezuelan Chocolate Marquesa Cake
An Original Recipe by Lorraine Elliott
Preparation time: 25 minutes
Cooking time: 0 minutes, overnight rest
Serves: 10-12 people
300g/10.6ozs. butter, softened at room temperature
250g/8.8ozs. dark chocolate, melted and slightly cooled
100g/3.5ozs icing or powdered sugar, sifted
50g/1.7ozs. cocoa powder, sifted
400g/14ozs. tin sweetened condensed milk
4 egg yolks
1 teaspoon vanilla
Pinch salt
1 cup/250ml/8.8flozs milk (I made this with 1/2 cup milk 1/2 cup Baileys)
1.5 packs/375g/13.2ozs Marie biscuits
For Ganache topping
140g/4.9ozs sour cream
140g/4.9ozs dark chocolate chips (or finely chopped)
1 teaspoon coconut oil
Beating butter until white in colour
Step 1 - First line the base and sides of a 20cm/8inch springform tin. Beat the butter with your electric mixer for 10 minutes until very smooth and soft. Add the melted dark chocolate and beat until smooth. Add the icing sugar, cocoa powder, condensed milk, egg yolks, vanilla and salt and beat until you get a smooth, silky mixture.
Step 2 - Spread a thin layer of the chocolate mixture covering the base and then dip the Marie biscuits in the milk mixture for 5 seconds. Arrange dipped Marie biscuits across the base and then repeat with chocolate pudding and then more biscuits until you almost reach the top of the tin. Make the top chocolate layer a bit thicker and then place in the fridge to set. At this stage once the chocolate mixture is a bit firmer I smooth it over with a palette knife just to give the ganache as smooth a surface as possible. Just lightly dip the palette knife in cold water and smooth.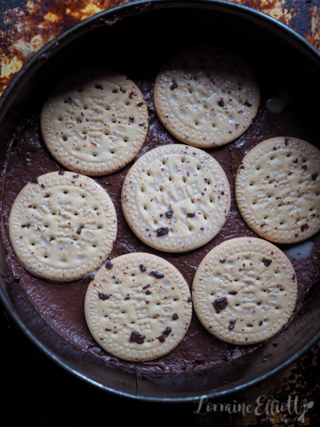 Lining with milk/Baileys dipped Marie biscuits (I used the same bowl as the one where I melted the chocolate hence the bits of chocolate)
Step 3 - Make the ganache. Place the chocolate in a bowl and then heat the sour cream until almost boiling. Pour the cream and coconut oil over the chocolate chips and then cover with a plate and let sit for 5 minutes. Remove the plate and then stir until smooth and no lumps remain. If there are any tiny bits of solid chocolate, you can pop it in the microwave on 50% power for 30 seconds just to melt these. Pour over the top of the cake and tip the cake tin from side to side to evenly spread the chocolate ganache out. Refrigerate overnight. Keep in the fridge (note: if you omit the egg yolks and use alcohol instead of milk you can keep this at room temperature).
Topping with ganache