Dear Reader, a few nights ago, I had my second wedding. Well, not exactly my second wedding but it almost felt like it. It was actually my family & friends book launch. One thing that people don't often know about the whole publishing process is that unless you are Curtis Stone (who was incidentally having his book launch at the very same time as mine! How's that for timing? :S ), your publisher doesn't throw you a book launch party. It is up to you to hold your own. As purse strings are tightened, publishers prefer to spend the money on publicity and advertising. They may put a couple of hundred dollars on the food or drinks bill but the rest is up to you.
Gulp...
Perhaps you know me very by now and opening up a packet of Family Assorted biscuits and a few bags of chips is not going to suffice. I have big party dreams but sadly not exactly a big company budget. I initially demurred when asked about a party saying "No, the publishing industry don't really hold them anymore unless you are an international superstar" but then I thought about it. I wanted to have a little party, even a self funded one to celebrate this book that has taken so long-I mean elephant gestations are swifter! But I didn't want to do a big fancy media launch, I wanted to do an intimate family and friends launch with my nearest and dearest.
Back to my crisis. Three weeks beforehand I was having a bit of a meltdown finding a venue that didn't charge $65 a head for simple canapes (yes that was a quote I was given and I was told that they got me a "reduced rate") so helpless and flailing, I purged my inner demons to my friends. One of them Beau who works at 8Hotels asked me to give him a call. He offered up the stunning Penthouse Suite of the Diamant Hotel in Kings Cross. Not only did it fit sixty people which was my exact number but it had amazing views, three bedrooms, three bathrooms and an enormous kitchen and they often rent it out as an event space because of its size and the view. A even better bonus? You can sleep there overnight too! I took one look at it and it was absolutely perfect for a sophisticated cocktail party. And although the suite is $3,000 a night, I was quoted $3,500 for a smaller venue nearby that required us to be out of there within four hours. At the Diamant Hotel, I just needed to arrange for the food to be done. And yes I had crazy dreams of making my own food until I came to my senses (much like when I contemplated making my own wedding cake).
That's where some of my dearest friends came in. Chef extraordinaire David from Xanthi restaurant (he of the Peking Duck adventure) offered to twirl the tongs on the bbq with some of my favourite items from Xanthi taking the night off from the restaurant. Then my blogging besties offered their help. The amazing Celia from Figjamandlimecordial volunteered to make bread and her addictively amazing chocolate.
Then Tania from My KitchenStories who is a fantastic caterer incredibly offered her expertise and services and took time off work to cater my event. Rebecca from IntolerantChef who is a fabulous chef then chimed in and said that she would come up from Canberra and help out in the kitchen on her birthday-yes her birthday along with her fabulous husband Big J (and yes he is big!)! Then darling Charlie from Hotly Spiced eagerly offered to bake frittatas and also offered up handsome hubby Mr Hotly Spiced as photographer! The idea that bloggers and blogger friendly putting together the food for the launch was not lost on me, I knew that it was so special to say "Hey look! This is what bloggers can do!"
Because my life is pretty much all about cake (I'm serious here) I also set aside some budget for a cake. I thought that a 3D version of my book might be a good idea so I called up my friend Linda Harden from Whimsical Cakes and Cake Masters to see if she had time to make one for me. She told me that she doesn't make cakes anymore unless they're for friends but that she'd be happy to make mine and that it would be her present to me! The final piece of the party puzzle came with the drinks and no party is one without bubbles, wine and beer.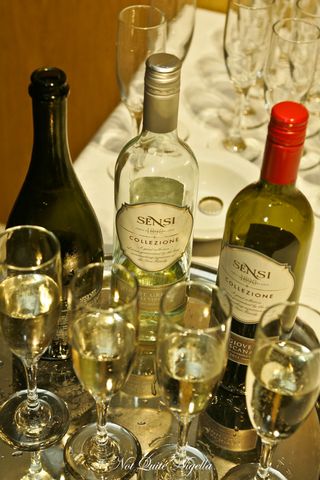 Our dear friends Viggo and Louise supplied the beer and cider and the red and white wine and Prosecco was supplied by Direct Wine Cellars who have just launched Sensi, their Italian wine arm which stocks Tuscan wines that are also affordable. The majority of their wines are from the Tuscan Winery Sensi Vini, the top chianti seller in the world and they stock lots of wines from Organic Chianti to Primitivo, Sangiovese to Montepulciano d'Abruzzo, Vermentino to Nero D'Avola, Prosecco to Pinot Grigio. It was absolutely perfect for the Italian and Chinese themed food that we were having.
On the day of the launch, armed with the shopping list I made my way to my favourite Peking Duck supplier and bought six ducks, one hundred and twenty pancakes, eight lettuces, six bunches of herbs and other bits and pieces. Tania brought along all of her platters and more food including some incredible cured meats from Pino's in Kogarah and Italian goodies from her work at Lario International who import the most amazing Italian goodies (their truffle honey is intoxicating and unforgettable).
Rebecca's husband Big J drove up along all her equipment all the from Canberra and Celia popped in and delivered her bread. This was not before we spent time going through the whole suite. The suite's enormous stainless steel kitchen with its island was ideal for the caterer, the chef and the home cooks. I prepped my book sandwiches on one side making a vegetarian and a omnivore version. So here's the recipe for my strange little book sandwiches. Ideal for a book club or for the literary minded! And after the recipes are the launch party photos!
Book Sandwiches