Dear Reader, a few nights ago, I had my second wedding. Well, not exactly my second wedding but it almost felt like it. It was actually my family & friends book launch. One thing that people don't often know about the whole publishing process is that unless you are Curtis Stone (who was incidentally having his book launch at the very same time as mine! How's that for timing? :S ), your publisher doesn't throw you a book launch party. It is up to you to hold your own. As purse strings are tightened, publishers prefer to spend the money on publicity and advertising. They may put a couple of hundred dollars on the food or drinks bill but the rest is up to you.
Gulp...
Perhaps you know me very by now and opening up a packet of Family Assorted biscuits and a few bags of chips is not going to suffice. I have big party dreams but sadly not exactly a big company budget. I initially demurred when asked about a party saying "No, the publishing industry don't really hold them anymore unless you are an international superstar" but then I thought about it. I wanted to have a little party, even a self funded one to celebrate this book that has taken so long-I mean elephant gestations are swifter! But I didn't want to do a big fancy media launch, I wanted to do an intimate family and friends launch with my nearest and dearest.
Clockwise from left: balcony, view from the Penthouse of the Diamant Hotel, the lounge room
Back to my crisis. Three weeks beforehand I was having a bit of a meltdown finding a venue that didn't charge $65 a head for simple canapes (yes that was a quote I was given and I was told that they got me a "reduced rate") so helpless and flailing, I purged my inner demons to my friends. One of them Beau who works at 8Hotels asked me to give him a call. He offered up the stunning Penthouse Suite of the Diamant Hotel in Kings Cross. Not only did it fit sixty people which was my exact number but it had amazing views, three bedrooms, three bathrooms and an enormous kitchen and they often rent it out as an event space because of its size and the view. A even better bonus? You can sleep there overnight too! I took one look at it and it was absolutely perfect for a sophisticated cocktail party. And although the suite is $3,000 a night, I was quoted $3,500 for a smaller venue nearby that required us to be out of there within four hours. At the Diamant Hotel, I just needed to arrange for the food to be done. And yes I had crazy dreams of making my own food until I came to my senses (much like when I contemplated making my own wedding cake).
Main bedroom (top) and main bathroom
That's where some of my dearest friends came in. Chef extraordinaire David from Xanthi restaurant (he of the Peking Duck adventure) offered to twirl the tongs on the bbq with some of my favourite items from Xanthi taking the night off from the restaurant. Then my blogging besties offered their help. The amazing Celia from Figjamandlimecordial volunteered to make bread and her addictively amazing chocolate.
Second bedroom (top) and sun room
Then Tania from My KitchenStories who is a fantastic caterer incredibly offered her expertise and services and took time off work to cater my event. Rebecca from IntolerantChef who is a fabulous chef then chimed in and said that she would come up from Canberra and help out in the kitchen on her birthday-yes her birthday along with her fabulous husband Big J (and yes he is big!)! Then darling Charlie from Hotly Spiced eagerly offered to bake frittatas and also offered up handsome hubby Mr Hotly Spiced as photographer! The idea that bloggers and blogger friendly putting together the food for the launch was not lost on me, I knew that it was so special to say "Hey look! This is what bloggers can do!"
Lounge room and third bedroom
Because my life is pretty much all about cake (I'm serious here) I also set aside some budget for a cake. I thought that a 3D version of my book might be a good idea so I called up my friend Linda Harden from Whimsical Cakes and Cake Masters to see if she had time to make one for me. She told me that she doesn't make cakes anymore unless they're for friends but that she'd be happy to make mine and that it would be her present to me! The final piece of the party puzzle came with the drinks and no party is one without bubbles, wine and beer.
Our dear friends Viggo and Louise supplied the beer and cider and the red and white wine and Prosecco was supplied by Direct Wine Cellars who have just launched Sensi, their Italian wine arm which stocks Tuscan wines that are also affordable. The majority of their wines are from the Tuscan Winery Sensi Vini, the top chianti seller in the world and they stock lots of wines from Organic Chianti to Primitivo, Sangiovese to Montepulciano d'Abruzzo, Vermentino to Nero D'Avola, Prosecco to Pinot Grigio. It was absolutely perfect for the Italian and Chinese themed food that we were having.
Tania, Charlie and Rebecca
On the day of the launch, armed with the shopping list I made my way to my favourite Peking Duck supplier and bought six ducks, one hundred and twenty pancakes, eight lettuces, six bunches of herbs and other bits and pieces. Tania brought along all of her platters and more food including some incredible cured meats from Pino's in Kogarah and Italian goodies from her work at Lario International who import the most amazing Italian goodies (their truffle honey is intoxicating and unforgettable).
Celia, Charlie and Rebecca
Rebecca's husband Big J drove up along all her equipment all the from Canberra and Celia popped in and delivered her bread. This was not before we spent time going through the whole suite. The suite's enormous stainless steel kitchen with its island was ideal for the caterer, the chef and the home cooks. I prepped my book sandwiches on one side making a vegetarian and a omnivore version. So here's the recipe for my strange little book sandwiches. Ideal for a book club or for the literary minded! And after the recipes are the launch party photos!
DID YOU MAKE THIS RECIPE? Share your creations by tagging @notquitenigella on Instagram with the hashtag #notquitenigella
Book Sandwiches
Makes 16 mini sandwiches
An Original Hare Brained Recipe by Not Quite Nigella
2 sheets shortcrust pastry
200g/7 ozs ham or mortadella (I substituted this with some sun dried tomatoes for vegetarians)
100g caramelised onion jam or relish of your choice
4 bamboo sushi mats (or something that you can wrap the pastry around to form a book)
Step 1 - Preheat the oven to 220C/428F and line a baking tray with parchment. Thaw the shortcrust pastry until pliable. Fold up the sushi mats into half and then half again-you should get it about the thickness of a small book (you can make them as thick or thin as you want really). Fold the pastry over making sure to press down on the spine for folding definition.
Scoring the glazed pastry and making book fold definition
Step 2 - Brush the egg on the top half of the pastry and on the spine. Take a fork or a chopstick and draw a line down the side of the book as shown. Then score the pastry by dividing it in four to make four small books. Then bake the pastry for 15-20 minutes until golden. Allow to cool and then remove the sushi mats gently-you don't want to break the pastry.
Filling with cheese, ham and relish
Ready for final baking (or you can serve as is)
Step 3 - Fill the book cavities with the filling of your choice. I found it easy to slide them in with the Swiss cheese on the outside and then I cut the edges so that they were flush with the pastry. Refrigerate until ready to serve. When ready to serve these, heat them in a 180C/350F oven for 5-8 minutes until the cheese has melted.
David and his halloumi with figs
In the afternoon of the party, David arrived with enormous containers full of fabulous smoked lamb cutlets, eggplant, halloumi and dried figs and set himself up on the balcony. I was in the hands of pros and they shooed me out of the kitchen to have a bath and get ready. I worked on the speech in the bedroom. Mr NQN arrived and helped out with various bits like making sure we had enough ice. And like my wedding, well things got forgotten. At my wedding seven years ago I forgot to bring underwear. Here, I forgot to bring crucial bits of makeup and my bra. And considering I wear drag queen level makeup, this made me panic. But it is possible to make eyeshadow out of an eyebrow pencil. Okay it looks a bit odd but it's better than a drag queen going bare. And I accidentally put my dress on backwards and walked out into the kitchen feeling something was a little amiss but thankfully realised it before all of the guests arrived.
Laura with the guest list
Scott and Angelica from Sensi and me
In amongst all of this fantastic food and wine, Laura my non militant vegetarian friend from Liquid Ideas manned the guest list and doors. We had Megan from Potts Point booksellers selling copies of the book too and Rose and Liv from DMCPR the PR agency that are doing the publicity for the book helping serve everyone the food.  Elly from Stevie English came and did my hair and Charlie asked her how her date with Manu had gone as did several other people! For the record, they're friends and lovely Elly is still looking...
Kristy from Jetlagmama, Sophie (my literary agent) and me. Kristy started this whole book journey rolling when she forwarded my blog onto Sophie.
Queen Viv, Hot Dog and Gina
Malcolm, me, Robert and Vanessa from Sigma and Pentax (and I'm now considering bringing a stool with me to stand on ;))
Amaya (Mr NQN's sister), me and Karena
Beau, Elly, Matt and Kirsty
My parents
People came from all over. Lulu my friend from high school drove up from the Blue mountains, Kristy from Jetlagmama flew in from Junee, intrepid travellers Julie and Mr GG from Gourmet Getaways flew down from Coffs Harbour, my fabulous sponsors Malcolm, Vanessa and Robert from Sigma and Pentax came from Melbourne while others near and dear to me came from all over Sydney on this chilly Monday night.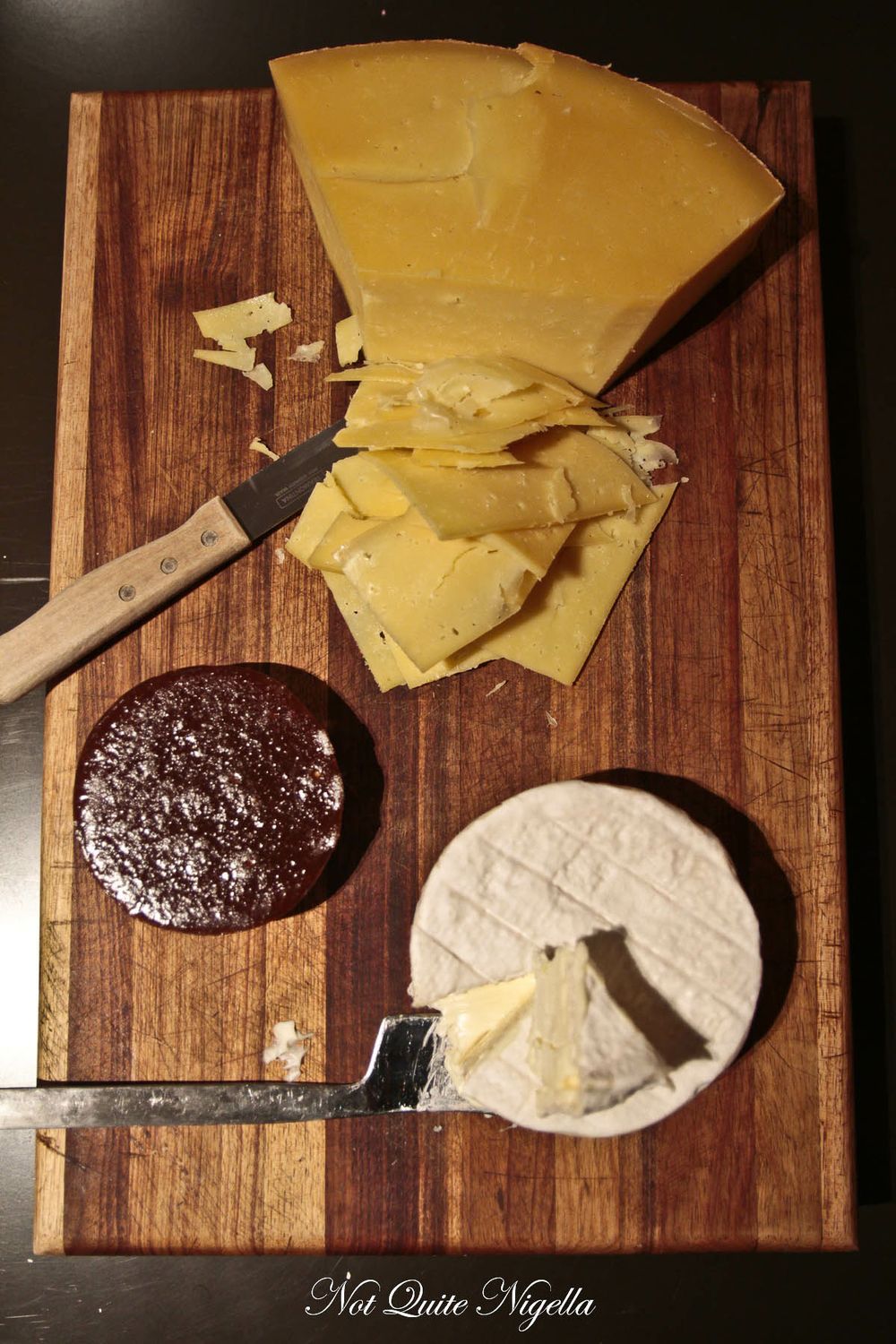 Lachsschinken
Oh and what did we serve? Well we started with cheese plates with Comte cheese (my favourite cheese) and Brillat Savarin as well as charcuterie boards with an incredible assortment of cured meats from Pino's in Kogarah including mortadella, prosciutto, nduja and cacciatore. There was also lachsschinken from Narel's (which translates to salmon ham), a delicious and unique cured pork ham that has a soft texture with a delicate ring of fat around each slice. It's so called because the texture is very much like lox or smoked salmon! Lario supplied a huge bag of fantastic risotto rice and other items for Tania's fragrant porcini risotto.
Porcini risotto cups
San choi bao
With the Peking Ducks, Tania and Rebecca made Peking Duck pancakes and Rebecca suggested cutting up the rest of the duck for sang choi bao wraps. Rebecca also wrapped up the duck carcasses for us to take home to make soup with this chilly weather creeping up on us (which was so needed a few days later!). Prawn and vegetable dumplings and shumai were steamed and Charlie brought out her vegetable frittatas which were light as air (she tried to sell vegan Manu on one by telling him that the chickens were vegetarian but alas, he literally didn't bite ;)).
Charlie's vegetable frittatas
David and his smoked lamb cutlets
The second kitchen was on the balcony with David plating up plate after plate of mouth watering smoked lamb cutlets topped with eggplant and grilled halloumi topped with dried figs. I think there was almost a riot when some got their hands on these (I won't name names ;)) and some guests and fans of Perama and Xanthi were star struck by David's presence tending the grill.
Peking duck pancakes
I have to admit that I was a bit embarrassed by my strange little sandwiches. To be honest I thought that they weren't anywhere near as glamorous enough as the rest of the food and I almost considered just hiding them somewhere in the back of the fridge because they looked so weird and homely but the girls wouldn't hear of it and served them up to guests. And Mr Hotly Spiced the photographer was so sweet when he said that he liked them a lot (although I'm quite sure he was being polite).
Prawn dumplings with pickled ginger and soy
I was so nervous about making a speech and I got a bit emotional and started tearing up at one point but because the room was filled with such happiness and support everyone's encouraging smiles helped me get back on track. My greatest fear was missing someone out. And I did! I forgot the hard working husbands Big J and Carl! I was seriously mortified...But on the plus side, eyebrow pencil as eyeshadow doesn't run. Drag queens take note...
Christina from Hair Romance, Emily from The Remarkables Group, Craig & Caz from Y travel blog and Rosalie from The Remarkables Group
Retro daddy & Corrie from Retromummy, Jim aka Mr Hair Romance and Craig from Ytravelblog
I promise I'm not that short, I'm on my knees in this pic!
Philip and Bridget from The Internet Chef
There was so much good food and afterwards, about forty of the sixty guests came up to tell me how much they enjoyed the food and I gave them David and Tania's details. I am told that people stay at a book launch for one and a half or two hours but I was chuffed to see that most people stayed a long time (some until 11.30pm!) and I think the food that David, Tania, Rebecca, Celia and Charlie plated up was just perfect. There was hot food and plenty of it so people didn't feel like they had to dash off to have something to eat elsewhere which usually happens at a function and the fact that we didn't have to get out at a certain time meant that it was less frantic than usual.
Then it came time to cutting the cake. And look at this marvel. Seriously, take a close look. It's a cake! Can you believe it? Linda made my book into a 3D cake replica of my book! It took me so many goes to cut into it because I just wanted to keep it as it was because it was so perfect. Tuulikki didn't actually know that it was a cake and for the whole night she thought that it was a giant coffee table version of my book.
After cutting slices of cake, Celia handed around her hand made chocolates. They were Callebaut dark almond clusters and milk feuilletine squares and there's always this exchange whenever someone tastes one of her chocolates.
Celia's chocolates: dark almond clusters and milk feuilletines
Eater: Mmm these are incredible. Where can I buy these?
Celia: I only make them for friends.
Eater: Oh okay (takes lots of chocolate when they realise she is serious).
It was close to midnight and the party was winding down and we took off our shoes and sat down and drank wine and marvelled at the sparkly view. Lights were dimming in front of us as it was a Monday night and most people in facing apartments had gone to bed. We had our lovely bedrooms to go into and Tania and Rebecca were also staying the night with Mr NQN and I-there are a total of three bedrooms and three bathrooms in the suite and panoramic views. We were still giggling by the time that we decided to turn in so there was one final photo!
The next morning, I awoke to an empty Penthouse. Everyone had gone off to work and I walked around thinking what a magnificent space it was. But I also imagined that if you were a lucky enough to be staying here but you were here by yourself, a space that enormous would feel lonely. And I realised that above all, success means nothing unless you have your friends and family around you.
I haven't forgotten you my Dear Readers for a second... I have to also let you know that we're also holding a book event with a Q&A with me and no other than the Food Safari superstar Maeve O'Meara at Gleebooks on the 12th of June and I'm planning on doing something special for readers too!
To see Charlie's post on the book launch, take at Hotly Spiced here! Also Julie's lovely post on Gourmet Getaways is here too! Celia's recipe for her focaccia is on Fig Jam and Lime Cordial! Tania's hilarious post on an afternoon tea outing and the launch is here!
So tell me Dear Reader, do you loathe making speeches as much as I do or are you a natural born orator? And if you have any suggestions for the Gleebooks Q&A please feel free to let me know!
The Penthouse was provided by Diamant Hotels and wines by Sensi Wines
Diamant Hotel
14 Kings Cross Rd, Potts Point, Sydney NSW 2011
Tel:(02) 9295 8888
Xanthi Restaurant
100 Market St Level 6 Westfield, Sydney, NSW 2000
Tel: +61 (02) 9232 8535
My Kitchen Stories Catering
www.mykitchenstories.com.au
tania@mykitchenstories.com.au
Sensi
http://directwinecellars.com.au/homepage
Whimsical Cakehouse
743 Port Hacking Rd, Sydney NSW 2229
Tel:(02) 9501 2492