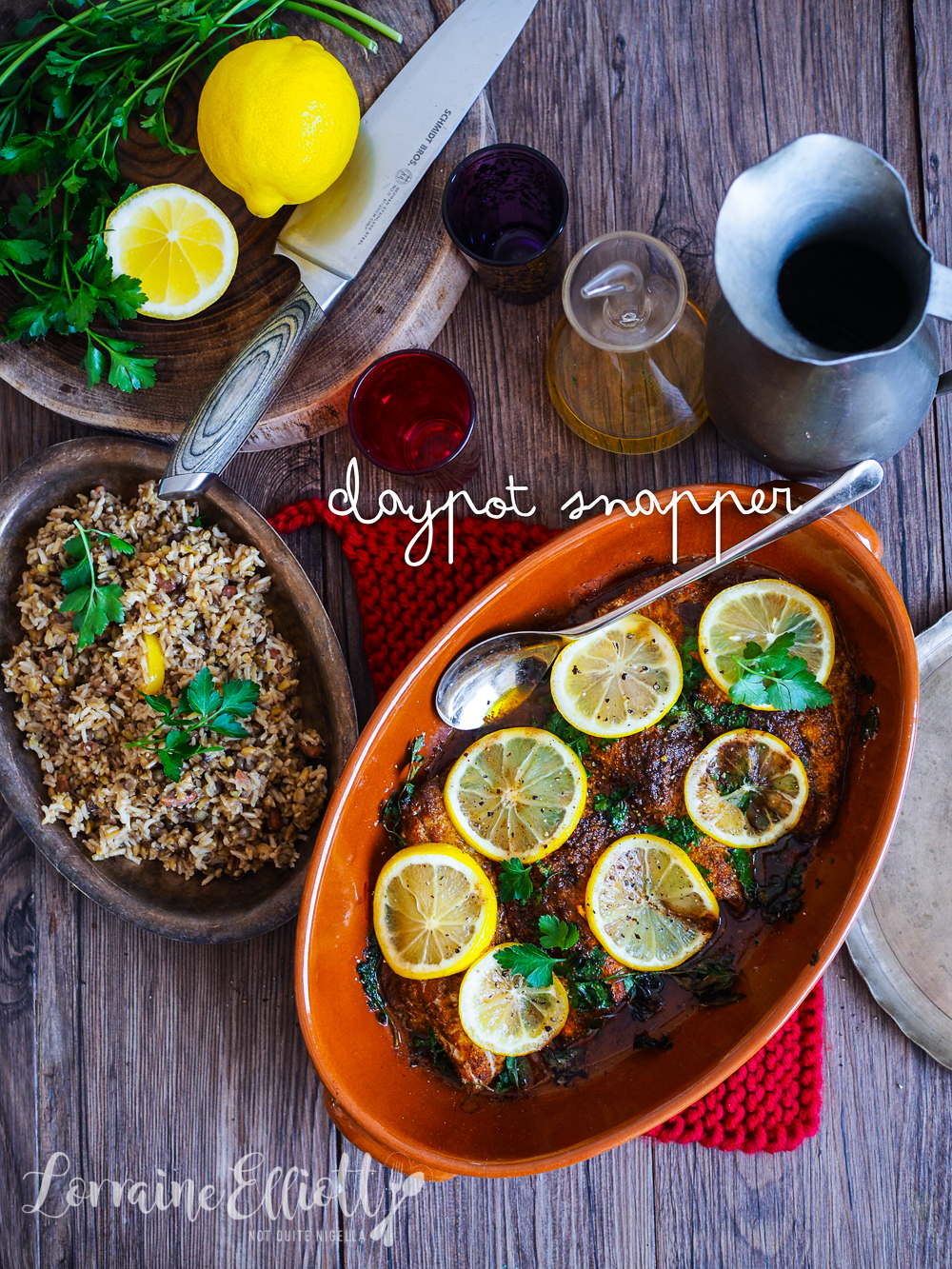 Looking for a delicious idea to cook fish fillets? This is a cinch to make but I promise that it's so good that you could serve this to guests and they'd swoon. Snapper fillets are marinated at room temperature in a simple mix of spices and then baked in the oven for 25 minutes. That's all it needs and if you love fish, this is a pushy recipe!
I am always trying to add fish to our meals because it's good for you but Mr NQN doesn't really like cooked fish as he finds it dry. The fish in this recipe is not dry at all. It is adapted from the Monday Morning Cooking Club. As soon as I saw their picture of it I wanted to make it. Mine ended up looking quite different from theirs. They had much more liquid in theirs whereas mine was drier and I also added the browned butter touch and played a little with the spice mix. I also made a lentil and rice side to go with it instead of their bulghur pilaf as I didn't have bulghur.
This dish is very versatile-just allow for 1 fillet per person (or perhaps even more, Mr NQN went for seconds!) and then adjust the seasoning accordingly. Just don't skip the salt or the browned butter as they really finish the dish off perfectly. You could perhaps even add some deep fried onions on top too. You see I loved this so much I'm thinking of the next time I'm going to serve it already and it will probably be for friends.
Speaking of friends, we recently went out with Miss America and Queen Viv for Miss America's birthday. Queen Viv phoned me and said that Miss America wanted to go to a particular restaurant. It has a stunning view but I didn't know much else about it.
It was freezing cold on the windy balcony and we saw a woman had blankets wrapped around her so we asked the staff for blankets. "I'm sorry they're all in use," they answered which seemed odd because there were only four tables outside and we only saw three blankets and nobody inside was using one. The woman at the table next to us had two around her and her husband had one hanging up on the side not in use so we asked him if we could use the one that wasn't being used. "NOOO!" intoned the woman rudely but her husband handed it over ignoring her.
We ordered our food and it took a while to come out. 45 minutes to be precise. When it was put down in front of us my heart sank. Do you know how you can just tell that something isn't good?
The pork belly had not even an attempt at crackling, the pizza was made using a pre-made base and was very dry, the cauliflower salad was bland while the Reuben sandwich had the thinnest portion of pastrami in it (although this was the best of the lot). I hadn't had a meal that woeful in a long time. I felt terrible because it was Miss America's birthday but there was no way we wanted to stay for dessert and cake. At least the view was great but sometimes entertaining at home is better than going out!
So tell me Dear Reader, can you just tell from looking at a meal that it won't be good? How often do you eat out? How percentage of your meals out are disappointing? Do you find restaurants with views can often have disappointing food?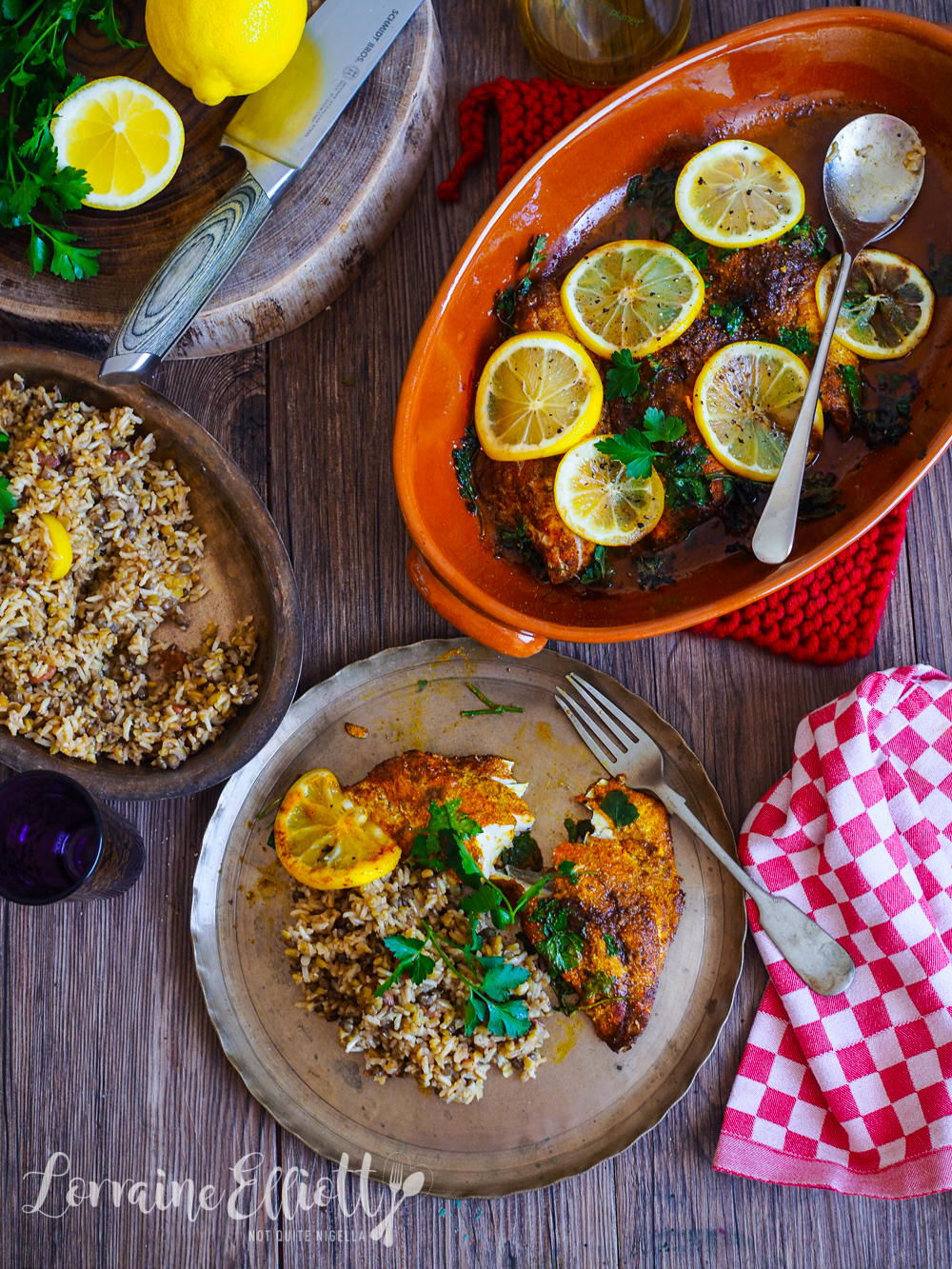 DID YOU MAKE THIS RECIPE? Share your creations by tagging @notquitenigella on Instagram with the hashtag #notquitenigella
Snapper Adana With Browned Butter & Spices
Adapted from Monday Morning Cooking Club
Preparation time: 15 minutes (plus 30 minutes marinating time)
Cooking time: 30 minutes (concurrently)
4 snapper fillets, skin on or off (around 800g/28ozs.)
1 tablespoon onion powder
1 teaspoon ground turmeric
1 teaspoon sweet paprika
1 teaspoon hot paprika
1 teaspoon baharat
1 teaspoon sumac
1 lemon, sliced
3 tablespoons oil
Leaves from 1/2 bunch parsley
Salt and pepper
100g/3.5ozs. butter
1 cup natural yogurt mixed with half a clove of finely grated garlic to serve
Lentil rice
1 cup lentil and bean mix
1/2 cup brown basmati rice
3.5 cups chicken or vegtable stock
Step 1 - Mix the onion powder, turmeric, both paprikas, baharat and sumac in a bowl. Coat the snapper fillets in this mixture and marinate at room temperature for 30 minutes.
Step 2 - Preheat oven to 210C/420F. Place most of the parsley in a clay pot or wide oven proof dish and then top with the snapper, remaining parsley and season generously with salt. Top with lemon and drizzle with oil and cover with foil and bake for 20 minutes. Remove the foil and bake for another 5 minutes.
Step 3 - Meanwhile you can make the browned butter and do the lentil rice. Melt the butter and allow to bubble, brown and become nutty in aroma. Remove from heat and place in a bowl. I use the same bowl to make the rice (and don't bother cleaning it because browned butter residue is a pain to clean and this cleans it for you). Add the lentil and bean mix, rice and stock and bring to a boil. Simmer uncovered for 15 minutes or until water has evaporated.
Step 4 - Spoon the browned butter over the fish, taste for seasoning and add more salt if needed and serve with the rice and yogurt.