Dear Reader, I cannot rave enough about this salmon dish. It is the easiest and tastiest way to cook salmon fillets. There's something almost magical about the mixture of the simple ingredients: honey, dijon, lemon and garlic that flavours salmon perfectly. Better still, it can all be done in 15 minutes. Honestly, cooking the potatoes will take longer!
I've been told by many that Aussies love salmon and are obsessed by it and recipes on how to cook salmon easily are popular. And Dear Reader, this is definitely a pushy recipe. You can even do it en papillote which is just another way of saying that you can wrap the salmon in parchment paper and then you won't have any washing up afterwards.
I cooked four fillets this way and I ate them over the following days. It's sometimes nice to have something healthy but tasty in the fridge so you can pull together a salad at the last minute and this salmon can be made a couple of days ahead it's that easy (I'm seriously selling this salmon because it really is so good!).
I hope you don't mind me telling you a story about Mochi. My loss with her is so raw and new and I live in borrowed memories that I feel like disappear like perfume in the air after someone has gone. This is one of my favourite memories of her that really demonstrate her personality.
Usually on weekends Mr NQN sleeps in. Sometimes until very late like midday while I usually get up around 8-8:30am. And because weekends are usually quite busy with social commitments sometimes I have to wake him (a thankless task at best). Usually he sleeps on his stomach so I give his bottom some smacks. Mochi usually takes any chance to sleep in so she sleeps beside him and doesn't bat an eyelid.
Until one day he had to wake me up and he tried doing the same thing. He did it louder than he meant to. It didn't hurt and it sounded worse than it was. Mochi sprang awake and alert. She gave him a stern look. It was as if she was saying to him, "Don't hurt mummy."
He did it again and then she decided enough was enough of that nonsense. My tiny little girl got up and stood between us staring him down. All 4.3 kilos of her!
"I think she is protecting me from you," I said to him. And we tested it out a couple more times. Whenever I smacked his bottom she barely noticed but if he smacked mine she was ready at alert and ready to guard! What a plucky little girl!
So tell me Dear Reader, do you have a brave pet? Do you have many easy recipes up your sleeve? What is one of your favourites?
DID YOU MAKE THIS RECIPE? Share your creations by tagging @notquitenigella on Instagram with the hashtag #notquitenigella
Simple 15 Minute Honey Mustard Salmon
Original Recipes by Lorraine Elliott
Preparation time: 5 minutes
Cooking time: 10 minutes
4x150g/5oz. fillets salmon, skin on
2 cloves garlic, peeled and finely diced
2 tablespoons dijon mustard
2 tablespoons honey
1.5 tablespoons lemon juice
1 teaspoon lemon zest
Finely chopped fresh dill
Salt and pepper for seasoning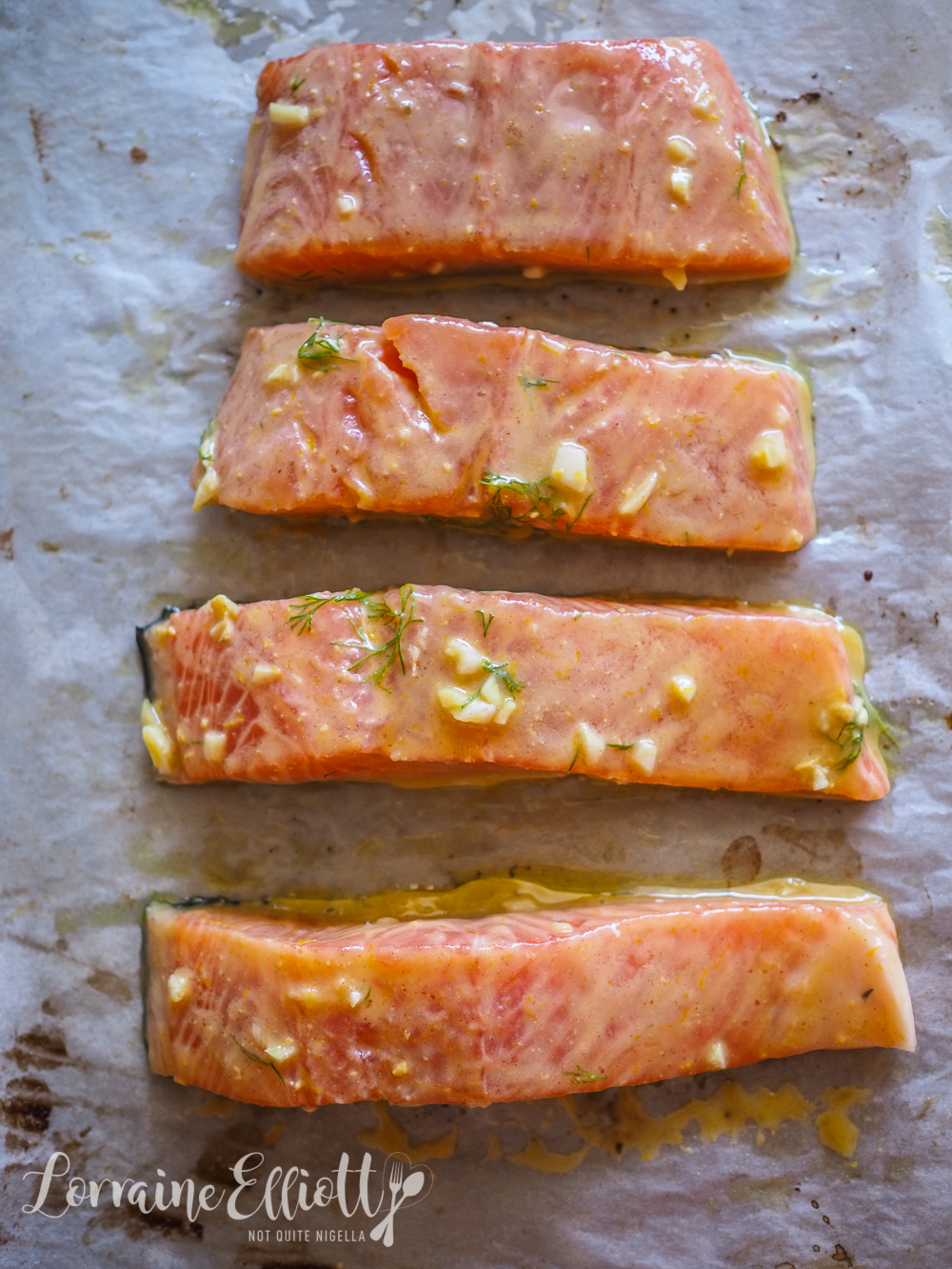 Step 1 - Preheat oven to 200C/400F and line a baking tray with parchment. Mix the garlic, mustard, honey, lemon juice, lemon zest and dill in a bowl and then if you have time, marinade over the skinless part of the salmon for 1 hour. Or you can roast these straight away too. Bake for 10 minutes-the salmon should still be pink in the centre.
Malt Vinegar Smashed Potatoes
Preparation time: 5 minutes
Cooking time: 40 minutes
1kg small Potatoes, skin on but washed well
100g/3.5ozs. butter
2 tablespoons oil
1 teaspoon malt vinegar
Salt and pepper
Step 1 - Steam the potatoes until soft but not mushy. Preheat oven to 230C/446F and line a baking tray with parchment. Place the potatoes on the tray and take a potato masher and gently but firmly press down with it so that it is squashed. Divide butter and oil on top of the potatoes and bake for 20-25 minutes.
Step 2 - Drizzle with malt vinegar and sprinkle with salt and pepper.