Tokki is a brand new Japanese Korean restaurant on Foveaux Street in Surry Hills. There's shareable plates, 80's/90's music on blast as well as Korean and Japanese flavours on offer at this casual eatery.
"HIIIII!" our waitress yells hoarsely at us. We are slightly startled at the greeting but the shouting is entirely necessary for her to be heard above the music at Tokki. Tokki is short for Tokkiusagi or rabbit in Japanese.
Tokki is located on the corners of Foveaux and Belmore Streets in Surry Hills. Mr NQN and I are meeting Monica and Marco here on a warm Friday evening and they're already seated. Monica and I hug and she whispers to me, "They lost our booking!". We are ravenous so everything looks good but we try to calmly and sensibly order food from the menu that has quite a few spelling mistakes on it. "Surely they have spellcheck," says Monica bemused.
Cactus Jack and Merry Soju $18 each
There is also has a list of signature cocktails and a biodynamic list of wines. Although I've ordered the Cactus Jack and Monica has ordered the Merry Soju, she kindly ends up swapping with me because I love the light flavours of the Merry Soju and she likes the smoky flavours of the Cactus Jack. The Merry Soju has soju, yuzu, lavender and St. Germaine while the Cactus Jack has mezcal, lime, pineapple, ginger, agave and basil.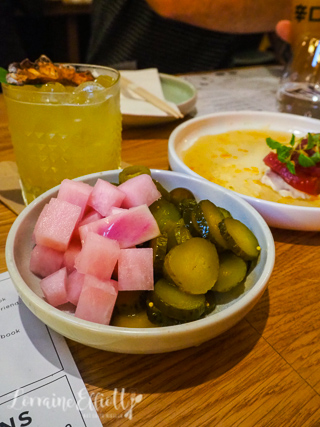 Assorted Pickles $7.00
The first bites hit the table quickly. There are three types of pickles: daikon, cucumber and jalapeno. These are sweet pickles done Asian style and are very moreish indeed.
Yellow Fin Tuna $21.00
Everyone's favourite dish of the night is the yellow fin tuna sashimi on a bed of bacon crème fraîche with roasted pine nuts and lime ponzu. The bacon crème fraîche is the item that makes this so moreish and is rich in bacon yet goes so well with the sashimi tuna and tangy lime ponzu.
Zucchini Flower 3pc $15.00
We were compelled to order these ricotta and jalapeno stuffed zucchini flowers because they come with satay mayonnaise. The zucchini flowers are lightly battered and the satay mayonnaise is nice although I think these would be best with the bacon crème fraîche above (and I'm totally stealing that idea for an upcoming recipe).
Menbosha DIY prawn yuzu Sriracha mayo on brioche 3pc $15.00
The Menbosha is a DIY prawn toast. The menu says that there are three pieces per serve but it's actually six pieces of brioche toast squares with popcorn prawns coated in Sriracha mayonnaise with guacamole on the side. I like the crunch and creaminess of this dish.
Kingfish Cheek, dashi vinaigrette, fried garlic 2pc $16.00
The kingfish cheeks comes as two pieces of very smoky kingfish wings in a dashi vinaigrette with fried garlic. The smokiness is very pronounced and it's possibly a bit too smoky for me although we like the flavours added to it.
Soy Galbi Chicken $24.00
You know me Dear Reader, I am a sucker for Korean Fried Chicken. There are three types of chicken: original, chilli and soy galbi. We go for the soy galbi with a sweet garlic galbi sauce and crushed peanuts. The chicken has a good amount of breading and is still crunchy despite the sweet and sticky sauce which is the sign of a great Korean Fried Chicken. It's great with some hot sauce added and I especially like it with Marco's suggestion of dipping it in the sweet garlicky gochujang sauce on the Tokki BBQ tray below.
Tokki BBQ Tray $29.00
The Tokki BBQ tray is an assorted mix tray made up of four of their barbecue items. My favourite is the Gochujang chicken with a sweet, spicy sauce on barbecued chicken thigh. The least interesting is probably their pork belly which is said to be miso pork belly with walnut ssamjung but is quite mild in flavour. There are baby pork ribs in galbi sauce (a sweet soy marinade with lots of onion and aromates) that are tender and come off the bone easily. The beef short rib isn't actually a nice juicy chunk of beef short rib on the bone (and for the price it wasn't ever going to be) but the meat sliced up in a smaller portion with wild berry umeshu.
Kimchi Fried Rice $15.00
There are two types of fried rice, a mushroom fried rice and a kimchi and pork belly rice with egg and we go for the latter. The kimchi flavours the rice well and it sticks together so that it is a bit easier to eat. There are also some pieces of pork belly in there too.
Yuzu Cheesecake $15
There are two desserts. The matcha pancake wasn't available but they have a yuzu cheesecake instead. There is a chocolate cookie crumb at the base of the glass and the cheesecake is very thick and dense, sort of like eating sweet cream cheese without the airiness of a cheesecake. The yuzu syrup on top is marmaladey in flavour. It comes with a scoop of mango sorbet that has kinako on it. The kinako isn't really needed as the powder makes the texture quite gritty.
Tokki Monaka $4.00
Tokki Monaka is an ice cream and red bean sandwich in a wafer. I'm not a huge fan of wafers but the sweet red bean jam, scoop of ice cream and nutty kinako (roasted soybean) powder are delicious inside. The menu mentioned a peach compote but this wasn't included and our waitress was busy so we didn't ask about it. Also we were charged $4 for this whereas the menu says $8 which I didn't realise until writing this.
So tell me Dear Reader, do you like loud or buzzy restaurants? Do you check bills stringently for errors? Do you often find mistakes?
This meal was independently paid for.
Tokki
44a Foveaux St Surry Hills, AU-NSW 2010 (corner Belmore Street)
Lunch Mon–Fri 12:00 pm–3:00 pm
Bar Mon–Fri 12:00 pm–12:00 am
Dinner Mon–Thu 5:30 pm–11:00 pm, Fri, Sat 5:30 pm–12:00 am
tokki.net.au