Nikkei in Surry Hills is the brand new Peruvian Japanese restaurant by the team from Tokyo Bird, Banchō Bar, Sando Bar and Osaka Trading Co. It focuses on Nikkei cuisine, one of the original fusion cuisines in Peru. At Nikkei, they take Nikkei and Peruvian dishes and give them a modern spin. While Nikkei might be new to many Sydney-siders, it has been popular in Peru for over 100 years.
Nikkei cuisine is one of the original fusion cuisines and came about when Japanese migrants moved to Peru to work in the sugar and cotton plantations in the middle coast valleys. They brought along Japanese techniques and preparations and these were merged with Peruvian ingredients to create Nikkei, the name for Japanese Peruvian cuisine. The chef is Lucas Cerullo David of Osaka Trading Co who is Brazilian and the menu plays homage to the previous tenant of the space, Bodega.
The drinks list features cocktails with Peruvian ingredients like Chicha Morada (purple corn drink), pisco and quinoa milk. Nikkei's menu brings back memories of Peru with ingredients like like aji amarillo, huacatay (Andean mint) and Andean potatoes. The last time I ate in a Nikkei restaurant was in Lima (Maido) where I went into anaphylactic shock and it wasn't a great experience (the food was, the reaction wasn't). But I feel safer in the knowledge that the ingredients are less exotic and Amazonian (and I have my epi pen!).
We start with drinks. I'm still a bit fluey so I bypass the cocktails and Sophia doesn't drink so we order from the non alcoholic section. It's a gingery soda for me which is nice and spicy. Sophia tries the Chicha Morada, a purple corn drink that they serve with soda here and I like the carbonated version.
There are three types of chips in this snack bowl: taro, orange sweet potato and purple sweet potato and they're served with a pot of smoked aji panca mayonnaise. Aji is the word for chilli and Peru has a range of chillies (as well as lots of types of potatoes and corn).
Sophia doesn't eat raw fish but I can't resist ordering the tuna tartare causa. Causa is a historical dish made with a layer of potatoes and tinned tuna so named because the dish sustained the troops in the battle for independence and therefore helped the "Cause". This is a modern interpretation of it using tuna tartare with ume kosho, sweet potato, avocado, fried leek and a layer of purple sweet potato at the bottom. It's also measurably tastier than a traditional one that uses tinned tuna and I adore this dish with the creamy tuna tartare and sweet aspect.
Another of my favourite dishes is the mushroom tiradito and goes to show that vegetarian food can have just as much flavour as meat. There are three types of mushrooms (shiitake, shimeji and enoki) on a bed of Jerusalem artichoke puree with nori crackers. Sophia ordered this as she couldn't eat the tuna causa and I might have bypassed it in favour of other dishes but I'm glad that she ordered this.
The only dish we didn't go for is the octopus tiradito. The octopus was a bit chewy and the nori leche de tigre (tiger's milk, usually made with lime juice, onion, ginger and herbs) is very strong in nori and there's a bit too much fried garlic on this throwing it off balance.
One of the must orders is the papa rellenas. Papa means potato and these are like giant sized croquettes filled with cottony soft potato, chicken, corn, olives and aji amarillo (yellow Peruvian chilli) and a dab of Japanese curry sauce. I would have happily polished off a tray of these beauties. The filling is so flavoursome and the Japanese curry sauce is a brilliant idea.
We decided to share one main and that was the beef short rib. It sits on a bed of miso garlic corn puree with a side of pickled red cabbage and is blanketed with an anticucho (cow's heart) and onion jus. The beef rib is served off the bone and is meltingly soft and the combination of the soft puree at the base and the rich, slightly offaly sauce and pickled cabbage balances this well.
It's dessert time and there are two desserts available: a dulce de leche pudding flan or sweet potato picarones (donuts). It's donuts for us and picarones have a slightly chewy texture to them and are usually served with chancaca spiced syrup. Here they come three to a serve with that appealingly chewy texture and the syrup is made with chicha morada (the purple corn drink) and cola with a strong hit of star anise. On the side is quinoa ice cream. The ice cream is made with quinoa milk from soaking the quinoa, much like a horchata although less spiced or almond milk. The quinoa ice cream is quite mild but gets its flavour from the roasted sesame butter on the side.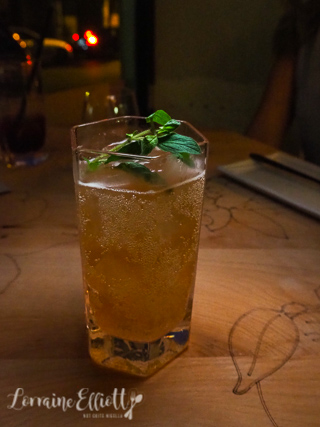 With dessert, I also try some of their oregano tea. This is also served sparkling and is an intoxicating herbal sparkling tea. I don't use oregano much as it isn't my favourite herb but in a drink it definitely has its place.
So tell me Dear Reader, have you ever had Nikkei cuisine before? How about Peruvian food? Would you choose pudding or donuts?
This meal was independently paid for.
Nikkei
216-224 Commonwealth St, Surry Hills NSW 2010 Open Tuesday to Saturday 5pm-10pm Friday 12pm-3pm