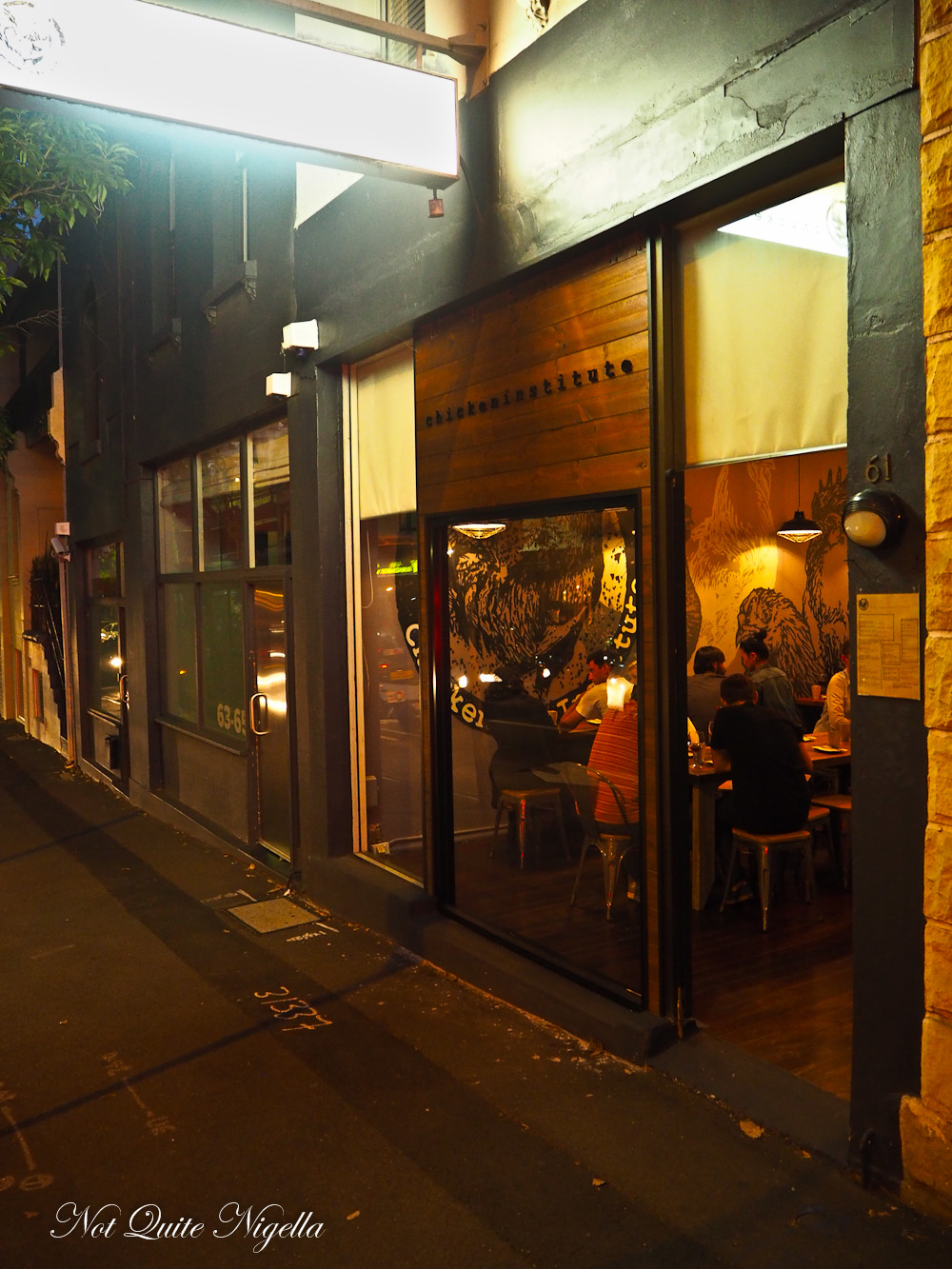 A fun Korean fusion restaurant in Surry Hills Chicken Institute offers up rollicking good chicken - "Damn good" chicken done four ways. There's also kimchi poutine, a "Messy and Mercy" chicken burger, SSAM BBQ Grill and a vegetarian steam bun and Bibim-bap on offer. Chef Heaven Kim is also the head chef at the Paramount Coffee Project.
During my life, my time at university was perhaps my least satisfying and if I think back really hard, I think I may have even intensely disliked it. Because while my classmates and I were sitting in psychology lectures learning about theory, all I could think of was getting out there in the real world and experiencing it for myself. Experiments were like treading water until the real thing came along.
Clearly, I was in the wrong course at the wrong university. I should have gone to the Chicken Institute.
Okay so I'm being silly. Chicken Institute isn't actually a university but a new fusion Korean restaurant on Fitzroy Street in Surry Hills. Chef Heaven Kim is also the head chef at the Paramount Coffee Project. Open since the end of January 2015 it has already amassed quite a following. We walk in without a booking (but hooray you can book!) but staff are friendly and fit us in. There is also an uncovered section at the back of the building with some tables too.
Coconut and honeycomb magic shake, Peanut butter dulce magic shake $8 each, Watermelon and lychee fizzy soda $6 each
Belinda, The Wizard, Mr NQN and I all choose different drinks in the interests of trying as much as possible. The house made fruit sodas are refreshing and quite sweet, tasting of said flavours. The coconut and honeycomb magic shake is good but tastes mostly of coconut while the peanut butter magic shake tasted mostly of peanut butter and is sweetened by the dulce de leche.
Spicy cold noodle $17
Dishes are made for sharing as they come out when they are ready. The spicy cold noodle salad comes with a sesame dressing, thin egg noodles, grated carrot, cucumber and purple cabbage and a soft boiled egg on top. Mixing it up gives us a flavoursome and fresh start to the meal.
Steamed bun $6 each
Both The Wizard and Mr NQN were ravenously hungry so we ordered a lot of things and when they came out I'd get a bit confused as to what we had ordered! That's what happens when you're busy talking and catching up with friends. "Did we order this?" I ask confused because I thought that they had brought out a vegetarian option. We had, it's an eggplant schnitzel in a soft steamed bun with chipotle dressing and cucumber. It's one of those vegetarian dishes where you don't miss the meat at all it's that good.
Damn good fried garlic chicken $24
The first fried chicken dish comes out and it's the garlic chicken. The boneless thigh pieces are juicy and come with a garlic caramel glaze, crushed peanut, lime. It's strong in garlic but not overpoweringly so and is packed full of flavour and sweetness.
Damn good peri peri chicken $24
However the peri peri chicken was everyone's favourite out of the two. With Institute peri peri sauce, coriander and lime it just hit all the perfect notes for sweet, salt, crunchy and tangy.
SSAM BBQ Grill half and half $21
Oh how we devoured this Ssam with a mix of half pork belly slices and half wagyu beef. The pork belly and wagyu are meltingly tender and fresh and go perfectly with the soft lettuce, gochujang and pickles . "I could eat this all night long," Belinda says and I agree.
Kimchi Poutine $8
As a real poutine lover, we just had to order this. With French fries, gravy and finely chopped kimchi, grated cheese and green onions it's a great idea. The fries could be a bit hotter so that the cheese melts but the idea is sound.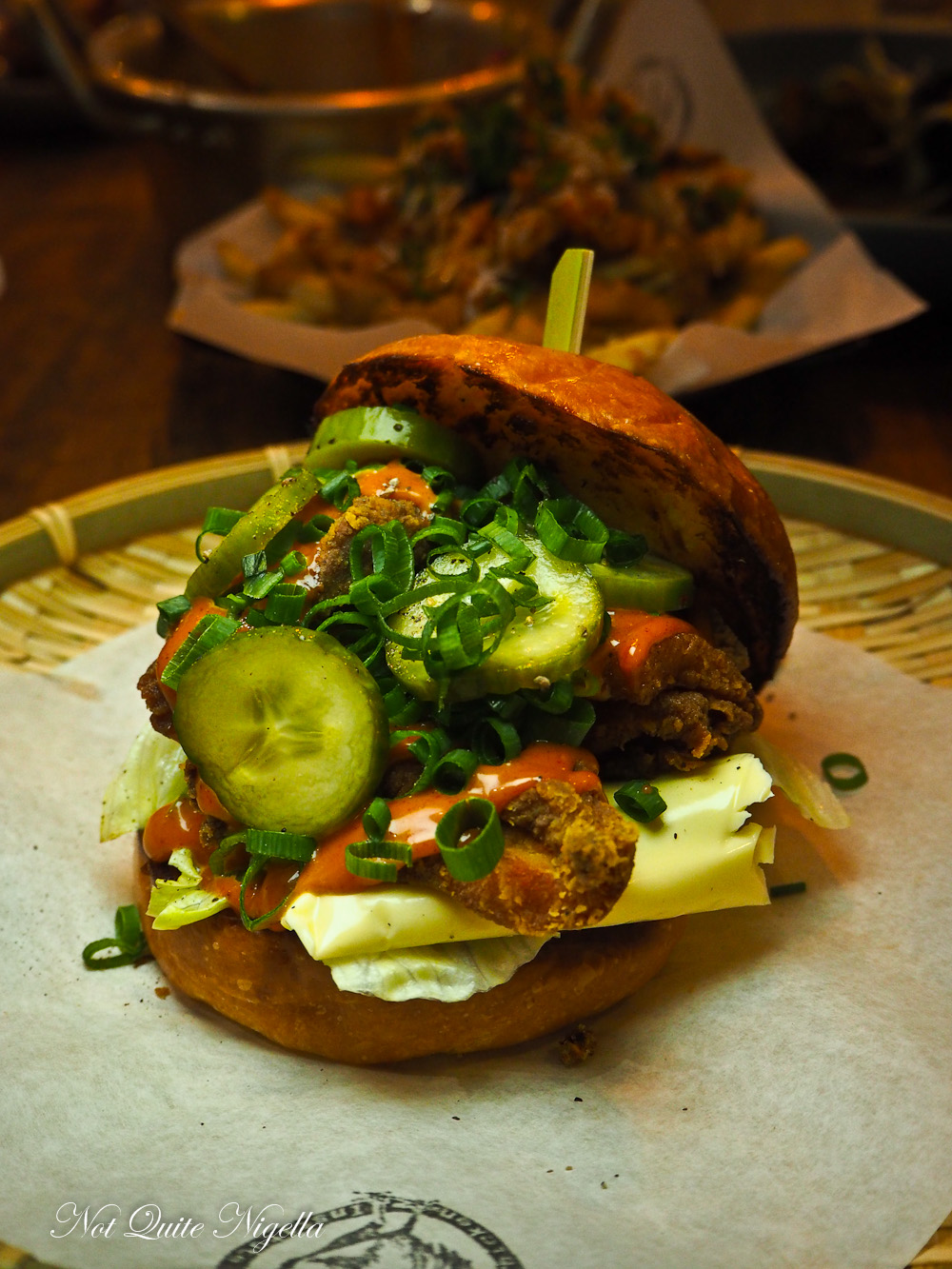 Messy and Mercy $15
Our final savoury dish is the burger. It's a fried chicken burger with spicy pickled cucumber, lettuce and cheese on a soft, warm toasted bun. The chicken is tender and it's a great combination of soft burger bun and tender, spicy chicken with freshness from the pickles and lettuce.
Sweet Potato Doughnut and dulce de leche $8
There are two choices for dessert: a sweet potato doughnut which comes out piping hot and drizzled with a pale dulce de leche that is closer to sweetened condensed milk than the thick, dark caramel. The doughnuts aren't bad although we prefer the gold fish waffle.
Gold Fish Ice Cream Waffle $6
This is an item I used to see in the ice cream cabinet a lot when I lived in Japan. In the shape of a large fish it is a layer of red bean topped vanilla ice cream in a light waffle exterior. Here they add the sweetened condensed milk and chopped peanuts. I usually found these goldfish ice creams quite dry because of the waffle but adding the milk and the peanut is a great idea.
It also comes with a latex glove in case you want to eat it with your hands.
So tell me Dear Reader, did you enjoy school or university? What was your major or favourite subject? And at restaurants do you ever forget what you ordered? Do you prefer chicken breast or thigh?
This meal was independently paid for.
Chicken Institute
61 Fitzroy Street, Surry Hills, NSW
Tel: +61 (02) 8095 0166
Open 5PM-10PM Tuesday to Sunday with takeaway available
http://www.chickeninstitute.com.au/