The challenge: to try and find Sydney's best Korean Fried Chicken! Over the course of one long day our intrepid trio of chicken lovers cross all over Sydney eating the best fried chicken to try and find the Korean fried chicken that reigns supreme!
There we were: three fried chicken lovers. There would be my sometime vegetarian friend Laura, "Two Lunch Thom" and I (Mr NQN flat out refused to do this challenge).
Meet our eaters:
Laura even wore her fried chicken pants
Laura: Hi, I'm Laura and I am a lover of fried chicken. After 10 years of being a vego, I was out eating with friends one day and was suddenly struck by the glisten and glean of a beautiful piece of fried chicken and since then have dabbled, mainly in the fried and schnitzel variety. I am picky when it comes to the perfect chick, juicy inside, and crispy (yet not flakey) outside, but only brown meat, a breast just doesn't do it for me.
Lorraine: My name is Lorraine and I'm a wing gal. By that I mean my favourite chicken piece is a wing (although I also make a great wing girl if we're out and you're looking for a guy/girl, I'll totally support that venture). I love meat on the bone and I LOVE chicken skin. If a wing isn't available I'll also go for the rib because it has a good ratio of skin and bone to meat. I'm also partial to fried chicken with sauce.
Thom: Hi - I'm Two Lunch Thom, I'm a #PhatKween and a friend chicken fiend. From Soul Food to Seoul Food – southern fried to the real KFC (Korean Fried Chicken) – I love it all. I can't quite remember where my love affair started with the crispy fried bird, but I love the culinary adventures it's taken me on and the finger lickin' friendships I've made along the way. Some say breast is best and not to forget leg day, but I'm all about the thigh, can't think of a better high!
We had a list of 8 places and our mission was to visit each place and order two types of Korean fried chicken: the original fried and a wildcard or another flavour that they were known for. Sides would be whatever they gave us and after a bite, we would take the chicken home (because fried chicken the next day is still awesome).
Stop 1: Arisun, Haymarket
Our first stop is Arisun on Chinatown's Dixon Street and even at 11:30am it is busy. We all arrive bright eyed and bushy tailed. We've all prepped for this. I've double up on my HIIT (high intensity interval training) workout and yesterday I did a 6km walk. Laura has done yoga that morning and Thom, well he got drunk on cocktails while watching Ru Paul's drag race (we all prep in different ways).
At Arisun there are ten types of Korean fried chicken on the menu and they all sound tempting, especially as we are all hungry. We order an original fried and an extra spicy boneless chicken. There is the option to "Make it cheesy" for $7 more which is always a yes for us.
Extra spicy boneless $35 + cheese $7
The extra spicy cheese one arrives first along with a gas burner and a seasoned spring onion salad that Laura accidentally ordered (if you point at it on the menu they will bring it). There is a bed of cheese and on top of this is saucy fried chicken and we wait and watch while the cheese melts before digging in. Thom tells me all about nutrition (he studied it) while we watch the cheese melt (oh irony!).
Original Recipe Fried Chicken $35
Then we dig in with out metal chopsticks. "Mmmm" we murmur. It's good and melted, caramelised cheese? YES! The original recipe comes out with a small dish of salt and pepper on the side and it too is good and well seasoned with a resounding crunch.
Laura says, "Epic chicken. The cheese goodness was next level. It was like fried chicken porn. The original was simple and elegant. The crunch was really crunchy. Side dishes were simple but worked well with chicken." Thom says, "Fresh kimchi, but not enough of it! Additional sides did seem quite expensive. Loved the texture combo of the super crunchy skin and v moist flesh that stuck together."
As for the bonus sides, there is a kim chi which is very good although it is a very small serving. You can buy it by the tub but we have to bypass it because of course there is so much food to come. And Korean fried chicken isn't cheap at $35 a plate here!
I lift up a corner of caramelised cheese. "I'm so jealous of you right now," says Thom. "Everyone eat up the shallots! That's $6 worth of spring onion!" says Laura. As for the service, when we ask for takeaway containers after only eating a piece each they look at us very strangely until Laura explains what we are doing!
Arisun Original Fried Chicken Rating: 54/60
Specialty Chicken Rating: 53/60
Side Dish rating: 25/30
Stop 2: Danjee, Haymarket
Our next stop is a few minutes walk away down a little laneway that I never knew existed (and I grew up in Sydney!). Danjee's service is very friendly and they show us to a table and we order quickly. Time is of the essence in these challenges and we order with the guy that seats us. There are four types of Korean fried chicken here and we start with the original fried or the Danjee chicken which is $38 here and a and for good measure we order some cheese powder to dip it in ($5 extra).
The banchan or side dishes arrive and there are five kinds so clearly this is the fanciest fried chicken there is. There's the tofu strips that we all love, bean sprouts, konjac, pickled radish and kim chi.
Korean traditional Bean Powder Ice Smoothie $9
Laura loves an Asian drink (she's Asian inside) and orders a Korean bean powder ice smoothie. It looks nothing like the picture but it is really quite tasty with a nutty quality to it.
Maneul Ganjang Chicken $43
Chicken here is not cheap at all and if we thought Arisun was pricey, it's $43 here. Out of the two I loved the garlic and soy chicken with cloves of fried garlic. There isn't a lot of crunch on this because of the sauce but I did like the flavour and I also liked it dipped in the cheese powder.
Danjee Chicken $38
The danjee chicken is nice although it's quite dry especially compared to the garlic soy chicken. Thom saying, "Loved the coating on the original... it was excessive but in a playful way.. you could peel it off like I used to do when I was a kid. The garlic chicken grew on me but was quite rich and minimal crunch." While Laura says, "I found the crumb of the original fried a little too dry and the chicken wasn't super tender. While the garlic was a little sweet at first, loved the punch in the face you got from the fresh garlic. The cheese was not for me. Too sweet and powdery. Loved the drink, delicious and went with the chicken."
Extra cheese powder $5
As for the cheese powder, we dubbed it "cheese cocaine" and it has a curiously sweet quality to it which is very common in the cheeses or sprinklings on top of Korean fried chicken. We've barely touched it and I want to take it home with me to put on popcorn so Laura produces a ziplock bag and we baggie up our cheese cocaine.
Laura eyes me carefully, "You're eating more than normal" she says slightly worriedly. "You know fried chicken is my only weakness-that and hot guys," I tell her. "Me too," chimes in Thom. "Me too," says Laura sighing. And then we're off!
Danjee Original Fried Chicken Rating: 42/60
Specialty Chicken Rating: 45/60
Side Dish rating: 27/30
Stop 3: Sparrow's Mill, Haymarket
Now Sparrow's Mill has ICG or Incredible Chicken that is also at Red Pepper bistro at the Strathfied sports club. It's confusing but the main point is that you can ICG at a few locations under different eatery names.
Thom also has another eating group called Phat Kweens and they've visited here before. This isn't as fancy as Danjee or Arisun although there is table service. We take advantage of the smaller size options as we're quickly amassing a lot of fried chicken to take home.
Original Fried Chicken Small $18
The original fried chicken is fine but it pales in comparison to the other chicken. Laura assesses the original fried and says, "Nothing original about the original. Not tasty. Just basic," which is possibly the worst insult.
Creamy Onion Small $19
However, we are all resoundingly in love with the creamy onion fried chicken that comes smothered in a creamy onion sauce that reminds us of coleslaw. Not any coleslaw but a KFC coleslaw or something like that with a sweet quality to it. I'm in heaven.
Thom adds, "Loved the flavour contrast - the creaminess of the mayo with the sweetness of the onion. Chickengasm!!!". Laura is also in raptures, "The onion one was just creamy fried lushness. The onion was the perfect girlfriend to the chicken. It was like the Korean version of coleslaw and went so well."
Sparrow's Mill Original Fried Chicken Rating: 34/60
Specialty Chicken Rating: 50/60
Side Dish rating: 19/30
Stop 4: Beschico, Epping
For our fourth stop, we're headed north side for Beschico, a restaurant in Epping that Laura and I have problems pronouncing. She drops Thom and I off while she looks for a park. It's an unusual looking restaurant with upholstered armchairs that belong in someone's home as well as private booths and a menu that spans Korean and Thai food. I spy the extras: rice, gravy, radish and sour cream. I text Laura, "Do you want gravy?" and immediately she shoots back a big "YES!". We know each other so well.
We take advantage of their combo special. There are four types of fried chicken: crispy, chico hot, chico real hot and chico soy chicken. This is the first time we're really relaxing and these chairs are very comfortable. "These are my favourite chairs," says Thom leaning back and staring at the table. "They should get extra points for these," he adds.
Crispy half chicken and hot half chicken $29
Laura arrives and tells us excitedly, "I've got a prop!" and she pulls out a chicken hat from her bag. We all take turns wearing it. "It's a shared resource," she says. Our chicken arrives and we dig in. The original recipe has definite flavours of KFC and is magnificent dipped in the albeit lukewarm gravy. The chicken gravy is so tasty that we order three containers to go with our leftovers. Of the chicken Laura says, "Original was so tasty, from crumb to skin. The skin also came off in sheets, so it was like chicken skin chips."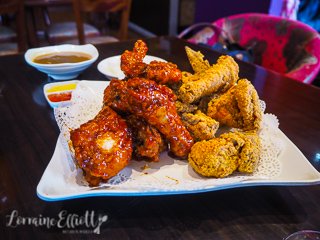 However we are much less taken with the hot and spicy chicken. Thom says, "Best original of the day so far... but the speciality hot & spicy was a serious let down. Probably worst of the day," with Laura adding, "The spicy one was like the ugly step sister to the original."
And we all unanimously loved the radish pickles that have a perfect sweet to savoury balance. And what does Beschico mean? It's short for "best chicken"!! Ha!
Beschico Original Fried Chicken Rating: 54/60
Specialty Chicken Rating: 27/60
Side Dish rating: 24/30
Stop 5: Mad Fo Chicks, Eastwood
We head West to Eastwood, just 10 minutes away. It's a suburb replete with Korean eateries. We are pumped as Laura's 80's playlist spits out Eye of the Tiger. "Do we need Chinese medicine?" says Laura pointing out the shops. "Only if they do colonics," quips Thom.
Mad Fo Chicks is fast food and we order at the counter. It's a small eatery and we nab the last table. Laura slumps down in her seat, "It smells like grease and it hurts my soul...".
The chicken is fine but nothing to make a special trip for. The atmosphere was a bit stifled and they were out of cheddar cheese flavouring which was a bit disappointing.
Half and half crispy and butter garlic $33
Our foiled lined tray arrives and so does our chicken with two sides, a simple cabbage and thousand island salad and pickles. Now garlic butter in Korean fried chicken terms isn't like garlic butter elsewhere. It's markedly sweet. Thom doesn't mind the chicken and says "Generous portions. The garlic butter speciality one was unusual, surprisingly sweet and a bit like popcorn flavour."
Overall Laura isn't in love (and truthfully part of the reason for our visit was for the name). She says, "Odd place. No music. No vibe. The chicken was a little dry and just tasted dull to me. The garlic butter was soooo sweet and just tasted like the butter pop corn of childhood."
Mad Fo Chicks Original Fried Chicken Rating: 36/60
Specialty Chicken Rating: 37/60
Side Dish rating: 22/30
Stop 6: Jeans Chilli Chicken, Eastwood
Just around the corner in the Eastwood Hotel is Jeans Chilli Chicken. We've arrived while the staff are eating their pre-service dinner (they're eating noodles, not fried chicken) and I spy a booth so I get very excited. "Grab the booth!" I say to Laura who calms me down (we're a bit high on chicken) and tells me that there's no-one else in front wanting the booth.
We order at the counter and realise that the dish that they are famous for isn't in fact fried chicken, it's grilled chicken. We figure we'll order that as well as a mix of fried chicken. They bring out a range of snacks from delicious nori sesame rice with gloves so that we can shape our own rice balls to a sweet pasta sauce, pickles and kimchi.
Complimentary sides
Cheese Chilli BBQ chicken $38
Now hands down I am in love with this dish. It's cheesy, smokey and the chicken is tender and it comes with extra chicken skin mixed in among it. Laura and Thom are less taken with it as they don't like the smokiness but to me, that's the best part and I can see why this is the most popular dish. There's also a version available with chicken's feet which we had to bypass because Laura is Asian inside but not that Asian inside...
Half half Jean's Fried Chicken and EQ Honey chicken $35
As Laura points out 800g of chicken isn't cheap for $35 but this is really good chicken. In fact this is the only sauced chicken of the day that stays crisp even with the honey sauce bath that it is in. And that oddly sweet pasta sauce goes so well with everything as does that delicious sesame nori rice that Laura calls a "sesame delight".
We're all a bit smitten with this place with Thom saying, "Definitely the best spread and the best dining experience so far. The rice was a welcome change which broke up the chicken fest - full of flavour and felt quite fresh after mountains for fried chicken."
Jean's Chilli Chicken Original Fried Chicken Rating: 58/60
Specialty Chicken Rating: 54/60
Side Dish rating: 27/30
Stop 7: Chir Chir, Burwood
Our second last stop is in Burwood. "I need a tea!" says Laura and we stop by the nearby tea shop for bubble tea before heading to Chir Chir. The menu at Chir Chir is large and features fusion Korean food.
The posters advertise an item called a Venus as their most popular item which we decide to order as our wildcard chicken dish. Service is friendly and Laura gets out her chicken and her chicken hat and chicken toy.
Pickles
Venus Chicken $17
We go for a half serve of the Venus and they bring out the portable gas stove. It's said to be fried chicken strips with a "variety of cheeses" and is their most popular dish. Honestly it's fine but it's not as exciting as it should be and the chicken isn't crispy at all, it's cold and seems to be cooked previously and not kept warm and the variety of cheese is a fairly normal cheese sauce. Laura sums up the Venus by saying, "It put on a good show being served in a bath of cheese, finished off with a big drizzle of more cheese poured all over it but it just turned out to be a Monet, from far away, it's ok but up close, it's a big old mess - the taste didn't match the theatre and the chicken was soggy."
Fried Chicken half half $18 and $17
The original fried chicken is moist and juicy and I actually eat a few bites of this despite this being one of the last stops and as Laura says, "Solid original chicken". I think if they had fried the chicken strips in the Venus to order then we would have enjoyed it more like we did the original fried chicken.
By now we are seriously chicken drunk. Laura shows me a video of a cat eating yogurt and I ask her to send it to me so that I can share it on Instagram stories but I can't. Maybe it's me, maybe it's my slow moving brain clogged with chicken and grease. After 5 minutes I wail frustrated, "I juuuuuust want to share the video of yogurt cat!!!" like a toddler denied a snack. "I feel like one of those people that is so fat he's bed bound," says Thom.
Chir Chir Original Fried Chicken Rating: 42/60
Specialty Chicken Rating: 34/60
Side Dish rating: 19/30
Stop 8: Momofuku Seiobo, Pyrmont
We cross back towards the city to the strains of Footloose which revs us up for our last stop. We need the food gods to be on our side for Momofuku to try their chicken sandwich because a) they don't take bookings for the bar and b) there are only 5 seats at he bar. The Momofuku chicken sandwich isn't Korean fried chicken but we like to end our challenges on a high and this fit the bill.
"Run and grab us some seats!" says Laura dropping me off right near the entrance. I run in and stop a few metres away and stop to try to make myself look presentable and breathe like a normal person. "May I have three seats at the bar?" I say casually as if our whole night hasn't hinged on this last challenge.
There are three seats free! I take a seat and excitedly text the what's app group the wonderful news. "I've got a $4 park just outside!" says Laura and we take that as a sign we are meant to be here. Thom and I order kaffir lime leaf kombuchas while Laura needs a stiff Negroni. We order a couple of chicken sandwiches-Thom has one to himself while Laura and I share.
Chicken sandwich $18
The chicken burger is enormous and has a stamp on top. The chicken thigh fillet is super juicy and coated in a chickpea flour. The buns is super soft but not sweet and there is a cabbage pickle too. It's quite rich though and while delicious a bit too rich for us to finish (although I realise not everyone is going to have preceded this with 7 courses of fried chicken). I love the softness of the bun and the juiciness of the chicken-it's the juiciest chicken of the day.
Laura isn't as taken saying by the experience, "Terrible service for such a fancy place. The chicken was yum but didn't like the coating." Thom says, "Overall a very good burger packed full of flavour... Nice contrast of salty and bitter from the pickled slaw. The bun however was too soft and fell apart. I need structural integrity, man!!"
Coconut Turnover $8
We need to finish the day on something sweet and the coconut turnover takes 30 minutes so we ordered this along with the burgers. Looks-wise it's nothing like what we expected and we slice into it to reveal a coconut interior.
The bun is warm and topped with a silky coconut icing and the spiced coconut filling is delicious and the whole thing looks to be rolled in sugar and butter and Laura describes it as a "fluffy coconut cloud". I'm in love with this that I go for a second slice and then finish it off. "How are we even eating this, we are animals?!" says Laura but I don't care. I've found a new love and its name is coconut turnover. And it isn't fried chicken.
Momofuku Seiobo Chicken Sandwich Rating: 44.5/60
Dessert Rating: 55/60
"I think I developed an extra fat roll and I'm schvitzing," says Laura.
"I can feel my liver," says Thom. The car smells like fried chicken and the song playing is Heaven is a place on earth and yet we're still smiling from ear to ear. And you know what? After I got home I snuck a bit of rice and that chilli bbq chicken ;)
**Overall best fried chicken:
Jeans Chilli Chicken (Jean's fried chicken 58/60)
Arisun (original fried 54/60)
Beschico (original fried with gravy 54/60)
Jeans Chilli Chicken (EQ special 54/60)
Arisun (extra spicy boneless with cheese 53/60)
Best side dishes: Danjee and Jean's Chilli chicken (27/30 for both)
Best and only dessert: Momofuku Seiobo's coconut turnover 55/60**
Final thoughts from our eaters:
Laura: It was the best of times; it was the worst of times. Today was a true challenge of brain and belly. I took it slow and steady and it may just have been one of the best days of my life. Friends and fried chicken… does it get any better. Props like a chicken hat and a little walking chicken doll, helped me get through the 4pm slump. From cheese ones to ones covered in snow, we ate it all, but for me it was all about the original; with the perfect coating balanced by moist flesh. A good sauce like gravy or a solid side were the icing on my fried chicken cake.
Lorraine: I had been wanting to do this fried chicken challenge for years but it's hard to get people to commit to such a challenge. Having said that, I'm so glad that we saved this challenge for winter. Our trio are chicken enthusiasts and I think that makes a big difference as we had loads of fun. Also even towards the end, in our delirium, we still kept eating chicken because we love it so. The morning after, I envisaged all sorts of ill effects - often I wake up the next morning after a challenge gasping for water but I woke up just fine and felt normal. Maybe it was the massive walk I did the day before or the additional exercise but I'm looking forward to doing the next challenge!
Thom: I'm not gonna lie… It wasn't a relaxing day, but God we had fun and so many LOLs. It's one of those things you joke about with friends, but to actually experience it was pretty epic. Not only did we sample the real KFC in all its glory, but we discovered and explored some parts of Sydney I didn't know existed! We are lucky to live in such a richly diverse city and though my #PhatKween adventures take me to lots of yummy joints, I realised I'm a real creature of habit. This experience taught me a two things: 1) there is such a thing as too much fried chicken in one day (but leftovers can be frozen hehe!) and 2) I need to get out of my bubble and explore more of Sydney's cultural food hot spots. Bring on the next challenge!
So tell me Dear Reader, do you think you could ever do a fried chicken challenge? And would you prep beforehand by doing more exercise? Do you like original fried or saucy Korean fried chicken?
All meals were independently paid for.
Arisun
Number One Dixon Shopping Centre, Shop 35/1 Dixon St, Haymarket NSW 2000
Monday to Thursday, Sunday 11am–12:30am
Friday & Saturday 11am–2am
Phone: (02) 9264 1588
arisunrestaurant.com.au/
Danjee
1-7 Albion Pl, Sydney NSW 2000
Open 7 days 11:30am–1am
danjee.com.au Phone: (02) 8084 9041
The Sparrow's Mill
27-33 Goulburn St, Haymarket, Sydney, NSW 2000
Monday to Saturday 11:30am – 12midnight
Sun 12noon – 11pm
Phone: (02) 8040 4557
sparrowsmill.com.au
Beschico
1/41 Beecroft Rd, Epping NSW 2121
Monday Closed
Tuesday to Saturday 5–10:30pm
Sunday 11:30am–10pm
Phone: (02) 9869 8188
wp.beschico.com.au
Mad Fo Chicks
18 Railway Parade, Eastwood NSW 2122
Monday to Thursday 11:30am–10pm
Friday & Saturday 11:30am–10:30pm
Phone: (02) 8541 4225
madfochicks.com.au/
Jean's Chilli Chicken
Eastwood Hotel, 115 Rowe St, Eastwood NSW 2122
Monday to Saturday 11:30am–11pm
Sunday 11:30am–10pm
Phone: (02) 9874 1100
eastwoodhotel.com.au/jeans-chilli-chicken-restaurant.html
Chir Chir
Emerald Square Burwood, 27 Belmore St, Burwood NSW 2134
Monday to Thursday, Sunday 11:30am–10:30pm
Friday & Saturday 11:30am–12am
Phone: (02) 8937 2583
chirchir.com.au/
Momofuku Seiobo
Level G/80 Pyrmont St, Pyrmont NSW 2009
Monday to Saturday 6–10pm
Sunday closed
Phone: (02) 9657 9169
seiobo.momofuku.com/