O Bar and Dining is located on the 47th floor of Australia Square near Wynyard. The fine dining restaurant offers 360 degree panoramic views and Modern Australian cuisine as well as private dining.
"Don't look down, don't look down," I say to myself looking at the restaurant revolving on top of Australia Square. It has been years since I ate at O Bar & Dining and I definitely don't remember it moving so quickly. Sydney's lights sparkle below.
The restaurant makes one rotation every 1 hour and 45 minutes. Or 1 metre per minute but it seems faster than that. I am here for a reunion dinner for the United trip to San Francisco to Los Angeles with our United host Koji as well as Laura, Kat, Denise and Kiki. I was excited to see everyone-once you've travelled together you're like some motley version of a family. The menu has either two courses for $98 or three courses for $124.
The bread is a seeded cracker with whipped ricotta and seaweed salt on the side. I love crackers but it would be also nice to have a regular bread too.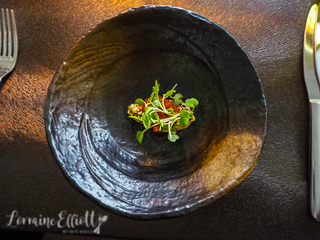 The amuse bouche is a feta salad with hemp, dukkah and compressed tomato that is salty and creamy.
My entree is the burrata by Vanella which oozes cream when cut. It is paired with broad beans, sour lemon, hemp seed dukkah, roasted chilli and garlic. The flavours are good and it's very savoury and crunchy. It's quite seedy especially when it follows the seeded cracker and seeded amuse bouche (there are a lot of seeds!) and I find myself checking my teeth constantly.
I try some of Laura's entree. It's a layer of hand picked Queensland spanner crab with preserved zucchini ribbons, macadamia and fermented green apple with fried and crispy school prawns on top. It's very generously sized with plenty of crab in it too.
My main is a Jack's Creek Wagyu Beef bavette with blackened piccolino, heirloom carrots, crisp sunchokes or Jerusalem artichokes, cashew and malted barley. The beef is cooked medium rare and is very tender although this cut isn't overly fatty or rich.
I also try some of Laura's main. It's a house made hemp pasta rigatoni with wilted spring kale, braised mushrooms, salted ricotta yet despite the very savoury ingredients it's remarkably sweet. So sweet that it almost tastes like dessert! We don't know if it's just Laura's serve as Koji's (who I didn't try) was quite salty.
I make fast work of the roasted potatoes. They're cooked with sweet caramelised garlic and sprinkled with spring onions.
It's dessert time! I love the warm pineapple tart with scorched agave, buttery spelt pastry cake base and white rum coconut ice cream. The pineapple is nicely sweet, not too tart or sweet and the pastry at the bottom is delightful.
I'm not usually a soufflé person but I'm curious about the Black Forest version. This is a chocolate soufflé with a chocolate ring on the top. Submerged within are Tasmanian cherries and on the side is a cultured cream ice-cream. It's not so much Black Forest as Cherry Ripe.
The petit fours are a mixture of sweets from macarons, matcha chocolate squares, a cardamom coconut burfi and icing topped brownie. We nibble and share these because that's what families do.
So tell me Dear Reader, do you like revolving restaurants? Do you have a fear of heights?
This meal was independently paid for.
O Bar & Dining
Australia Square 264 George St | Level 47, Australia Square, Sydney, New South Wales 2000
+61 2 9247 9777
obardining.com.au