With the warmer weather, restaurants with a water view become more appealing for lunch and dinner. The Gantry, part of the Pier One Sydney Harbour has a modern Australian menu with a fresh seafood display to tempt diners. Service is accommodating and diners can also have a pre-show menu if they are seeing a show at the nearby theatres.
"Is it possible to move to that table?" I ask, shifting around in my seat. At restaurants you should never underestimate the comfort of chairs and a restaurant designer once told me that the chairs were one of the most important elements in a restaurant. We are sitting at a table for four at The Gantry in the lobby level of the Pier One Sydney Harbour Hotel. The chairs are actually very nice indeed but when I spy a comfortable lounge and two chairs then I had to ask.
It's not a problem and we move to our new table. For their part the boys Viggo and Mr NQN prefer the curved wooden chairs while Louise and I take a seat on the comfort of the padded lounge. Service from the waitstaff is very friendly and they introduce themselves and explain the menu.
The restaurant is about half full this evening and there is an outdoor section, protected from the harbour wind and elements with plastic sheeting. We make our order and the waitress steers us away from a side which she says "Sounds better than it is" which we appreciate. The food does take a while to arrive and there's no bread to nibble on. We watch other tables around us who sit down later receive their food first.
Smoked bone marrow – shallot, parsley, Grumpy Baker sourdough $18
But when it arrives it's a beauty. I adore bone marrow but definitely concede that it isn't for many. I know that Mr NQN isn't a fan but tonight I learn that Viggo isn't either. Nevertheless this version with three (three is the number for most things on the menu) bone marrow halves is succulent yet given freshness from the fried onion and parsley salad. It is served with triangles of lightly toasted grain sourdough. In fact Viggo declares it the best bone marrow that he's had.
P.O.S.H. salad – quinoa, artichoke, orange, pomegranate, hazelnut $16
By coincidence or fate, the P.O.S.H. salad was the one made for Victoria Beckham by The Gantry's former chef Chris Irving. It is also the initials for the Pier One Sydney Harbour. It's a crunchy, fresh salad made with black and white quinoa, artichoke, orange segments, pomegranate and hazelnuts. There's a strong citrus flavour to this but the crunch and freshness is appealing especially after the unctuous bone marrow.
Lady Elliot slipper lobster bisque - VSOP cognac & tarragon $24
Can people share a bisque? Well it turns out we can and they don't even bat an eyelid. Viggo says, "We'd better order it, it's named after you." They bring out the whole bowl with a serving sized spoon and three smaller bowls and we each try some. There is tender pan fried lobster tail meat in the centre and a rich, aromatic soup flavoured with VSOP cognac and tarragon. It's rich, creamy and warming.
Roasted pumpkin gnocchi - rocket, sage, pistachio, brown butter $28
There's a large table that arrives after us so our waitress makes sure that our order is put through before theirs to avoid a long wait. The roasted pumpkin gnocchi is actually potato gnocchi with pumpkin pieces. It's delicious - with nice pan fried crispy edges they're light and accompanied with chunks of roasted pumpkin, wild rocket, sage, pistachio and brown butter. It's perhaps my favourite main.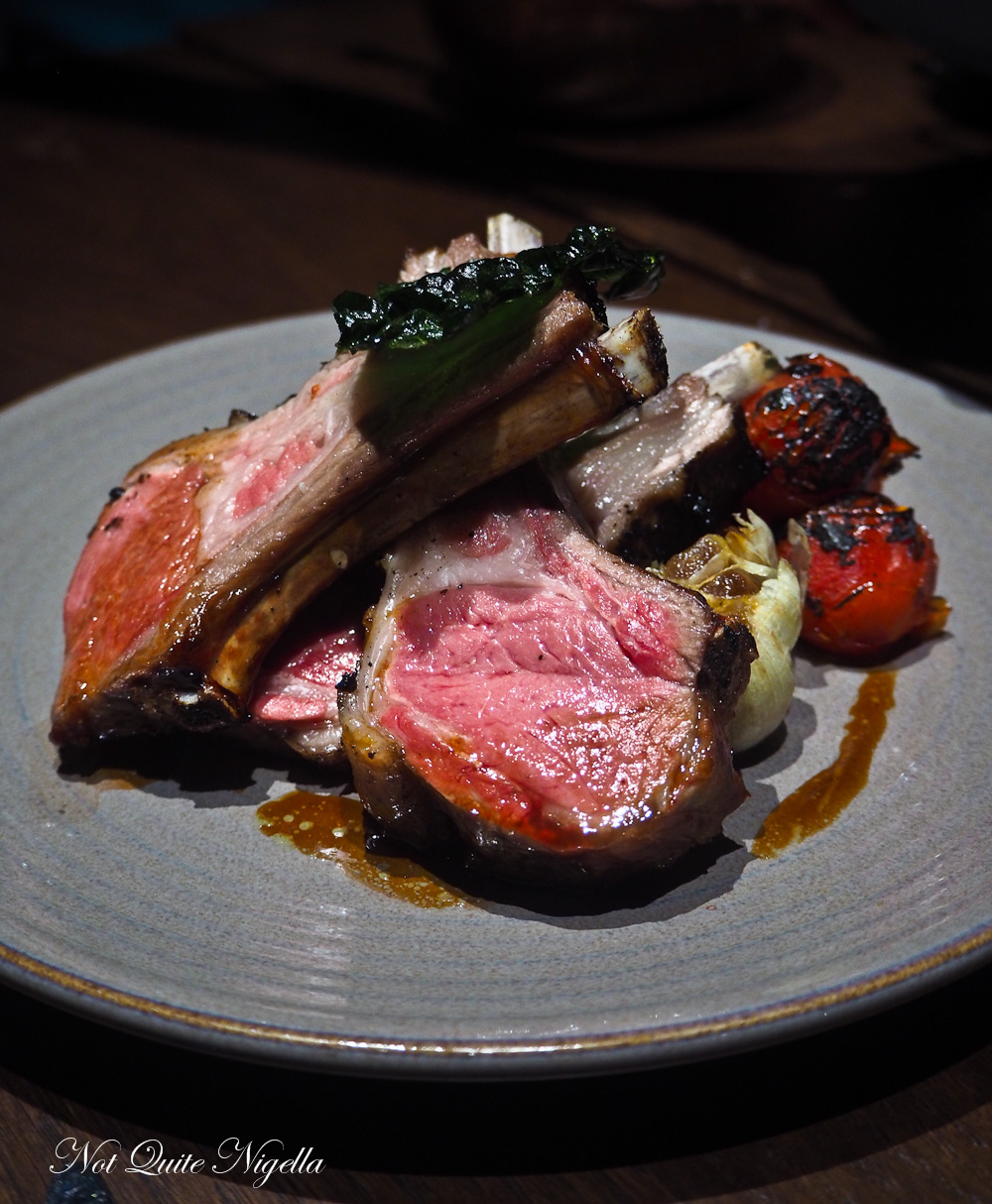 Mirrool Creek lamb chops – roasted garlic, cherry tomato, saltbush $36
The lamb chops are succulent and fatty and served with half a head of roasted garlic, oven roasted cherry tomatoes and saltbush.
Jumjum muscovy duck – Hawkesbury carrots & cabbage, citrus glaze $38
The citrus glaze on the Jumjum duck is strong on this dish. These ducks feed under hazelnut trees and are raised in Ravensdale by the Wyong River. They come with roasted Hawkesbury Dutch carrots and a cabbage salad. It's good although the strong hit of orange is a surprise at first.
Coorong pipis 400g $20
With the display of seafood within our eye range we decided to order one of the dishes. We go with the Coorong pipis that come with a choice of garlic, ginger & shallot or lemongrass, kaffir lime & slices of coconut. We go with the latter and they're tender, tiny pippies although quite a few remain unopened.
Duck fat roasted chats $9
Oh how I love a golden, crispy roasted potato! These chat halves are crunchy but not dry at all. I think I ended up eating most of these out of both need and greed (okay mostly greed), the rosemary and salt combination an addictive one.
Reiby Farms Apple parfait $15
When presented with the dessert menu Louise suggests that we try one of each of the first four dishes. It sounds like a great idea. The first has almondy chunks of "pie", Reiby Farms apple, Pepe Saya mascarpone, coconut and coriander. It's like an apple pie in a glass.
Macadamia polenta cake – kumquat, black currant, olive oil sorbet $15
This is a favourite with Viggo. It's a macadama polenta cake with kumquat compote, blackcurrant sauce and an olive oil sorbet. The polenta cake is crumbly and the kumquats give it a tart but sweet lift.
Ebenezer goat's milk pudding - rosella, oatmeal crumble, fresh honeycomb $15
The favourite for me and Louise is the Ebenezer goat's milk pudding with rosella sauce, chunks of oatmeal crumble (major yum!) and a square of fresh honeycomb. It's not overly sweet but the rosella sauce with its almost jammy quality gives it more sweetness. The texture is wobbly and it reminds me of a junket dessert. I just can't stop going back for more.
Blackstar Valhrona chocolate tart – quince, meringue, vanilla ice cream $16
The Blackstar Valrhona chocolate tart is smooth with a dark intensity with both the pastry shell and filling. On top is finely grated kaffir lime so when I take my first spoonful I think of Thai curries and savoury food. It's really best when combined with the quince and thick meringue and vanillla ice cream. And yes we manage to share all of the desserts too!
So tell me Dear Readers, have you ever shared a soup? Do you often split and share meals with other people? If so, do you just try a bit of theirs or do you divide the dish into portions? And have you ever asked to move seats?
This meal was independently paid for.
The Gantry
11 Hickson Road, Walsh Bay, Sydney, NSW 2000
Tel: +61 2 8298 9910
Open Daily
Lunch 12 noon - 2.30 pm
Dinner 6 pm - 10 pm
http://www.thegantry.com.au/menus/