Kurumac cafe is a sister cafe of Kirribilli's Cool Mac cafe but based in Marrickville. This Japanese café serves Japanese teas, sodas and bowls topped with glistening sashimi, congee and thick slices of cod roe toast.
Dear Readers, I am still sharing eating out stories because I think we need a bit of a diversion but I am not suggesting eating out at this time. If you do want to patronise restaurants and cafes I strongly urge you to get takeaway from there to avoid contact spreading COVID-19.
It's been almost a year since I last saw Girl next Door. In fact the last time was just after she officiated Mochi's memorial service and in this time we've both been up to a lot so a catch up was long overdue. Kuramac Cafe was the spot and we are lucky enough to nab the last table in the light filled front room with a large mural by Ar-chive. Kurumac is by Cool Mac's Eugene Leung and Dika Prianata.
I ponder the menu. There are things that I gravitate towards like the crispy eel or the beef tongue curry. I sweep my eyes over the onigiri rice ball set before remembering that I find a lot of onigiri lean on too much rice. I go back and forth until the smiling waitress takes our order.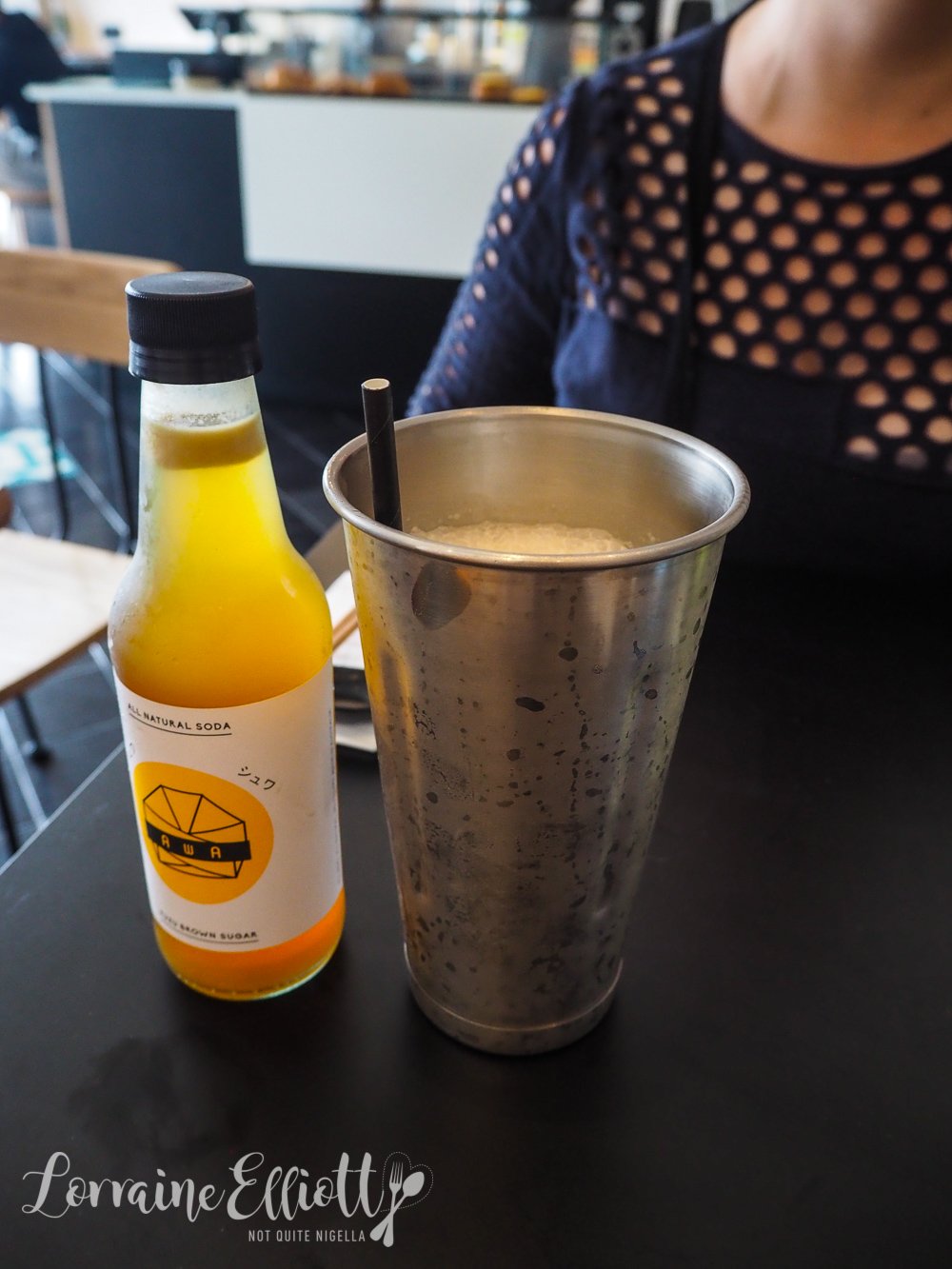 Yuzu Soda $6 and Hojicha Gelato Milkshake $9.50
Girl Next Door starts with a yuzu soda, a bottled soda while I order the hojicha green tea gelato shake. This is made with hojicha gelato and is creamy and thick with a good amount of nutty hojicha flavour and points for the old fashioned metal shake canister.
Spicy Cod Roe Melt $11
I saw one item on their Instagram that I coveted. Badly. I yearned for this spicy cod roe melt. It was also the perfect rainy day, one where the ground was soaked deep until it squelched under your feet. So naturally all I wanted was melted cheese and bread. This is a thick slice of white Japanese milk toast topped with melted tasty cheese and spicy cod roe and baby shiso leaves. I love the warm heat from the chilli powder and the creamy cod roe squiggles on top. Despite our best efforts to not finish the entire thing because we have more food coming, it's soon gone.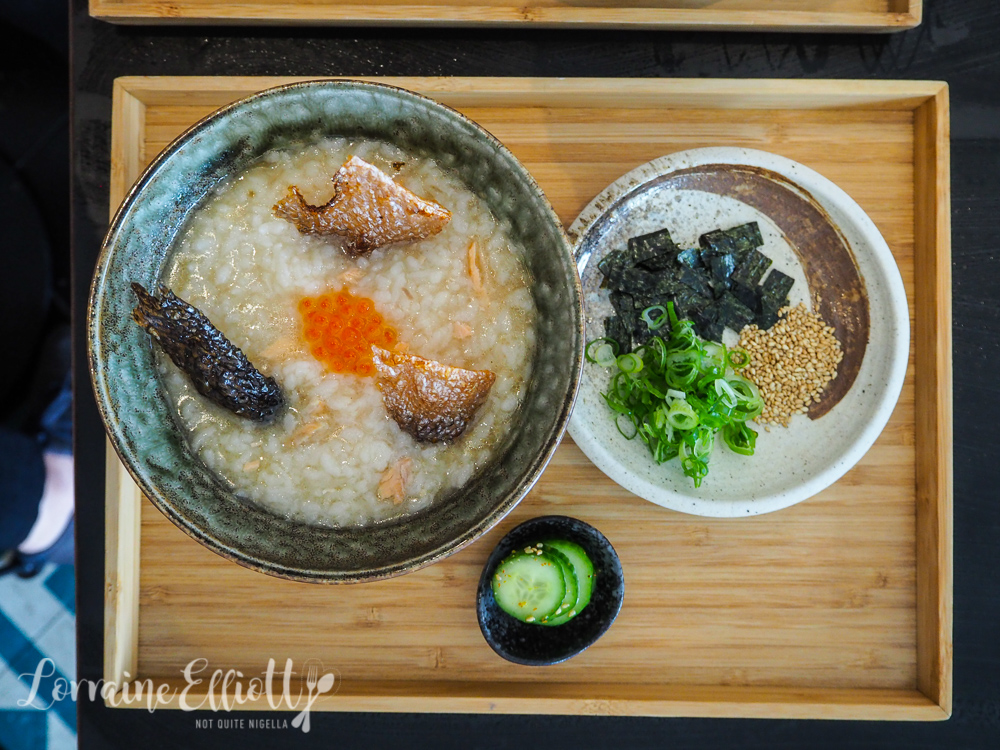 Grilled Salmon Congee, Salmon Skin $17
Girl Next Door's choice for her main dish is the grilled salmon congee. It has just the right texture of liquid to rice with salmon and three fins of crispy salmon skin sticking out of it. It is paired with nori pieces, spring onion and toasted sesame seeds. Again, perfect rainy day weather food.
Assorted sashimi Seafood, Sushi Rice $24
My choice is the assorted sashimi rice bowl with a layer of sushi rice on the bottom topped with crunchy tempura crumbs and then sashimi salmon, seasoned tuna cubes, two scallops and salmon roe with pickled ginger and nori. It's so substantial I can barely make a dent in the rice although I gobble up all that lovely fresh sashimi on top, the salmon being my favourite followed by the scallops.
There isn't dessert on the menu although there are some croissants from the Bread and Butter Project on offer. Instead I let the salty roe flavour sit on my tongue.
So tell me Dear Reader, do you eat or crave certain foods on a rainy day? Do you have friends that you only get to see once a year or so?
This meal was independently paid for.
Kurumac Cafe
107 Addison Rd, Marrickville NSW 2204
Open 7 days 7am–3:30pm
Phone: (02) 8593 9449