Picture this: it's dark, like so dark you have to take out your phone to read the menu. You're sitting at a large table in the back corner of a restaurants and flicking through pages squinting and holding it at different angles to decipher it.
It was a Thursday night dinner at Umii in Drummoyne with Mr NQN, Louise, Viggo and their friend English Rose. Dubbed a "modern izakaya" you could almost miss it wedged between Ocean Foods and the bakery next door. Even outside is pretty dark and English Rose who lives nearby hadn't even noticed its existence. The first thing that you see when you walk in the door is a large, revolving case with sashimi.
Iroppoi $6.50, Ajiwai $7.50 and Orugasumu $6.50
The menu proves a little impossible to read, the darkness and the amount of choice means that we ask for some suggestions from the staff. She reels off a list of things, some regular (karaage chicken) and others that pique our interest and we go with a few of them. We order drinks while we are waiting. I have now developed a love of sake and we try the Ajiwai Umeshu plum sake, the Orugasumu (I cringe at the name though), a sparkling jelly sake with infused peaches and an Irroppoi, a sparkling jelly sake with infused berries. They're very sweet and you could definitely forget that you're drinking an alcoholic drink!
Fresh ocean on spoons $42 ($21x2 double serve)
The first item to come out is the signature dish: the ocean on spoons. There are four types of "spoons": a wagyu and tuna with chilli aioli; scallop and salmon roe with wasabai and mayo aioli; saikyou salmon and sea urchin with salmon roe and lastly the hiramasa kingfish, soft shell crab with caviar and jalapeno. They're all quite nice but the standout is the hiramasa kingfish for all of us. The jalapeno has a gorgeous warmth at the end and the toppings are perfectly balanced.
Spider Roll $16
The spider roll is the next item and food is fairly quick to arrive which is good because we happen to be very hungry. The spider roll is made with soft shell crab, cucumber, avocado, ginger and shallot with three sauces: honey mustard, chilli aioli and teriyaki sauce.
Tempura Moreton Bay Bugs $24
These were a special and I'm glad that we ordered them because they're our favourite dish of the night. There are four plump, perfectly cooked moreton bay bugs (for those outside Australia, it's a shellfish, not an insect :)) with tobiko (flying fish roe) and chilli mayonnaise. I eat this slowly knowing that I only have one morsel all the while thinking about ordering another serve.
Rainbow Roll $18
I thought we had ordered one of the Makimono long rolls but two turn up. They're ok but rather impossible to eat as they fall apart on the way to the mouth and are a bit too piled high with toppings. We have to ask a couple of times for soy sauce too. I guess you choose the pieces that you want and some have blue swimmer crab, cucumber, salmon, tuna, kingfish, scallop and prawn and these are doubled up on top of each piece in various combinations. On my piece there is salmon, tuna and scallop which is a bit too much for one mouthful and I think I would have rather had another serve of the Moreton Bay bugs.
Scampi $20
My friend JY had recommended the scampi and it's on their signature dish list. I didn't realise that it was literally two pieces of nigiri (she had it on the mixed nigiri plate) which I think the menu should have specified given the price. The scampi is creamy and melts in the mouth but we don't really taste the foie gras or truffle oil on it at all. It comes with chilli and mustard sauce.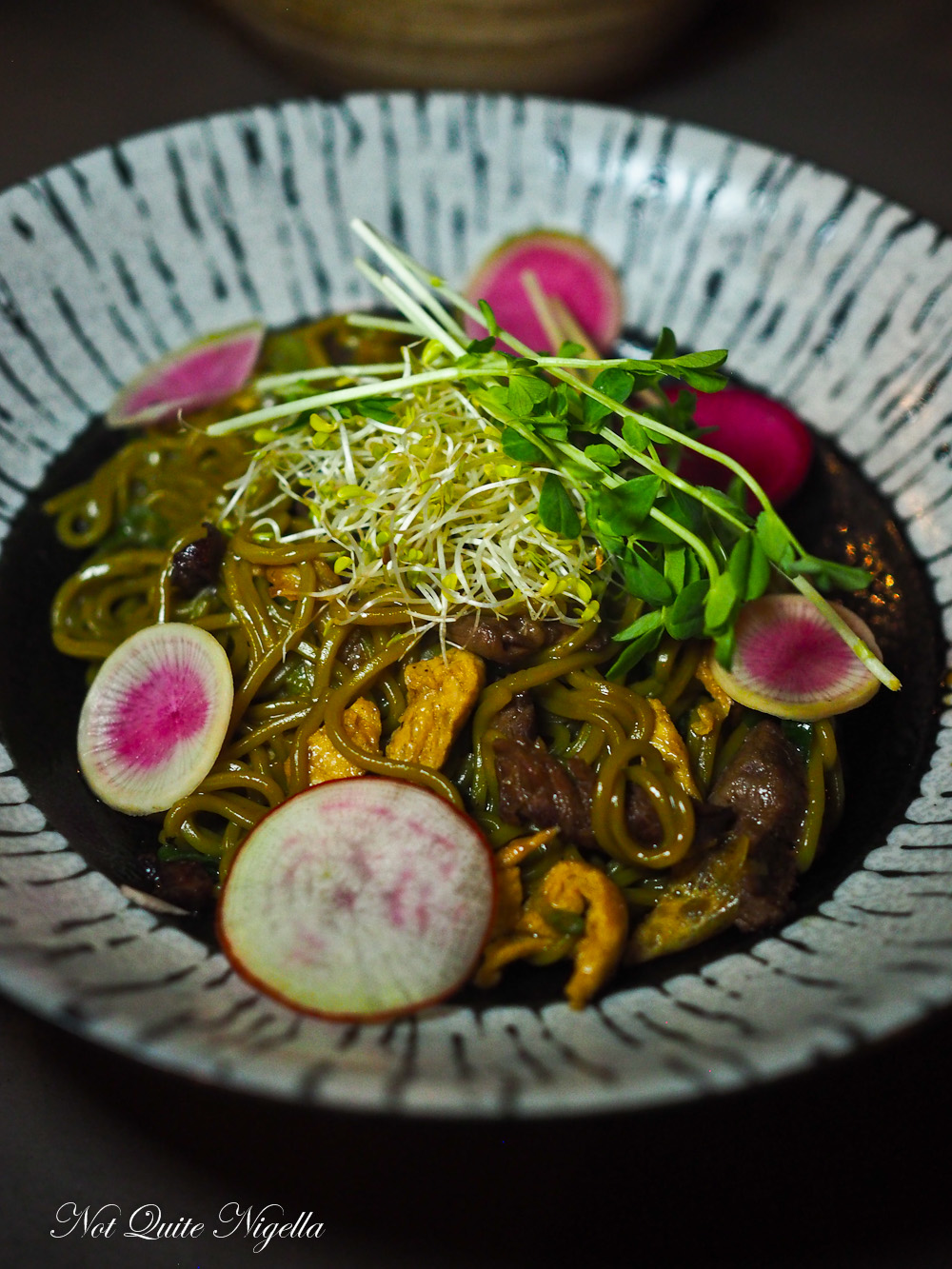 Wagyu Yaki Cha Soba $21
Viggo doesn't eat shellfish so we think we've ordered the tartare trio but this doesn't arrive and so far he has only had a spoon (although he seems totally chilled about it because he is on the 5:2 diet and this is a low calorie day) so we quickly order him a wagyu with green tea noodles which comes out quickly. We all really enjoy the saucy, slippery green tea noodle with tamago, scallion, and aonori and pices of tender wagyu. I'd love the wagyu sliced even thinner or smaller for the noodles but this and the moreton bay bugs are the highlights for us.
Lamb Cutlets $22
Usually there is a serve of three but they're nice enough to give us four cutlets. They're marinated for three days in a soy, Coca Cola and teriyaki marinade and then cooked on coals. The cutlets are juicy (and curiously come with a mayonnaise that they really don't need) and with a good, complex flavour to them and it's unusual to have cutlets on a Japanese menu so it's a bit of a novelty.
Tori no karaage $13
There was a bit of discussion about the chicken karaage. It was recommended to us but I always feel that while it is a crowd pleaser, it is also available at many places. I asked if it was particularly different from other places and they tell me that they've only eaten it here. It's fine, not particularly different and if you want boneless fried chicken with a honey mustard sauce then it is a decent offering.
Ebi No Cream & Teriyaki $15
Our last savoury dish is the popcorn shrimp with nori salt and the prawns are tender and juicy and come very lightly battered with a sweet teriyaki sauce.
Matcha Roll Cake $12
The desserts are all on the very sweet side, noticeably so especially when you're used to the subtle sweetness of Japanese desserts. The matcha roll cake (bought in) is coated in a thick, sweet passionfruit syrup with as scoop of strong matcha ice cream.
Sake Sorbet $12
The sake sorbet is a bit pricey for two scoops of sorbet that is very light on the sake flavour although it is refreshing. There are shards of waffle cone crumbled on top of it that it probably doesn't need but are perhaps used for decoration.
Sago Pudding $12
The sago pudding has a coconut base and the same sweet passionfruit syrup zigzagged cross the top. The syrup is a nice idea for the coconut but the seeds are included that do distract from the smoothness of sago and sieving the seeds would have been a nice idea.
Overall as the wall says this is more Japanese fusion rather than traditional Japanese. Indeed one of the staff tells us that the chefs are Chinese, Korean and Greek and there are no Japanese chefs. But some of the items are very tasty (hello tempura bugs and Wagyu with soba!) and they seem to love their mayo as much as I do and the bill is a really pleasant surprise at around $55 per person with most of us having drinks.
So tell me Dear Reader, have you ever not been able to read a menu in a restaurant? Do you prefer sweeter desserts or less sweet ones?
This meal was independently paid for.
Umii
152 Lyons Rd, Drummoyne NSW 2047
Phone:(02) 9181 4666
open Tuesday to Sunday 6-10pm