Heads up banh mi lovers! Alex 'N Rolls in Marrickville serves up incredible banh mi rolls but with a difference. The fillings are all house made and delectable. Pork is the star be it pulled pork, caramelised pork or barbecue pork but vegetarians also have options too!
Hey if we can't visit overseas we'll happily spend a day eating around Marrickville. And really there are no bad meals in this dense stretch of foodie heaven. There's VN Street Foods, Hello Auntie, Marrickville Pork Roll, Pepito's and Banh Cuon Ba Oanh in the immediate vicinity.
Alex 'N' Rolls is one of Monica's favourite takeaway places in Marrickville. It is by Phu Cuong Nguyen and Minh Anh Ho. Ho worked at banh mi shops for a decade honing her skills.
Sometimes when we eat out I don't know where Monica ends and I begin and vice versa. As I'm looking at the menu reading the words "sticky rice with caramelised pork" she whispers, "I think we should get the sticky rice with caramelised pork" and my eyes light up and I get a buzz of serotonin in my brain giving me happy signals.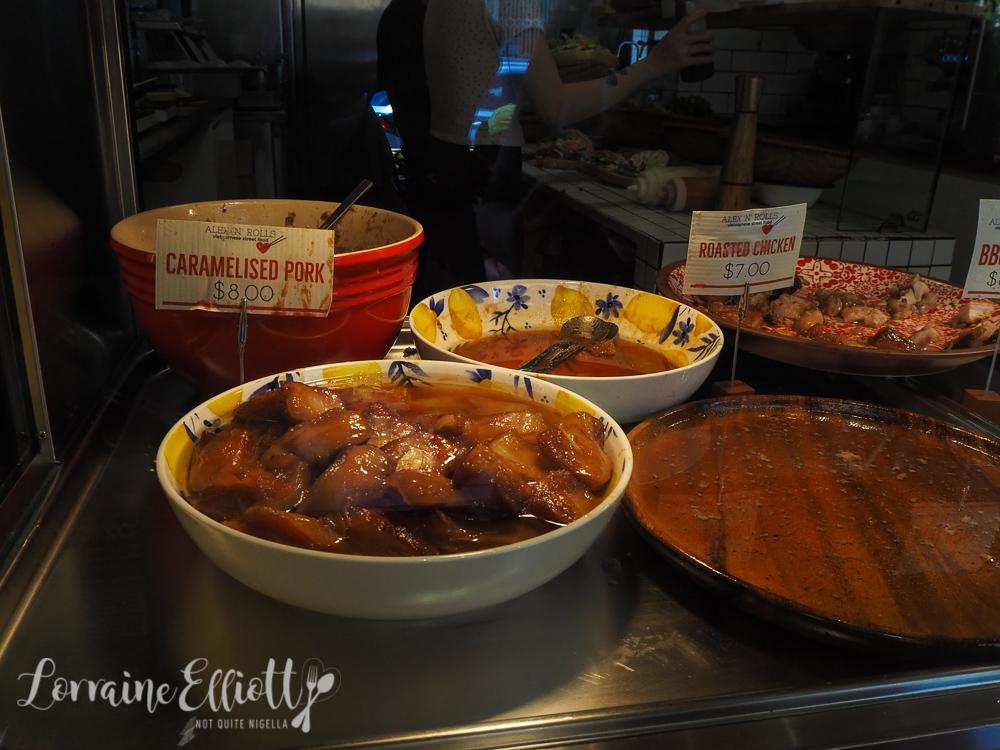 There's already a line and just a tip: it doesn't move very quickly so just be patient and prepared to wait. There's also a tiny courtyard to wait in and due to COVID there are only spaces for 2 people to eat and currently it is a couple of girls who don't seem to notice that people are waiting for their table after they've finished eating.
Iced Coffee $4
I sip on an iced coffee while we wait for our food. It's sweet and strong and nicely chilled. Monica and I salivate over the display window with glistening cubes of soy marinated pork belly.
Sticky Rice with Caramelised Pork $12
We take our food to the park 5 minutes walk away (a tip from a nice gal in the queue). Monica opens up the clamshell tray to reveal the sticky rice with caramelised pork. It is heavenly. You do have to like fatty pork to truly appreciate this dish. The saucy soy braised pork belly cubes sit on a bed of sticky rice with a layer of pate on top, a few slices of lup cheong sausage and a fried egg. Then there are sweet and salty daikon pickles and cubes of fresh cucumber. Everyone talks about the rolls but really the favourite is this sticky rice.
BBQ Pork Roll $8
Monica always asks for extra salad and extra chilli but while they seem to have gotten the request for extra salad they seem to have gone the opposite way with the chilli with a single slice. Still the rolls are very, very good. We start with the BBQ pork roll (there's also pulled pork, chicken, lots of vegetarian options and the Vietnamese Dill Fish Cake was unfortunately not available). This is full of delicious meltingly tender pork in a generous portion and plenty of salad to help balance the rich pork. You can tell that everything is house made and not mass made.
Avocado Salad $6
The avocado roll is also delicious and jam packed with enough avocado that you have to just appreciate the price of $6 along with the balance of flavours. The banh mis have the same filling as others (Vietnamese pate, mayonnaise, pickled carrots and radish, lettuce, red onion, spring onion, coriander, chilli and soy sauce) but the additions are what sets them apart.
So tell me Dear Reader, do you have a food twin? Do you like banh mis? What is your favourite banh mi filling?
This meal was independently paid for.
Alex N Rolls
321 Illawarra Rd, Marrickville NSW 2204
Open 8am-5pm 7 days a week (9am on Saturdays)
Phone: 0412 374 339