Ever wondered how to malatang? Today I've got a guide on how to malatang like a pro and all about how to make the most of your malatang experience. Zhang Liang Malatang is a help yourself malatang place in Haymarket on George Street that serves up spicy Sichuan soup with your pick of ingredients in a customisable meal.
Malatang was originally a street food in Sichuan using their hot and numbing Sichuan peppercorns but is now popular across China especially in Beijing. It's a spicy soup with your choice of ingredients cooked in the soup. "Málà" means spicy and "tāng" means soup. While communal hot pot experiences are great you do need a crowd to enjoy them and they can be quite expensive. Malatang is usually inexpensive, quick, solo or small group friendly and someone else cooks it for you. In the past few years lots of malatang eateries have popped up across Sydney.
Beef omasum (tripe)
There are only two tables outside at Zhang Liang Malatang so Monica holds one while I go in and get my bowlful of goodies. There's a lot of choice housed in two side by side fridges and some of the widest range of ingredients I have seen.
The first fridge on the left is full of vegetables, balls and dumplings while the more expensive seafood and meat is on the right hand side (probably on purpose so you fill up with the less expensive stuff). Everything is the same price and the price is calculated on the weight (not including the soup).
How to Malatang:
1 - Take a pair of tongs and a bowl.
2 - Take a look at everything on offer; the less expensive stuff is usually at the beginning of the queue and the seafood at the end. I usually just pick what I feel like eating but I'm sure there are people that want to make the most of their dollar which is totally valid. Remember crab legs cost the same as cabbage.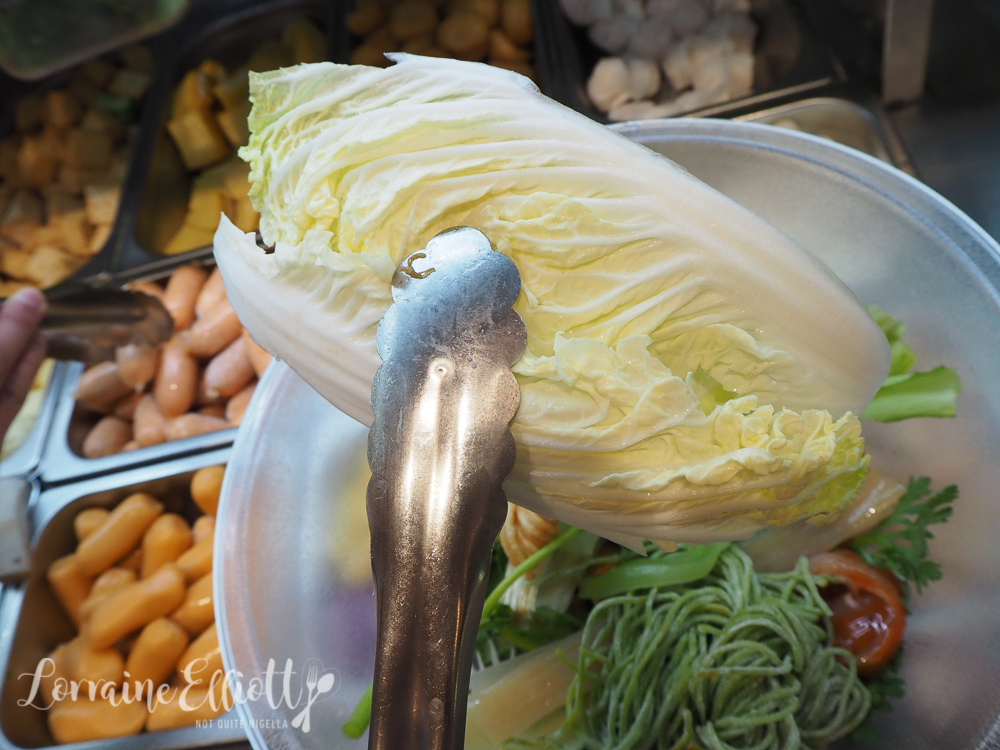 Cabbage costs the same as crab legs with malatang
The key to enjoying malatang is to get a little bit of everything that takes your fancy (see guide below on what's on offer). It can be as healthy as you want it to be. Add more vegetables and leave the soup behind and it's just poached vegetables and meat or seafood.
3 - Take your bowl and tongs to the counter where they will weigh up what you have. The price at Zhang Liang Malatang is $2.68 per 100g or $26.80 a kilo and a typical bowl is around $18-$22.
My bowl before cooking
4 - Choose your soup out of chicken ("mild" but still spicy), beef (spicy) and tomato (sweet). I'd recommend getting a drink too as sometimes the chilli can go down the wrong way (been there, done that!). There is complimentary water and the watermelon juice ($3.50) is very refreshing. They will take away your bowl and cook it for you with the broth. You'll get a buzzer and they will call you when your meal is ready which takes anything between 5-10 minutes.
5 - Take your tray and bowl to the condiments counter. There are little containers where you can put the extra condiments in. If it is your first time I recommend getting a few and then tasting to see what you like. I usually like green onions and chilli oil but there are at least a dozen types of condiments and you can get as many as you like.
Mushroom sauce, coriander and green onion
The mysteriously named "barbecue juice" is like a bean sauce and tastes similar to hoi sin except it is chunky in texture. The mushroom sauce is like an XO sauce but made with mushrooms rather than dried scallops.
Barbecue Juice
I recommend the fried yellow beans which are like crispy chickpeas that stay crisp in the soup. Note: condiments aren't really COVID friendly so use hand sanitiser before and after.
6 - If you have leftovers they will give you a container to take them away with.
Soy sauce and sesame oil
Which Malatang Items Do I Pick?
Fish balls filled with roe
Let's talk balls: the darker grey balls are usually beef while the white ones are fish. There are often striped balls and these are fish balls filled with roe. Most of these are made of fish paste.
Taro fish balls
This is a seafood sausage with a filling inside. Delicious!
If you prefer meats, chicken, pork, beef and lamb come as is or seasoned with sauce.
Meat selection
Spinach noodles
My favourite noodles are the spinach noodles as they have a chewy texture and they don't overcook them. I always eat the noodles first because they will get soft the longer they sit in the soup.
Enoki mushrooms
Enoki mushrooms are fantastic in malatang and have a similar texture to noodles. They are great if you are trying to eat low carb.
One of my favourite greens, Tonghou
Confession: I love all of the greens. Sometimes I just want to make up a big bowl of them and noodles and be done with it. Try them all, they are all very mild tasting and delicious.
Chinese lettuce
Uncooked sweet potato noodles
I absolutely LOVE these sweet potato noodles. While they look stiff and hard at first, once they cook up they're slippery and chewy and hard to pick up with chopsticks (did I mention, don't wear your best outfit?).
Sweet potato noodles once cooked. Slippery little suckers.
This isn't pasta, it's made of tofu skin.
Duck blood jelly
Konjac noodles
Other things that I don't tend to choose but may catch your eye are the beef omasum (tripe), lambs brains, duck blood jelly-there's plenty of offal if that is what you like.
White fungus
White fungus is a flavourless type of mushroom with a crunchy, al dente texture to it. Konjac noodles are made with devil's tongue and are high fibre, low calorie noodles.
Fried noodle bundle
I always try a few new things every time I go and this time I tried the fried noodle bundle. This gets wet and kind of soggy so I didn't love it.
Taro and pumpkin mochi rice sticks
Also these taro and pumpkin rice sticks had a sweet filling inside which I didn't really love.
I choose lots of vegetables and spinach noodles along with some balls, rice sticks, purple cauliflower and dumplings before adding some prawns, scallops and crab legs (I'm going for an orange and purple colour palette).
Celtuce or asparagus lettuce
When it comes to the three broths I ask the guy behind the counter which one is best and he says that the spicy beef is the most popular so I go with that one. My total is $21.71. I take my buzzer out to the table and Monica goes in to assemble her bowl.
The soup is very tasty although I notice that most people leave the soup behind. I slurp on the spinach noodles and wilted greens. I also love the celtuce or asparagus lettuce with a flavour like pandan.
Monica's bowl has a tomato base and she has added a lot of chilli oil. "I'm not going to let the white girl in me admit that this is too hot," she says puffing determinedly.
So tell me Dear Reader, have you tried Malatang? Do you like the idea of choosing what is on your bowl or would you rather someone else choose?
This meal was independently paid for.
Zhang Liang Malatang
Shop 1B&1C, 718 George St, Haymarket NSW 2000
Open 7 days 11:30am–11:30pm
Phone: (02) 9281 9137