Korean Mexican? Yes! It's a thing at Vecino on Charles Street in Canterbury. With enormous slushie cocktails, tacos and Korean fried chicken plus ice bing soos for dessert it has a strong following. So what is the food like?
Vecino had been on my to eat list for ages, over a year in fact. It was only when Canterbury local Valentina and I were discussing where to eat out next that I suggested Vecino as I knew it would be close to her. She had visited Vecino and enjoyed the food and tonight it's me, Mr NQN, Valentina, Daniela and Lutz.
It's busy this Friday evening and Vecino attracts a young crowd. Service is friendly and there's a small outdoor section with two round tables. The menu has enough options without being unwieldy. We start with cocktails which actually come out after the food.
These drinks make me feel like I'm a teenager on a tropical holiday and you know what? I don't hate that feeling especially because I'm coincidentally wearing my Dionne from Clueless tweed outfit. I order a Cruiser Rita which is a watermelon frozen margarita with an upturned bottle of Vodka Cruiser Watermelon which is sweet and fruity. Mr NQN had a Banana Makgeorita made with Korean Rice Wine (Makgeolli) and tequila served in a skull glass.
Ok I'm going to just say this once: you have to get the tacos and specifically you have to get the honey cream prawn tacos. These are battered, deep fried prawns with a honey mayo glaze with mixed cabbage, pico de gallo, lime juice, coriander, avocado and sour cream on a soft flour tortilla. This is a textural and taste sensation happening in my mouth and I can't stop eating this and finish my whole taco (which I rarely do). The tacos come with a small side of salsa and pickled jalapenos.
Now that I'm in bossy mode I'm also going to tell you need to order the spicy pork taco too. It's a flour tortilla filled with marinated Korean style spicy pork belly, mixed cabbage, coriander, black beans, pico de gallo, Vecino hot sauce, sour cream and guacamole served with salsa and jalapenos.
I don't think Daniela and Lutz had ever tried Korean fried chicken before and they were completely smitten with it. The garlic packs a punch and is more dominant a flavour over rosemary. It's crunchy and saucy and comes with a head of garlic on the side as well as shredded cabbage and fries.
I also like the bulgogi fries with thinly sliced beef bulgogi, sauteed kimchi, coriander, mixed cheese, pico de gallo, sour cream and Vecino hot sauce.
I thought the signature kimchi burrito was pleasant and nice but I don't think I'd order it again as it was probably the least exciting thing that we ordered. It's a large flour tortilla filled with kimchi fried rice with bacon, smoked flavoured spicy pork, black beans, tomatoes, mixed cheese, guacamole, sour cream and Vecino hot sauce.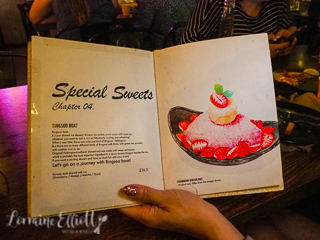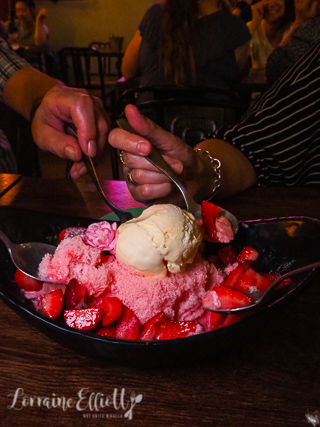 They hand us a Little Golden Book that details drinks and desserts. As we had eaten so much and the food is really filling we decided to share a Strawberry Bingsoo shaved ice dessert (there's also matcha, mango and Oreo flavours). It's a strawberry milk shaved ice base with plenty of sliced strawberries and a scoop of vanilla ice cream. It's another first for Daniela and Lutz who marvel at the sheer size of it. It's perfectly refreshing after the big meal too.
So tell me Dear Reader, tell me about your teenage years and what you drank, wore and loved! Have you ever tried Korean and Mexican fusion?
This meal was independently paid for.
Vecino
Shop 1/1-3 Charles St, Canterbury NSW 2193
Open 7am–10pm
Phone: 0456 416 749