Khao Soi is a wonderful curry noodle soup from the Chiang Mai region of Thailand. And here I show you how to make it from scratch including the curry paste (and show you a short cut using a bought curry paste)! This wonderful noodle soup is delicious, flavour packed version of laksa but it is paired with chicken, a side of crispy noodles, eschallot and mustard pickles. This soup will transport you straight to Thailand and it is a pushy recipe Dear Reader!
The first time I tried Khao Soi I was instantly smitten. It was at a street stall in Chiang Mai and I had strict instructions that I had to try Khao Soi while I was there. We sat down next to huge tubs of condiments that people were adding to their bowls. Khao Soi is a dish that comes from the Chinese Muslims or Yunnanese Muslims that settled in Northern Thailand in the late 19th or early 20th century. Others say that its origins are from nearby Burma.
This recipe comes from chef Sujet Saenkham from Spice I Am who showed me how to make it in a cooking class. It brought back such great memories of the dish in Chiang Mai. I mean even if we can't travel there now, we will soon one day and in the meantime I'll travel to Chiang Mai with this Khao Soi. When I went to Thai town to buy the ingredients, I stayed for a bit longer enjoying the atmosphere just because it felt like I was there (although it was freezing cold!).
Laksa vs Khao Soi: The two dishes are similar but not the same. Laksa is often served in a large, cavernous bowl with lots of toppings, two types of noodles (hokkien and vermicelli) with cubes of deep fried tofu and seafood with a coconut milk based soup. Khao Soi is served in smaller bowls and is made with chicken and flat egg noodles and served with green mustard pickles, fresh eschallot pieces and crispy egg noodles. I actually slightly prefer khao soi over laksa because of the crispy noodles on top which makes it INCREDIBLY MOREISH.
How long will the khao soi curry paste last? The khao soi curry paste will last for up to 3 months in the fridge in an airtight jar if you cover the top of the paste with oil.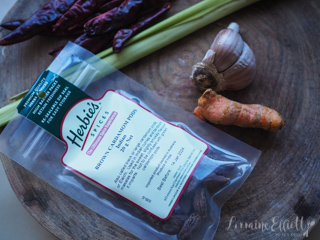 Black or brown cardamom
Where to buy the ingredients for khao soi? I headed straight to Thai town in Sydney's Haymarket where you can buy everything to make it. Black cardamom pods are larger, hotter and smokier than the milder, sweeter green cardamom. You can replace the black cardamom with green cardamom pods (just use 1.5 times the amount as green pods are smaller). However you shouldn't use black cardamom when you need green cardamom as it's much stronger.
Don't have time to make your own Khao Soi curry paste? Use a red curry paste instead! The Khao Soi paste is similar to a red curry paste. I use a red curry paste by Mae Ploy but you may already have another favourite one.
Are the accompaniments for Khao Soi necessary?: as I mentioned khao soi is served with pickled mustard greens, crispy egg noodles, wedges of lime and golden eschallot. I actually don't love the mustard greens so I usually skip them but I love the lime and the crispy egg noodles (please don't skip these, they make it utterly moreish).
Want to cut down on the coconut cream and milk? I have tried this with different ratios and it's absolutely delicious with just 1 cup of coconut milk and no coconut cream (it's even tasty without coconut milk/cream!).
I made a big batch of this Khao Soi for Mr NQN. I was going away for the weekend with Laura and he was on special diet. He is seeing a doctor for his poor sleeping patterns and they wanted him to be on this restricted diet for 48 hours before getting a pee sample to send in. That meant that he wasn't able to have caffeinated drinks, fruit juices and a whole range of fruit, vegetables and spices. It also meant that we had to be careful when eating out and I mostly made him things to eat at home because that way I'd know what was in everything.
On the first day he ate his food as instructed but things rapidly deteriorated after that. On the Sunday I left him two boiled eggs and another container of khao soi but he decided that while he was hungry he was only going to feast on two eggs and a carrot the whole day. That was before having a massive a nap for 4 hours and then going out to windsurf for a few hours.
"You had just two eggs and a carrot and then went windsurfing?" I said incredulously (stifling laughter at the phallic image that popped into my mind), "Are you crazy?". I think that was one reason why he was so relieved to see me home and greeted me with such a warm hug and welcome home pickles. Honestly man children are a special breed!
That night as we were falling asleep I asked him, "Did you miss me?" and he mumbled something in the affirmative before adding, "It was so cold when you weren't here," he said. He didn't mean it in a romantic way though. "That's because I turn on the heater and air conditioner when it's cold!" I said laughing. So it turns out I'm also responsible for maintaining a liveable temperature too-ha!
So tell me Dear Reader, do you make good nutritional decisions on your own? Have you ever tried khao soi and if so, what did you think of it? And do you make your own curry pastes from scratch?
Did you make this recipe?
Share your creations by tagging @notquitenigella on Instagram with the hashtag #notquitenigella
Authentic Khao Soi Recipe
Adapted from chef Sujet Saenkham from Spice I Am
Preparation time: 25 minutes
Cooking time: 10 minutes for paste, 15-30 minutes for chicken and noodles (depending on type of chicken you use)
Serves: 6-8
Khao Soi Curry Paste (makes enough for 3 batches so 12 serves in total)
3 black or brown cardamom pods (seeds only)
2 tablespoons coriander seeds
2 tablespoons curry powder
7-10 dried chillies (to taste)

50g/1.7ozs. golden eschallot, peeled

30g/1oz. garlic (around 3 large cloves), peeled

30g/1oz. lemongrass, inner white part of 1 large stick

30g/1oz. fresh turmeric, peeled

30g/1oz. fresh ginger, peeled

1 teaspoon salt

200ml/7flozs. water

100ml/3.5flozs. oil
Main ingredients:
750g/26.4ozs. flat egg noodles
500g/1.1lbs bone in chicken (or tenderloins), cut into pieces
500ml/2 cups chicken stock
500ml/2 cups coconut milk
200ml/7ozs. coconut cream
30g/1oz. or so palm sugar
2-3 tablespoons fish sauce (or to taste)
1 teaspoon salt
Oil for frying
To serve:
100g/3.5ozs. green mustard pickles
1 golden eschallot, peeled and sliced
1 lime, cut into 8 wedges
Crispy egg noodles (see below)
Step 1 - First make the curry paste which you can do ahead of time. Dry roast the black cardamom seeds, coriander seeds and curry powder until fragrant. Then place in a mortar and pestle or spice grinder and process.
Step 2 - Place the chillies, eschallot, garlic, lemongrass, turmeric, ginger, salt and ground spices in a food processor and blend with the water until you get a smooth paste. Place this into a saucepan on low to medium heat and fry with the oil for 5-7 minutes until it starts to release its fragrance and smells sweet. Place in sterilised jars and cover the top with oil until ready to use.
Step 3 - Take 4 tablespoons of the spice paste and place it in a cold pot and turn the heat up to medium. When it is sizzling, add the chicken pieces and allow it to start to turn white to cook. Add the chicken stock and cook the chicken through with the lid off. Add the coconut cream first and bring to a boil and then add the coconut milk then add the sugar, fish sauce and salt to your taste. Turn off the heat.
Step 4 - Set aside 200g/7ozs of the flat noodles to deep fry to become the crispy noodle topping. Line a plate with paper towels. Place some oil in a wok or pot and bring to 180C/350F (place a wooden chopstick in the oil and if bubbles appear then it is ready). Fry for a minute turning over to fry it all over and then place on the paper towel lined plate.
Step 5 - Wash the remaining egg noodles first in cold water to remove the starch and then cook in boiling water for 2 minutes. Add a couple of teaspoons of oil to prevent the noodles from sticking together. Divide the noodles among four bowls and ladle over with the chicken and soup. Serve with the mustard pickles, eschallot, lime wedges and crispy egg noodles on the side.