These top 5 lockdown recipes are for any Dear Readers that are stuck in lockdown! These recipes are fast, easy and fun and don't require special trips to the shops. From creatively cut potatoes, fluffy coffee, decorative focaccia, fun home made noodles to banana bread these will feed your soul and are fun to make.
Did you make this recipe?
Share your creations by tagging @notquitenigella on Instagram with the hashtag #notquitenigella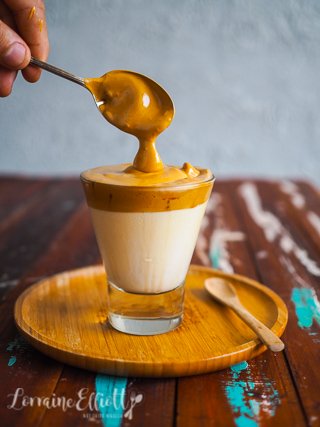 Last year in April 2020 Dalgona really took off as a trend (just as COVID-19 really started to take a hold). All it required was a bit of instant coffee and a whisk and you ended up with a fun way to caffeinate when working from home.
Accordion Potatoes were a trend that came off TikTok. All it requires are potatoes, skewers and a knife. What you end up with is the cleverest way to cut potatoes to maximise the crispy edges!
This is one of my favourite trends and things to make in lockdown because it produced something beautiful every time and made use of any stray vegetables in the crisper. Plus you get to eat a delicious focaccia afterwards!
Okay making your own noodles from scratch seems crazy and complicated but I promise that it isn't and it is also really fun as well. These biang biang noodles are vegan and easily made with ingredients you have at home (flour, chilli, oil, vinegar and garlic) but they produce the most deliciously long and chewy noodles!
Banana bread was another lockdown favourite but did you know that the very best banana bread recipe is here? It's SO delicious and you have to give it a try! Make sure to toast it and spread it with butter too ;)
So tell me Dear Reader, how are you faring? Did you try any of the lockdown recipe trends above?