Want a fun distraction while working from home? Dalgona Coffee is a quick and fun coffee trend that is taking social media by storm. The good news is that it is really, really easy and has only three ingredients that you probably have at home already!
Dalgona Coffee originally comes from India, Pakistan and Macau where they call it whipped coffee. But it was when South Korean actor Jung Il-Woo went to Macau to try it and dubbed it Dalgona coffee for its resemblance to a Korean Sponge Candy called Dalgona (달고나) that people latched onto the fun process of making Dalgona coffee or more specifically the foam on top. It was perfect timing as everyone is in various forms of COVID-19 lockdown. It doesn't hurt that the coffee is really eye-catching and photogenic and also that it is simple and involves cheap, easy ingredients that you don't have to leave the house for.
The three ingredients for making the fluffy, meringue-like top of the coffee are: instant coffee powder, sugar and hot water, all in equal quantities. Plus there is milk at the bottom where either hot or cold milk will do. Dalgona Coffee is really for people that like their coffee strong and milky.
Video: How To Make Dalgona Coffee!
Ingredients for Dalgona Coffee: To make two cup's worth of topping you will need:
Instant coffee powder
Sugar (white or caster/superfine)
Hot water to dissolve it all
Should I use a hand whisk or electric whisk for my Dalgona Coffee? Then comes the fun part! Once everything is dissolved then whisk. This works with hand whisks and electric whisks. I've used both and you get the same result although obviously using an electric whisk uses less arm work. To use a hand whisk they say that you need to do at least 400 strokes. No matter how you do it, it actually starts to transform quite quickly becoming paler and thicker until it becomes as thick as a meringue. At that point you can just use it to top a hot or cold glass of milk!
How to get that perfect social media shot of your Dalgona Coffee? Pictures of Dalgona coffee show a really thick, whipped layer on top and this recipe makes enough for two cups' worth of topping. However at that ratio of 1 tablespoon of coffee per cup it is much higher in caffeine than your regular cup of instant coffee. You can of course use less topping but visually, it looks good with a lot of topping.
Is Dalgona Coffee better with hot or cold milk? I actually prefer this with hot milk as it allows the Dalgona coffee foam to mix in better rather than just sitting at the top when you stir it with a spoon. You will find once the coffee mixes with the milk that lovely thick layer of foam still remains and it is quite sturdy-sturdier than cappuccino foam!
So will this work with other powders or brewed coffee or espresso? It works with cocoa powder somewhat (although it doesn't froth up as much). When used with matcha powder the mixture sunk to the bottom while using it with coffee it sits on the top. Hojicha doesn't work sadly as it just doesn't whip up enough. And does it work with brewed coffee? It also works with brewed coffee but it must be made very strong so use espresso and the foam may not last as long.
Can you make Dalgona Coffee in the Thermomix? Yep, it's really easy! I have a recipe for making Dalgona in the Thermomix here.
How To Store Your Dalgona Coffee Topping: You can make a big batch of this and pop the foam in an airtight container and keep it in the fridge where it will last for a few days. Usually you will get a little pool of coffee syrup at the bottom.
How Does Dalgona Coffee Taste? Although I'm not a huge instant coffee fan, it was a fun thing to do on a Sunday morning. Once I got the ratios right (some people were suggesting the whole lot of topping in a glass which is waaay too strong!!) I actually quite liked it. I actually had a glass while I spent the rest of the day baking and watching the craziest show. Have you guys seen Tiger King on Netflix?
It defies description and I don't want to give anything away plus, you might think I was making it up. As far as plot twists go, it makes no sense. It's basically 2020 in a tv show! There's no likeable or normal main characters apart from a couple of peripheral characters and the whole thing is being made into a movie because sometimes, as we've learned, life is stranger than fiction!
So tell me Dear Reader, will you try the Dalgona Coffee? Tag me on social media if you do! Have you seen Tiger King?
Did you make this recipe?
Share your creations by tagging @notquitenigella on Instagram with the hashtag #notquitenigella
How To Make Dalgona Coffee
An Original Recipe by Lorraine Elliott
Preparation time: 5 minutes
Cooking time: 0 minutes
Makes 2 cups of Dalgona Coffee
2 tablespoons instant coffee powder
2 tablespoons sugar
2 tablespoons hot water
360ml/12floz. milk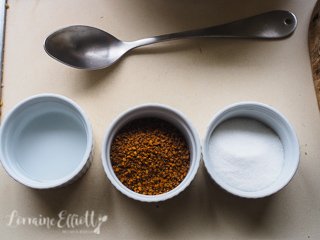 Step 1 - Place all three ingredients in a deep bowl and whisk until it becomes thick in texture. You can use either a balloon or hand whisk and whisk 400 strokes or use a whisk beater. Using the electric beater should take a minute or so.
Step 2 - Heat milk (I find this is best using hot milk rather than cold) and then divide into two glasses. Then spoon over half of the foam mixture on each glass of milk. Serve with a spoon so that you can mix the coffee with the milk.
When the topping is stirred with hot milk the thick foam remains