Loulou in Milsons Point is a French bistro as well as a traiteur (or delicatessen) and boulangerie. Loulou Bistro serves classics such as steak tartare and steak frites they also do their own spins on classics like moules frites. It is also the perfect place for a wedding anniversary.
"Where have you booked for our anniversary?" I asked Mr NQN who suddenly had a terrified look on his face. "Just kidding, I booked us into a place," I told him. If I left the organising to him we'd have pizza delivered for our anniversary dinner which is not a bad idea but it was a good excuse to try Loulou Bistro in Milsons Point.
We had plans to sit outside but of course the rain had scuppered these. When you first walk into Loulou there's a bar area that leads to the main restaurant. There's also the adjacent building where you can buy baked goods and traiteur/deli items. The chef is Billy Hannigan previously of Bistro Guillaume and The Ledbury in London. When I sit down I'm given a range of menus from the specials, wine list (which is mostly French and Australian), main menu and the cocktails. Gluten free eaters have a lot of choice and there's also a separate vegan menu (Hannigan's sister is vegan). I've already studied the menu online so I know what I want to order. If only I could get their attention.
Service is a bit of a work in progress. The maître d' works from the chilly end of the warmth spectrum. Our waiter is lovely although it does take a lot of time to get their attention. Occasionally there is the wrong dish brought to the wrong table and we can see our parfait being brought to a neighbouring table where it wanders back to the kitchen only to be brought to us by somebody else.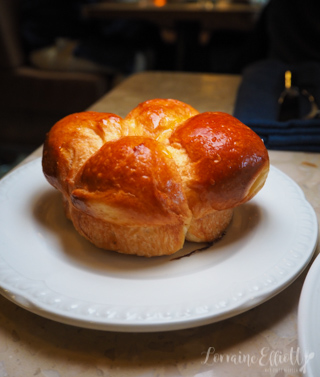 When it does arrive at our table we split the buttery brioche and spread it with parfait. The parfait is delicious and smooth textured with an edge of butter and jam on the side. My only complaint is that a bit more jam is needed but apart from that it's a tasty starter. Also the brioche wasn't warm as the menu promised but that may be because it went on a roundabout trip to our table.
The pommes dauphines are are the perfect snacky bite. These are fried mashed potato choux pastry balls with shavings of Tête de Moine ("Monk's Head", a raw cow's milk Swiss cheese with a creamy, mild flavour) on top The deep-fried bites collapse in the mouth with a satisfying bite while the cheese shavings melt like butter. They come with some crème fraîche and mustard to dip in for a bit of piquancy.
Most people would imagine the moules frites to be a cavernous pot of mussels and fries on the side. With Loulou's version, the mussels arrive shelled with melted Café de Paris butter and a tumble of crunchy matchstick potato fries. Given the choice of traditional moules frites or this, I'm completely won over by this version.
It's time for the mains and I had spoken to several friends who had already dined at Loulou and we all found that the mains were the favourites over the starters which is the opposite of what we usually experience. Everybody talks about the John Dory farçi and it certainly one of the most eye-catching dishes. Fillets of John Dory are wrapped in spinach and then poached and served with a Champagne cream sauce. It is as delicious as beautiful as the fish is lusciously textured while the caviar perfectly seasons it. I can still taste every bite.
I was in the mood for roast chicken and the rôtisserie chicken comes as either a half or whole bird served jointed. This sounds simple but the chicken is perfectly cooked and the sauce Colbert (a hollandaise with veal stock) and the tarragon and lemon makes this very moreish. It's hard to say which main I preferred and I'd recommend getting one of each and sharing them.
There are the usual side dishes but we decided to go for the zucchini flowers (which is one of the starters) as a side. It's salad leaves with a couple of zucchini flowers, white anchovies and croutons. It has a great acidity to it to balance the rich buttery-sauced mains.
I really did want to have two desserts but Mr NQN put up his hands in surrender as we couldn't even finish the chicken. We agreed to share the Mille Feuille (I wanted the beignets next time but Mr NQN doesn't like deep fried food). The peach mille feuille has a burnt peach caramel poured at the table. The inverse puff pastry is very crisp with creamy filling and the caramel is taken far so that it has a slight bitterness to keep this dessert from being too sweet. And even with the 2 hour allocation for our table we leave with time to spare without feeling rushed. That gives us plenty of time to go for a walk in Wendy Whiteley's garden nearby.
So tell me Dear Reader, what do you usually do for your wedding anniversary? Are you the planner? And do you usually prefer the starters or the mains?
This meal was independently paid for.
Loulou Bistro
61 Lavender St, Milsons Point NSW 2061
Phone: (02) 8000 7800
Monday to Thursday 12–11pm
Friday & Saturday 12pm–12am
Sunday 12–10pm
www.loulou.sydney