It's time for a North West Chinese food tour in Chatswood! If you love exploring regional Chinese cuisine and eating Chinese food beyond Cantonese cuisine in Sydney then come along on this Chatswood food tour! We give 5 North West Chinese restaurants a try and get some delicious surprises along the way!
This post is brought to you by Chatswood Culture Bites.
This Chatswood food tour has 5 stops all exploring the region of North and West China. As China is such a vast country with so many regions, terrain and neighbouring countries influence each region's food. In Northern Chinese cuisine wheat is the main ingredient over rice. The cooler weather above the Yangtze River is advantageous for wheat planting and Winter wheat can withstand freezing temperatures for extended periods of time whereas rice needs warmer weather to grow. That means you in the North you will find all sorts of delicious wheat based products like dumplings, noodles, filled & steamed buns and red meat while the South of China has more seafood and rice.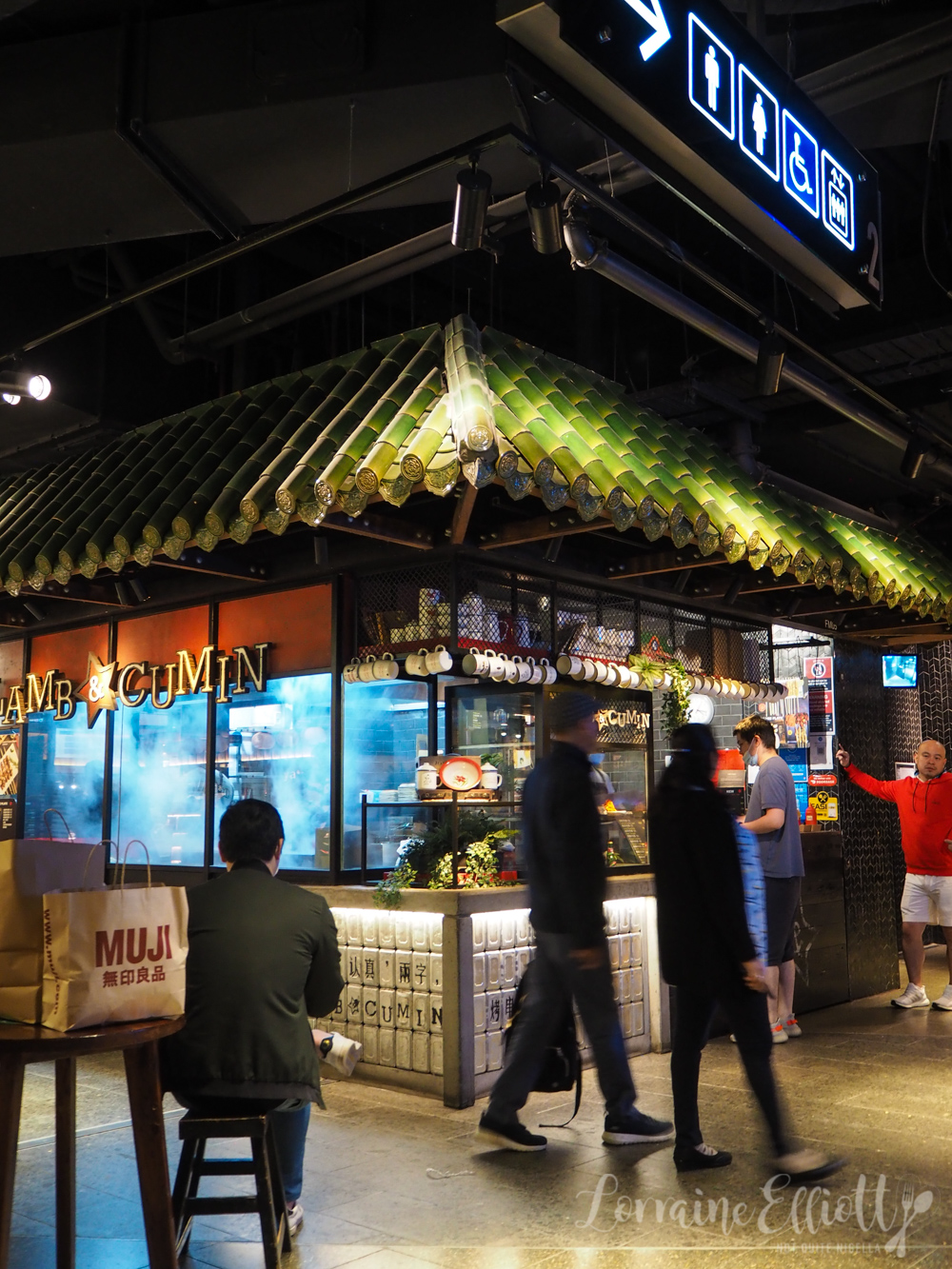 In the very North West of China is Xinjiang, an area that borders Mongolia, Russia, Kazakhstan, Kyrgyzstan, Tajikistan, Afghanistan, Pakistan and India. Xinjiang a multi ethinic region and it is also traditionally home to the Uighur or Uyghur people among many other ethnic groups. Uighur people are Muslim and have their own distinctive cuisine. The large pastoral area is ideal for sheep so lamb is used a lot in Uighur cuisine and the cuisine is a delicious mix of hand pulled noodles and lamb dishes many using all parts of the animal. Shaanxi and its capital Xi'an is also in North West China. Xi'an food uses a lot of lamb and wheat in tasty filled buns and noodle soups.
From today there's an activation called "Chatswood Nights" with 12 giant inflatable gnomes lit up 24 hours a day at outdoor public spaces and indoor retail centres. Each gnome helps visitors discover a cuisine in Chatswood so you can create your own digital food trail and win prizes. An animation of the Gnomes travelling the world will be projected onto The Concourse facade nightly throughout the 23 day activation. If you're like me and miss travelling overseas, this is a great way to try those foods again.
Lean lamb skewers 5 for $13.50 and classic lamb skewers 5 for $11.80
The Westfield centre in Chatswood has a couple of tasty options in their Hawker Lane food hall on level 2 of the shopping centre. There's Lamb & Cumin which serves, you guessed it, lamb and cumin on skewers. Order a serve of lean or classic lamb on skewers and some flatbread (basically flour tortillas) and fashion yourself a delicious rolled up sandwich. These lamb skewers come in lots of 5 and in three levels of spice (non spicy, mild and hot). The lamb is wonderfully juicy and even the lean lamb skewers are tasty. Lamb skewers come from the Xinjiang area of China in the North West and a popular street food - even Mr NQN who doesn't love lamb adores lamb skewers. If lamb isn't your thing there's also chicken, beef, tofu and squid.
Flatbread $3 for 5
Tip: add more chilli once you try it if you like it super spicy.
Lamb & Cumin: Level 2, Hawker Lane Westfields Chatswood. 1 Anderson St, Chatswood NSW 2067. Open 11am-8/8:30pm.
A few doors down Noodle Warriors sells "Mo burger" which is short for "Roujiamo" burger, a filled sandwich from the Shaanxi region of China in North West China. While you may know Shaanxi for the terracotta warriors, it is also famous for street food like Roujiamo. Some say that Roujiamo is the world's oldest sandwich and it dates back to the Zhou dynasty in ancient China from 1046 BC. Pork is the most traditional filling for roujiamo but there's also lamb and beef. Their pork belly is the most popular and is filled with chopped up, melting soft pork belly and green onions with just the right amount of sauce to it. And at $6.50 each they're the perfect snack or light lunch!
Noodle Warriors: Level 2, Hawker Lane Westfields Chatswood. 1 Anderson St, Chatswood NSW 2067. Open 7 days 10am-10pm.
Our next stop sees us heading outside to Archer Street. This street has a bit of everything-looking for a Liverpool Football Club themed English barber or an Italian gelateria? Archer Street also has delicious skewers. Skewers Go specialises in meat skewers. We take a seat outside and they give us a menu and a pen and we mark the items that we want. It's a choose your own adventure - you can go adventurous like aorta, ligaments or feet or you can go less adventurous like chicken wings, prawns and teriyaki chicken.
Ox Tongue 5 for $11
We start with ox tongue with its springy texture and work our way around beasts. I ordered everything hot and it was all hot and spicy and a bit of a challenge for Mr NQN so just a little warning about heat levels.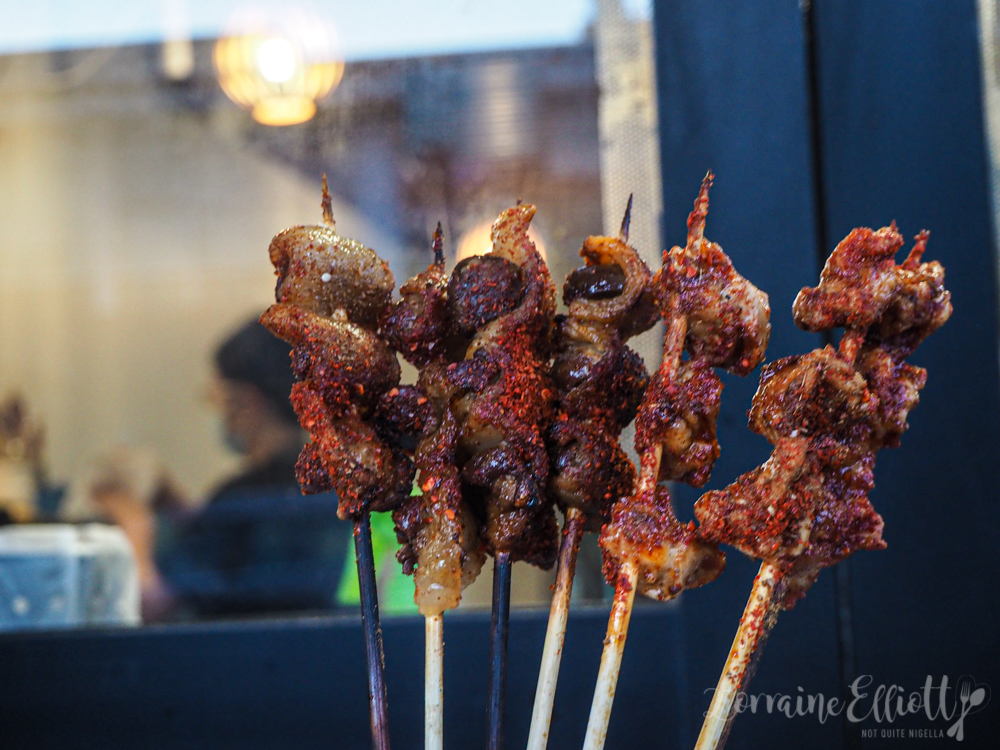 Wang Jin Lamb Kidney 4 for $11 (left) Chicken Knee Cartilege 3 for $11
I love chicken knees for their crunchy white bone texture. They're not for everyone but they're tasty as each bite has some juicy meat and crunchy white bone. There's two types of lamb kidneys and we went with the smaller ones that are wrapped in meat. They're absolutely tasty and you're talking to four people that don't really like kidneys at all. They've got a flavour that isn't too different from lamb, usually kidneys have a smell that I don't love but these are very tasty and luscious.
Beef Marrow $15
A must order is the grilled beef bone marrow served split in half with two toasts and a flavour intense spicy, salty soy dipping sauce. Dare I suggest you may even want one order of the bone marrow per person because you do end up with two small toast's worth and it's so delicious you will want more.
Corn Cheese Grilled Rice Cake $9.80
Ok don't be alarmed but the grilled corn cheese has colourful cupcake sprinkles but this corn and cheese concoction is super tasty. If you're a fan of corn and cheese they've basically combined the two and grilled it so that you get a tasty, cheesy vegetable side to your meat skewers. There are no rice cakes in ours as the name suggests though.
Tip: the plastic tray that they give you is for them to place the cooked skewers on. The little plastic lined mini metal canister is for the spent skewers.
Skewers Go: 77 Archer St, Chatswood NSW 2067. Open Tuesday to Sunday 5pm-11pm. Closed Mondays.
I have skewer please?
Our fourth stop is Xin Jiang Hand Made Noodle which is a destination in itself. Walk up the stairs and past the rhythmic thudding of noodle making and chopping. All of their noodles are cut or stretched fresh to order and they proudly make everything by hand. The dining room is straight from a Wes Anderson movie with green curtains and a charming, retro interior. Help yourself to cutlery from the buffet table of equipment and go wild on the noodles and dumplings here.
Boiled Flat Noodles with Hot Oil, Beef and Vegetables $16.80
We're back in Xinjiang here with big bowls of noodles topped with lamb. The owner tells us that everyone that orders these noodles loves them. She's not wrong, they're absolutely delicious and are like biang biang thick belt noodles that are hand made so that each noodle is different. The beef just melts in the mouth and the noodles have a delightful, chewy texture.
Fried Chopped Noodles $16.80
For something different give the Ding Ding Chao Mian chopped noodles a go. These are like tiny gnocchi style noodles that show the influence of Xinjiang's place on the Silk Road. Here they chop these up fresh with a cleaver for every order. The chewy texture of these is the key to their appeal and they're paired with lamb and vegetables like onion, celery, tomato for a delicious sauce.
Tip: they take a break in the afternoon and open back up at 5pm (despite what the signs say)
Chopping up ding ding noodles
Xin Jiang Hand Made Noodle: 1/84 Archer St, Chatswood NSW 2067. Open Tuesday to Sunday 11am-9pm (break from 4-5pm). Closed Mondays.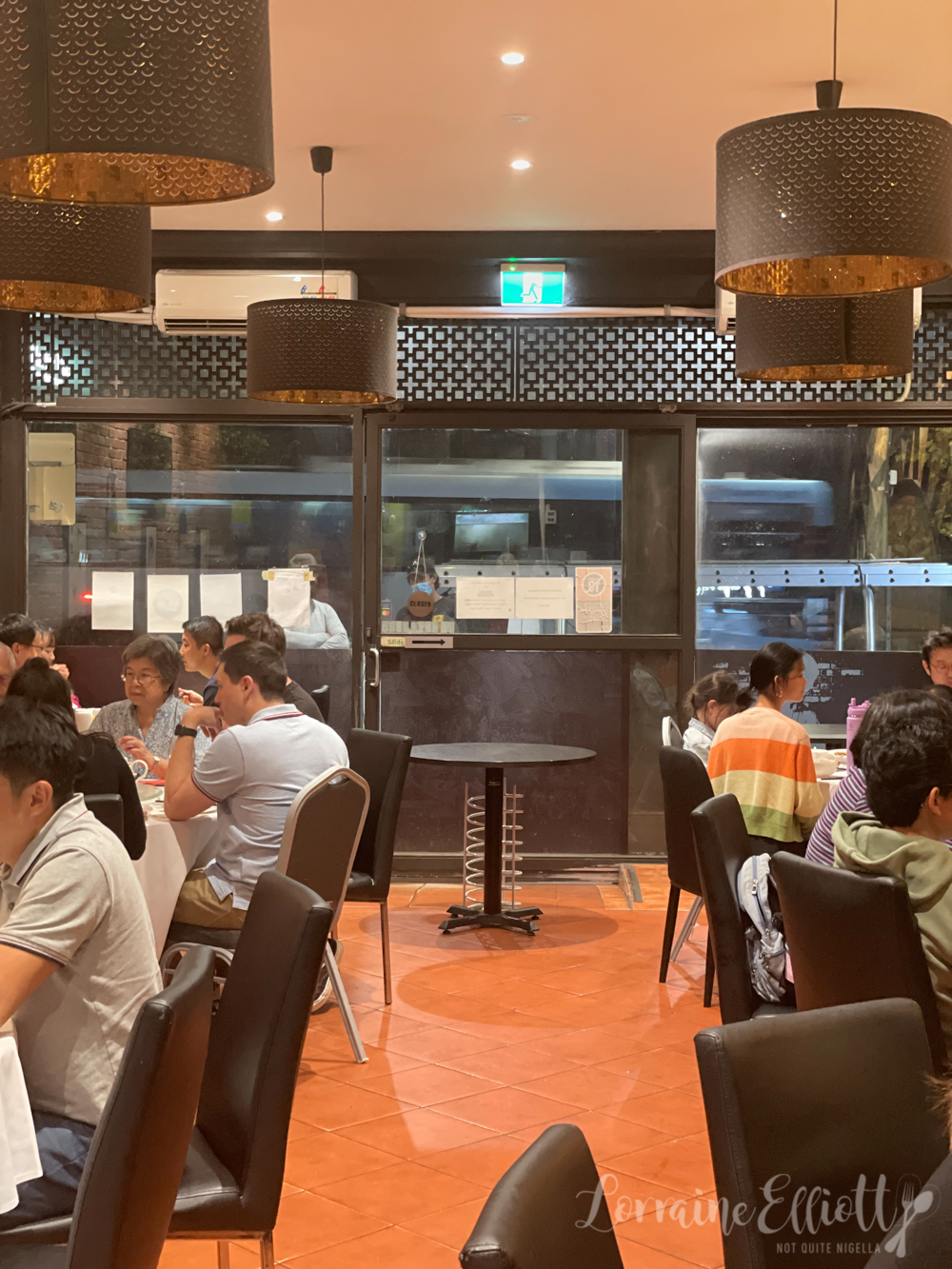 Our last stop is for our main and we take the 10 minute walk to our next location Mr Fat Duck restaurant where they serve Peking Duck. Technically Peking duck originated in the former capital Nanjing, in the province of Jiangsu in the East of China. When the imperial court moved to Beijing during the Ming Dynasty they brought this duck with them and now it's most commonly associated with Beijing where countless restaurants offer this wonderful dish.
Peking Duck, 2 courses $88
Make sure to book at Mr Fat Duck. It's not a huge restaurant but it's consistently full even on a Sunday night. The Peking Duck is $88 and for that you get 2 courses. The first course is a whole duck carved up with the meat and skin, a dozen pancakes, cucumber and spring onions and a very delicious sauce that really brings the whole pancake together as the duck itself is quite lightly seasoned.
For the second course you can choose between stir fried noodles, fried mixed vegetables or duck bone soup. We go for the noodles and they're chewy and tasty and a perfect place to finish off our food tour!
Mr Fat Duck: 172 Victoria Ave, Chatswood NSW 2067. Open Tuesday to Sunday 11:30am–3pm, 5:30–9:30pm. Closed Mondays.
So tell me Dear Reader, have you tried much North West Chinese cuisine? Which dish piqued your interest the most?
All meals were independently paid for.