Malacca Straits on Broadway is a Malaysian restaurant on Mountain Street in Ultimo. It serves up a creative range of Malaysian dishes from classics to street food and regional specialties from a surprisingly large menu. There is also a large amount of outdoor seating available and service is fast and no-nonsense.
Our plans for lunch at a Hong Kong themed eatery were scuppered when we saw that COVID numbers were high. Mr NQN and I didn't like the idea of eating at an indoor restaurant so we started looking for one with outdoor seating. Finding Chinese or Asian restaurants with an outdoor area is a challenge but I remembered seeing a few when I picked up some pastries from the apartment home of Blood's Bakery a few weeks back. There are four restaurants at the base of a large apartment complex and Monica and I honed in on Malacca Straits. When we arrive it is the busiest restaurant of them.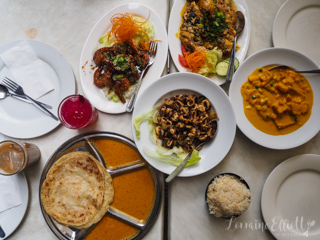 A few people on review sites mentioned the service at Malacca Straits but we find it straightforward and no-nonsense. The menu is enormous and we stay mostly on the recommendations on the front page. There are Malaysian classics like Laksa and Char Kway Teow but we veer more towards other dishes. There are also some Thai and Indonesian dishes on the menu. The decor is quirky with pictures of Kim Jong Un and signs saying "free Oxygen here".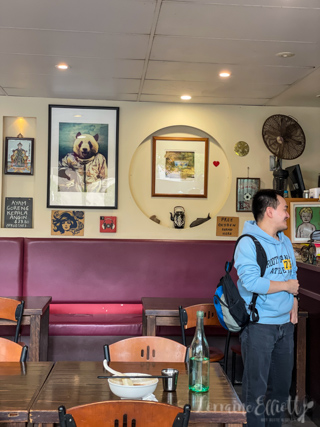 Prices hover around the $28 mark for most dishes which is a bit higher than other Malaysian restaurants that we've been to but not unreasonable. There's also an option to BYO crab where you bring your own crab and they will cook it for you for $35 per crab with either a Singapore Chilli Crab, Dry Curry Crab or Kam Heong crab sauce.
We start with drinks that are $6 each. I order a rose syrup and lime juice which is nice albeit very sweet. I prefer Monica's lime juice with its sweet, tangy lime flavour. Marco orders a mango juice and Mr NQN has an iced coffee.
Ayam Percik Kelantan $26.80
The food arrives shortly after. The Ayam Percik Kelantan is described as "succulent grilled chicken unlike any other" the chicken comes out with bone in pieces of chicken cleavered into thin pieces. It has a lovely char grill to it and a creamy coconut sauce with a flavour strong in turmeric. And a little tip: make sure to get a bowl of chicken rice to absorb all of that delicious sauce.
Pumpkin Sauce Silken Tofu $20.80
The pumpkin tofu is one of my favourite dishes. It could do with a touch more salt to season it but I'm being overly picky here. The pillows of silken tofu are deep fried so that they're set on the outside but like jellied custard on the inside. The pumpkin sauce is like a creamy pumpkin soup with peas and carrots but its the wobbly tofu's texture that wins us over.
Kam Heong Baby Squid $28.80
Marco exclaims that the baby squid looks like a plate of pasta and indeed it does. This is tender squid in a caramelised sauce made with soy sauce, chilli, curry leaves and dried shrimp. The dried shrimp flavour is pronounced here and this is a strong savoury dish.
Marmite Prawns $28.80
One of my favourite dishes is the Marmite prawns. It is one of those dishes that combines the saltiness of Marmite with honey to make this a beautifully sweet and salty sauce. I think I ate most of this dish!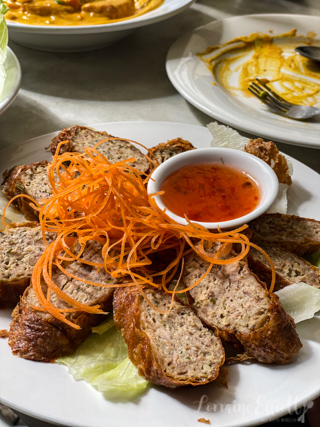 Chicken and Chestnut Roll $18.80
The chicken and chestnut roll has water chestnuts in it, not chestnuts. I don't know what we were thinking because chestnuts aren't exactly a part of Malaysian cuisine. I think Monica and I just both love chestnuts so were excited to see it on the menu. Still it's a tasty item with a wrapping of tofu and chicken mince and water chestnuts inside shaped like a sausage and sliced up. I prefer it without the sweet chilli sauce as that really dominates the flavour of it. It's delicious with some of the curry sauces in the other dishes.
Roti and sauce $5 each
We also try some of the flaky roti that comes freshly fried with curry sauce on the side. I recommend getting both the roti and the chicken rice to soak up the sauces.
Bo Bo Cha Cha $8
There are six desserts on the menu and Marco floats the idea of getting all six with bright, eager eyes. We feel like the parents saying no but we order four instead or one each. Bo bo or bubor cha cha is one of my favourite desserts especially when it is a bit colder out. It's a warm coconut milk soup with chunks of sweet potato and agar jelly inside. We find that all of the desserts aren't particularly sweet which may or may not be a bad thing depending on your taste.
Ice Kacang $8
The Ice Kacang was for Mr NQN who adores shave ice desserts, even in the chillier weather. This is a simple version with gula melaka, sweet beans and jelly. I prefer ones with different syrups and condensed milk and more interesting bits in them.
Pisang Goreng or Banana Fritters $8
The banana fritters come four to a serve and are piping hot with a crunchy coating, a drizzle of gula melaka surup, coconut milk and a scoop of vanilla ice cream.
Sticky Rice Pudding with Egg Custard $8
Last but not least is the sticky rice topped with sesame seeds with a slice of rich egg custard and vanilla ice cream. And given that he was denied the extra two desserts, Marco manages to finish them all!
So tell me Dear Reader, which one of the four desserts do you like best? Have you had to change plans recently?
This meal was independently paid for.
Malacca Straits On Broadway
5/66 Mountain St, Ultimo NSW 2007
Hours: Monday to Saturday 11:30am–9pm
Sunday closed
malaccastraitsbroadway.com.au
Phone: (02) 8021 7069