Chinta Ria, the long standing Malaysian restaurant reopened up in February 2020 but at a new location in Darling Square. It may be a new home for the Sydney favourite but the enormous 3 metre high buddha is back. Chef and restaurateur Simon Goh has a range of new dishes as well as the Chinta Ria classics. All in time for the Mid Autumn Moon Festival in September and October!
Simon is old pals with Laura so when we arrive this Saturday night they fall into conversation recalling old memories of the many iterations of Chinta Ria. Chinta Ria: Temple of Love first opened at Darling Harbour in 1997, then Chinta Ria: Mood For Love in 2011 at Sydney Westfields and then Chinta Kechil opened in Double Bay in 2014. Chinta Ria means love and happiness and Simon is determined to spread both.
A woman comes up to Simon and shows him a photo of her as a child standing by the laughing buddha at the original Chinta Ria and then stops to take a current day photo. He draws messages and sketches on cards for people. He's not a typical restaurateur.
He's also the kind to feed people. When we ask for our food to come at once for photos he frets that we will get too hungry while waiting for it to be cooked and brings us some curry puffs. Piping hot, puffy and oh so delicious we dip these in the sweet chilli sauce and pop them in our mouths.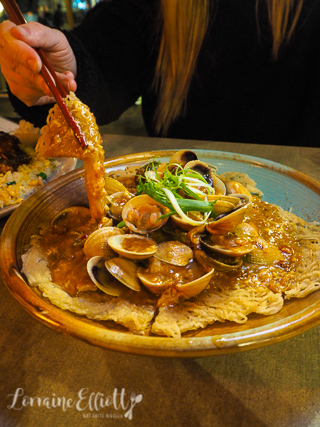 Their vongole with vermicelli in XO sauce are a triumph, easily both of our favourite dish. Even with restaurant XOPP looming above them this is perfection. We demolish much of this and there is a good balance in the sauce and the vongole meat is plump, each shell doused with sauce.
Laura and I had one aim: a chilli crab feast. We had had travel plans postponed for a second time and we don't drown our sorrows in drink, instead we seek solace in seafood. The chilli crab is best pre-ordered here. This is has a strong tomato base and isn't overly spicy (I would have loved a bit more of a chilli hit). The crab itself is meaty, enormous pincers hold chunks of rich crab meat. They go well with the deep fried mantou buns and the saucing is generous.
We saw the sambal lobster tail fried rice and added it to the order at the last minute. The serve of lobster on this is very generous especially for the price and the fried rice is also delicious.
"We need roti," says Laura reading my mind. Just next to our table (we are outside next to the heating lamps) is the "roti table" aka the marble table where they make the roti every day. I can't help but go back for more of this crispy buttery roti (they use real butter here) and rich curry sauce.
When we dither over which dessert to have, Simon solves the problem by bringing us one of each (he and Laura go way back). We start with the black glutinous rice topped with coconut milk which they serve either warm or cold. We opt for warm because it's still a bit chilly. It's not an overly sweet version of this which is good for those that don't like their desserts very sweet.
My favourite is the sago tapioca pearls mixed with chilled coconut cream with a pool of coconut cream and sweet palm sugar syrup at the bottom.
We always joke that Laura is a very Asian white girl and she loves the Bubur Cha-cha that is a sweet taro coconut soup with cubes of taro, boba pearls and sweet potato.
It may sound like a lot for two girls but as always we love a leftover and get what we haven't eaten to pack up to bring some to Mr NQN who as an introvert likes nothing better than staying at home and then polishing off the leftovers!
And before we leave we rub the buddha's tummy for good luck (and then sanitise!)
So tell me Dear Reader, are you like Mr NQN and prefer to stay home or do you like the ritual of dining out? Are you going to celebrate the Mid Autumn festival?
This meal was independently paid for.
Chinta Ria Buddha Love
14 Nicolle Walk, Haymarket NSW 2000
Tuesday to Thursday 11:30am–3pm, 5–8:30pm
Friday & Saturday 11:30am–3pm, 5–9pm
Saturday 11:30am–3pm, 5–9pm
Sunday 11:30am–3pm, 5–8pm
Monday Closed
Phone: (02) 8072 9141
chintariabuddhalove.com