Looking for a place that you can bring all the family to? The Backyard at The Alex pub is located in Alexandria and offers a no-frills pub dining experience in a relaxed outdoor setting. This dog friendly and family friendly pub is popular with a rotating roster of food trucks and live music. Better still you can book a table there-it's where I celebrated my birthday with my in laws recently!
"I want to have my own birthday this year with your family where we go out to eat," I said to Mr NQN. I usually share a birthday picnic with one of Mr NQN's sisters and brother in law but this year I wanted my own.
"Are you suuurre?" he said eyeing me dubiously. It's true the Elliotts don't eat out much if at all and when they do it can be a bit of a kerfuffle. Mr NQN told me that they only ate out twice when he was a kid and both times it ended in tears and that is why family birthdays are always celebrated with picnics. It's a challenge to find a restaurant that has an outdoor section, vegan and vegetarian food and can accommodate a large group of 11.
"I'll find the perfect place!" I say with much more confidence than I have. I come back with two choices: an Indian and Thai restaurant but since it would be a group of 11 there was a set menu at $50 per person and unfortunately that was too much for the Elliotts. Undeterred, I told them, "No problem!" and then I thought that a pub might be the solution. Someone had mentioned The Backyard at The Alex which is dog friendly too. It is all outdoors, there's no minimum spend per person, it is bookable, there are some vegetarian and vegan items on the menu and even if people come late (which they invariably do) that's fine.
At 6:30pm we arrive with Teddy and Milo and it's busy. Like crazy busy. Like you don't want to turn up without a booking sort of busy. Sometimes at the Backyard they have food trucks but tonight it's their taco chefs grilling meat and tortillas. And to my surprise Mr NQN's sister Araluen, fiancé Ben and daughter Aura Lily are already there sitting at our table. And within the next few minutes all of the Elliotts arrive! "This is the best birthday present ever!" I tell them because Dear Reader, they've never, ever all been anywhere on time for a restaurant.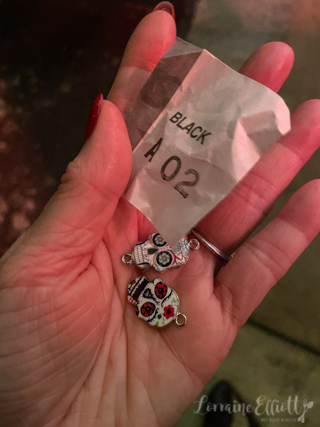 At first the Elliotts seem a bit uncomfortable with the crowd but the most sociable of them Araluen says "This is fun!" It is hard to converse with the rest of the table because it is so noisy (the tables near the taco stands at the entrance are quieter) but after a while everyone settles in. We go off separately to order food. All of the ordering is done at the bar and most of the food comes out to your table but you go and get the tacos yourself. I grab a number and head off to the taco stand with tiny Mexican skull tokens in hand.
Grillfish Taco (left) Pastor Taco $9 each
At the taco stand the blue corn tacos come simply with the protein and you can help yourself to the toppings on a side table. I basically add a bit of everything, especially the salsa macha and grab one of the bottles of tajin to season everything at the table. The grillfish taco is perfect. I adore fish tacos and the grilled fillet of white fish is so full of flavour and luscious I consider getting up to order another couple. It's already paired with coriander, lime and spicy mayo but adding the salsa macha, cabbage, coriander and onion perfects the offering. Sadly the Pastor taco with pork neck achiote and pineapple is the opposite. The meat is extremely dry and the taco is hard (I think the chef that was making the chicken was new as I heard them explaining things to him like when meat was cooked). After the first bite we leave it behind.
The ultimate nachos $27
The nachos are vegetarian or you can add adobo chicken or pulled pork for $4 extra. We go with the adobo chicken made with excellent corn chips, chili beans, mozzarella, pico de gallo, guacamole, a massive scoop of sour cream and pickled jalapeño. I went a bit crazy on the tajin (an addictive chilli lime salt) especially over the sour cream and it's very tasty although I think I'd perhaps keep it vego next time as like the tacos, the meat is a bit dry.
Mex veg bowl $20
The Mex veg bowl can come as is where it is vegan or you can add halloumi, chicken or pork to it. This is what most of the Elliotts order and it is made with kale, roasted pumpkin, corn, pico de gallo, quinoa, mex house dressing, guacamole and corn chip strips with a tasty garlic dressing. Although they find it a bit spicy they enjoy it.
Fruit Salad $8
The fruit salad is made up of watermelon, orange, cucumber, pineapple and seasoned with chamoy, tajin and lime so that it's a bit different. Mr NQN's sister Amaya is a bit thrown by the "savoury fruit salad". Chamoy is a sweet and sour condiment made using fruit, chilli, salt and hibiscus flowers (sweet, salty, spicy and sour) and there's a hit of Tajin too. I love the pineapple pieces in this. Ben goes back for one but without the flavourings.
I was worried that the Elliotts might find eating out a bit too much for them but they seem perfectly happy. The kids are busy watching the football on the large screen above and then are excited to find a foosball table and table tennis which means that the parents are hugely relieved. Perhaps I'll convince them to go out again to eat!
So tell me Dear Reader, who chooses where you go out to eat? Is that you or do you leave it to someone else?
This meal was independently paid for.
The Backyard At The Alex
35 Henderson Rd, Alexandria NSW 2015
https://merivale.com/venues/the-alex/