Yemendi is Sydney's only Yemeni restaurant. It is located on busy food street King Georges Road in Beverly Hills. They serve traditional Yemeni food in a setting that includes gorgeous private rooms.
Queen Viv and Miss America are always up for a food adventure and when I suggested Yemendi in Beverly Hills they instantly said yes. I had first heard of Yemendi through Monica who knows how much I love private rooms and good food. There are three private rooms at Yemendi, one with booth seating and two rooms where you sit on the floor Arabic style. I booked a week ahead of time and there was no problem getting the booth room.
In Yemeni cuisine the main meal is actually at lunch, not dinner and consists of lots of lamb, chicken and seafood. We slide into our curtained booth beautifully outfitted with pink curtains, brass jugs and framed photos. Service is really lovely and our waitress brings us bowls of hot lamb broth called Marak and the menus. The menu at Yemendi has 8 main choices and she suggests getting the Mix plate that gives you three of the main dishes on a big bed of rice. We also order another dish with bread and some cooling yogurt.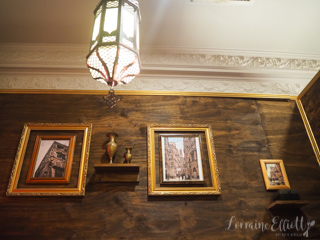 Arabic Tea $8
We start with a pot of Arabic tea which is a black tea with dried mint which is a nice way to get started. You can add sugar if you want but it really doesn't need it.
Mix Plate $75
The food is designed to be eaten with your hands. The mixed plate has three dishes: Mendi lamb, Mendi chicken and Haneeth lamb (in the foil packet). On the side are three small pots of spicy salsa. I really enjoy the Mendi lamb with the soft, spiced meat falling off the bone as well as the Mendi chicken with its light saffron flavour that is slow cooked so that it falls apart. The Haneeth lamb has been marinated and is slow cooked for many hours and the parchment and foil makes it very moist although it is milder in flavour than the Mendi lamb. The caramelised onion and spice rice is fluffy and light and a flavour bomb when you get some caramelised onion. The dishes here are quite mildly flavoured and comforting and if you do want a bit more spice then you can add the spicy salsa. They also go well with the cucumber yogurt.
Yemeni Prawn Curry $19
Everyone's favourite dish is the Yemeni prawn curry that arrives at the table furiously bubbling away in a stone pot with four pieces of Lebanese bread on the side. It has a garlicky, tomato sauce to it and the prawns are perfectly cooked. It's so good that each of us takes our turn scraping the bowl with bread til the very end. This dish is easy to eat with your hands, you just grab a piece of bread and pick up the curry with the bread (once it is slightly cooled).
Adeni Tea $11
The menu mentions Arika, a shredded roti dessert but this isn't available this evening (nor was it when Monica dined a few weeks back) so we sip our Adeni tea or karak with its aromatic cardamom flavour and milky sweetness. As a chai lover I used to always drink karak tea and this takes me straight back to the Middle East.
So tell me Dear Reader, have you ever tried Yemeni cuisine? Do you like eating with your hands?
This meal was independently paid for.
Yemendi
500 King Georges Rd, Beverly Hills NSW 2209
Monday to Sunday 1.30pm- 10.30pm (Friday 2:30pm-10:30pm)