The sushi train concept gets a new twist with the new Mezzatrain in Mascot. Instead of nigiri and maki going around in a loop, there are mezze plates from dips, pastries to salads. All of this in a residential neighbourhood just 15 minutes' walk from Sydney's Domestic airport!
It was a busy Saturday. One in which we had to drive far out to Dural to find a fig tree (I'm trying to tick off bucket list items as I can this year). And for lunch we needed somewhere fast and not too far away. Enter Mezzatrain in nearby Mascot. It's a curious location certainly.
Within walking distance from the airport, there isn't much else around it in the way of food offerings. The large white building also stands out from the road. We are told that it is booked solid for lunch and dinner but as we arrive post lunch rush at around 2pm there are plenty of seats at the train. There is also table seating but the train doesn't pass these tables.
Service is well meaning but can tend to be a tad brusque or direct. We take a seat and they explain the menu - much like sushi train there are colour coded plates. Then there are dishes that they make to order like the grilled meat dishes and kebabs-these are the same size as the other plates and are priced at $6.50 each. They slide across a copper tray of two types of bread per person. There's deep fried pita as well as fresh pita triangles.
Arnabeet $4
We start with a few of our favourites-I'm a cauliflower freak so this was a given. There are three florets on the plate. They are caramelised and sweet and come with a spoonful of tarator or garlic dip. Although I think I could have eaten a whole normal sized plate of this.
Spinach Fatayer $5
The spinach fatayer is crisp and delicious. Even though it is under the plastic dome lid it retains a crispy texture. The filling is made up of spinach, onions and spices.
Labne $4.50
The labna or strained yogurt is nicely tangy and thick, perfect for both the fried and fresh pita bread.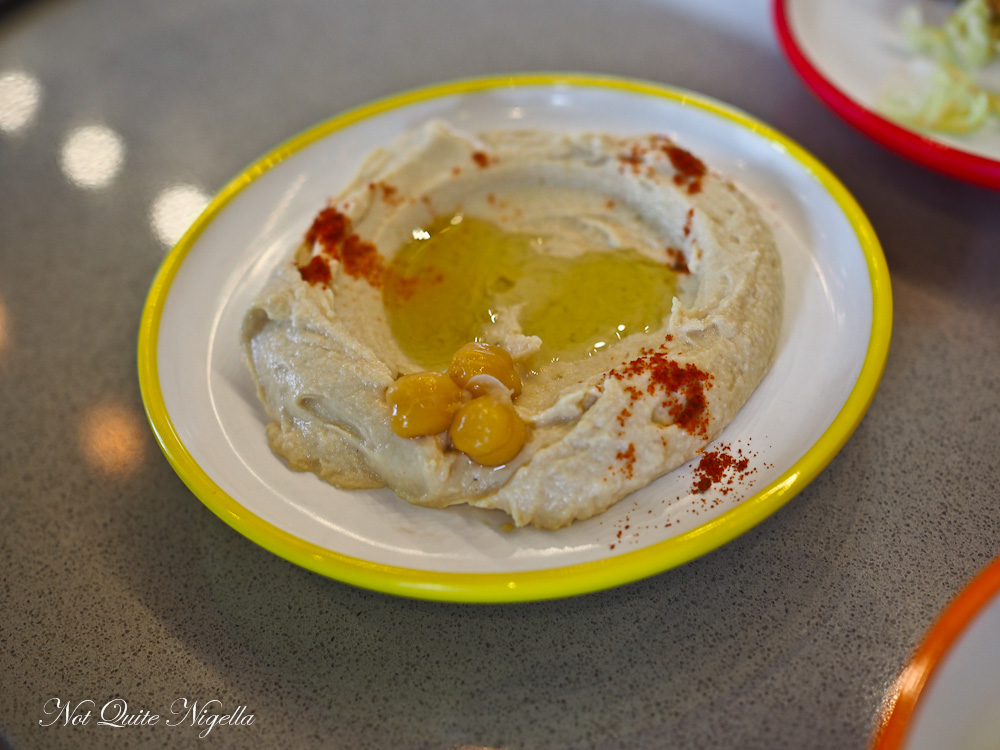 Hummus $4
The hummus is creamy texture and a good standby for the grilled meats that are great wrapped up in a pita with salad and hummus or labne.
Fattoush salad $4.50
We also take a plate of fattoush salad, that wonderfully frugal salad that uses fried pita tossed with tomatoes, cos lettuce, cucumber, radish and shallots. It is dressed with a pomegranate olive oil dressing that is sweet and tart. There's plenty of flavours going on in here from the sumac and lemon juice to the pomegranate molasses.
Lamb shawarma $6.50
A few minutes later the grilled meats come out and we start with the lamb shawarma. The lamb strips re marinated and stir fried with onion, garlic, tomato and parsley with olive oil. This is best wedged into a slice of soft pita bread with some fattoush or tabouli and some hummus or labna.
Kafta Skewers $6.50
We try the kafta skewers and I particularly like the balance of the meat and the pickled onions underneath.
Maanet $5.50
The tiny Maanet sausages are the size of slender fingers and have an appealing tangyness to lift the meat.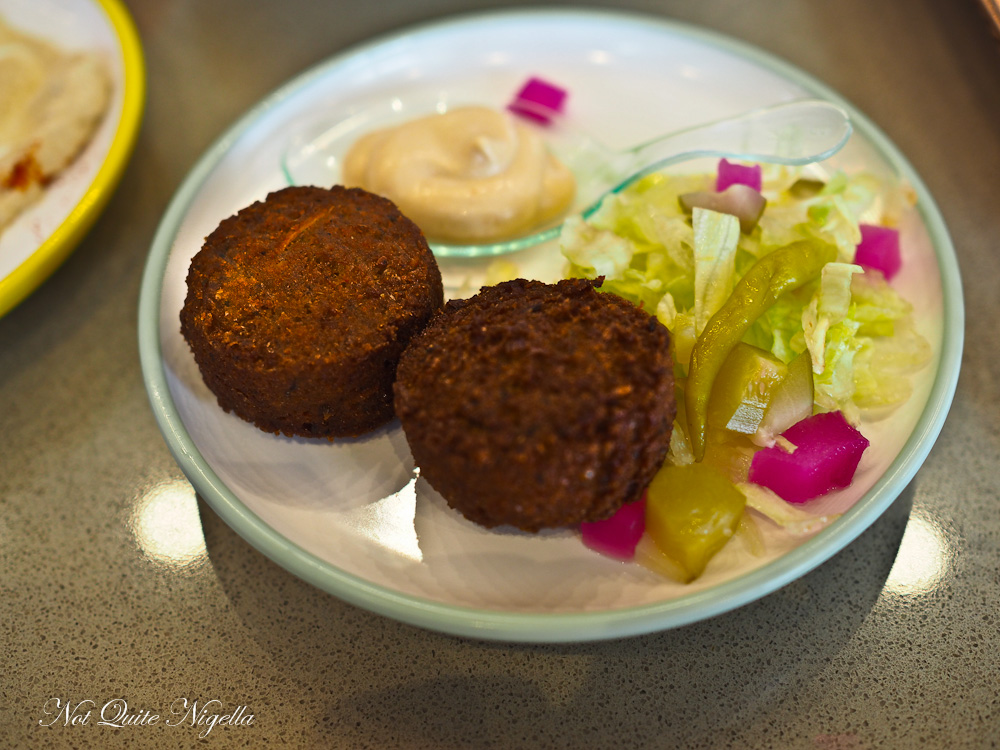 Felafel $5.50
But one of my favourites to snack on or were the felafels. They're a little pricey at $6.50 for two but they are crunchy and good, especially when stuffed into the pita with the spicy pickles.
Cheese fatayar $5
My friend Belinda asked me if the plastic lids did make items less crisp. While the spinach fatayer was crisp and hot, the cheese fatayer was cold and not crisp. Perhaps they need to rotate items a bit more. It's also hard to tell whether it has been recently cooked or not when you're taking it from the train.
Also we did find that balancing a knife and fork on the narrow table ledge without a plate was a bit of a challenge. While sushi trains use one handed chopsticks, a knife and fork can present some practical issues.
Znoud El Sett $4
It's time for dessert and there are four varieties going around the train. We snag two of them. The Znoud El Sett or Ladies arms come as a single serve. Filled with an ashta cream filling and drenched in syrup the pastry looks crisp but the syrup makes it soft to bite into.
Aysh El Saraya $6.50 (left)
I preferred the other dessert, the Aysh El Saraya. This is a bread based dessert with a bottom layer of syrup soaked bread scented with orange blossom water and a top layer of thick, sweet milky cream.
"I'm stuffed!" declares Mr NQN and it's a rare state for him to be in. We usually never go to sushi train because it barely touches the sides for him. The price for two including soft drinks and dessert it is just over $70.
So tell me Dear Reader, would you try this concept? How often do you go to sushi train? Are you a plate counter and price checker or do you just grab what you want and then total it up at the end?
Mezzatrain
High St & O'Riordan Street, Mascot NSW 2020
Phone: 0421 681 775
http://www.mezzatrain.com.au/
Closed Mondays