Fine dining chef Chase Kojima has just opened up a new branch of Senpai Ramen in Burwood. The proposition at the Burwood branch is different: there's dessert on offer and some unique ramen offerings and it's a fully a la carte menu as opposed to Chatswood's ramen omakase set menu at night. So what is the Burwood branch like?
When chef Chase Kojima was looking to expand his Senpai Ramen brand beyond the small alley-way restaurant in Chatswood he looked at the city, North, West and South before settling on the Burwood in Sydney's inner west. "I go to Burwood lot before so I knew there was potential. There's also no ramen shop within 5kms diameter from Burwood which is strange - either they don't eat ramen or someone missed it. I also got a great offer and Chatswood I'm in the alley and hidden and I felt like it has to be really destinational or it wouldn't work," says Chase.
The new branch is in Burwood's Emerald Square. Angelina and Ana are waiting in the line and it's moving slowly but surely and Chase comes out and brings customers paper cups of cold tea on this sweltering hot Sydney day. Ramen is a fast business to eat and after around 25 minutes we're being shown inside the pink neon lit restaurant. Ordering is done via the QR code although paying is done at the end and they bring out cutlery, napkins, soy sauce and chilli oil.
The first item to arrive is the spicy tuna crispy rice. I first had this at Kiyomi, Chase's Gold Coast restaurant many years ago where it was served like nigiri. Here's it's a more DIY style with a small bowl of tuna tartare seasoned with spicy mayo, spring onions and soy sauce with 6 small squares of crispy sushi rice. You scoop a little on top of each square and enjoy the crunchy sensation with fresh, perfectly seasoned tuna topping.
The next item was strong recommendation from staff. They are dainty corn ribs that are fried and then brushed with a cumin Szechuan teriyaki sauce and topped with shaved parmesan and spring onions with a creamy spicy mayonnaise based sauce drizzled on top. These are an absolute flavour bomb with plump, juicy corn kernels with a moreish savoury seasoning from the parm and onions.
The yuzu chicken is pieces of boneless chicken pieces with sweet and sour yuzu glaze and onions. It's very much on the sweet side rather than a sweet and sour sauce and the yuzu flavour adds a nice aromatic complexity but you do need to like sweet sauces for this. The chicken itself is very tender and juicy.
The house salad is a simple tsunomono cucumber, seaweed salad that has a lightly sweet vinegar dressing that cuts through the richness of the rest of the meal.
The ramen arrives shortly after the snacks. The tonkotsu is their most popular ramen in these early days of opening. It's a classic pork based soup with slices of melting pork chashu, black funghi, spring onions, sesame seeds, black garlic oil and half a ramen egg. The silky textured broth has a robust flavour to it without being too rich or fatty. Chase's process for making the tonkotsu broth is unique. He explains, "I put a different mixture of bones and head bones and I use a special kettle that can spin. I spin it 360 degrees and then reverse it and it spins back and forth all day long. I like the bones to be grinding against each other and they dissolve into the soup". He cooks the broth down from 300 litres into 100 litres over 2 hours then blast freezes it, adds more water into the base and then repeats this process this three or four times rather than doing a straight reduction. "When you make anything it is better the next day. Once you cool it down and then bring it back to temperature the flavour I comes out. It's a pain in the butt," he adds laughing.
The Senpai malatang is a ramen unique to the Burwood store. Chase says, "It suits Burwood really well because there's so much Szechuan food here." Malatang is spicy, numbing soup and this one is a pork based soup with kanikama crab, black funghi, corn, agedashi tofu cubes, sesame seeds and half a ramen egg. The ramen isn't particularly spicy despite expectations due to the name so you may want to add some of that chilli oil (that is actually quite spicy). With the noodles themselves they're on the thinner side of ramen and there is the option to get thicker noodles which I think I would go for next time as thinner ones soak up the broth and become soft quicker and I like a bit of chewy texture with ramen noodles. Servings of the ramen are also smaller at the Burwood store to match the lower price point because it's designed so that people can have a snack and a dessert too.
We decide to try a don rice bowl as our third option and there are a few to choose from. We settle on the eel and dashi scrambled egg bowl on rice with tiny cherry tomatoes, spring onions and pickled radish. The eel is deliciously springy in texture. The egg omelette is soft and barely set and has that sweet salty flavour of the tamagoyaki but instead of being layered it's an omelette.
For dessert there are four types of kakigori or shave ice (matcha, mango & coconut, strawberry and cream and black sesame) as well as a soft serve. Although shave ice is a simple enough concept it's much more technical than Chase ever imagined even with a Hatsuyuki ice maker. "The ice has to be perfect," Chase says. They start with filtered water frozen in a one directional slow freeze. This takes 3 days to make and the ice must be crystal clear and not cloudy. "When it is cloudy it has multiple broken cuts in there you cannot achieve that perfect slice," Chase says, "When you sharpen a pencil, you get that cute curl, that nice thin cut and that's what I'm trying to achieve." When the ice is cloudy you get snow effect and it becomes hard and melts faster and gets dense and compacted. The ice also has to be a certain size and a certain temperature. "The knife also has to be sharp and the perfect angle. It's like golf - it looks so simple but it's so complicated," says Chase.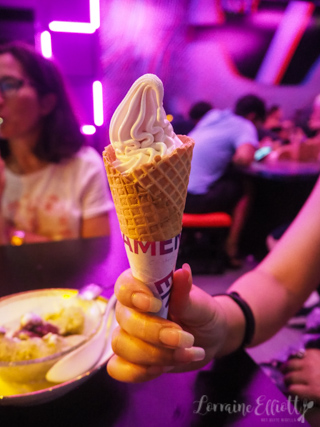 We went with their recommendation of a green tea kakigori with shaved ice, Kyoto ujimatcha syrup, Hokkaido azuki red beans and milk foam. The ice is extraordinarily light and melts on the tongue although I do love it when it is paired with ice cream for a textural contrast so we also order an umami soft serve which we tip upside down in the bowl which we definitely recommend pairing with the kakigori. For the soft serve Chase had tried to emulate the famous Cremia soft serve but the milk available just was not able to achieve the same texture. So he focused on the taste of the soft serve. He caramelises the milk to give it a very subtle nuttiness and then add his secret ingredient: his premium soy sauce that adds a salty complexity to it beyond just salt. It is made fresh every day and the machine is set to 11 degrees. By the time it gets to the customer it is served at 10 degrees, much like gelato. he also has plans to make the cones in the future.
So tell me Dear Reader, do you have a favourite ramen type? Are you a fan of shave ice or kakigori?
This meal was independently paid for.
Senpai Ramen
14/27 Belmore St, Burwood NSW 2134
Open 11:30-9pm 7 days a week
Phone: 0451 601 081
https://www.senpairamen.com/