What would you name your restaurant if given the opportunity? Would it be the name of an esoteric concept, a food or someone you know? For Sokyo's executive chef and founder Chase Kojima, it was the latter two. Much like a tattoo with your mum's name, his latest restaurant on the Gold Coast is named after his mother.
Chase says, "My mom passed away when I was 11 years old. It was the hardest time for our family. We had to sell our house just to keep my mom in the hospital and dad couldn't work because my younger brother and I were too young. I started working at Kabuto (his father's restaurant) to help support the family. My mom was a strong woman and she was so beautiful. I loved her name, Kiyomi. Oh yeah, it's a fruit too =)". It is a Japanese fruit that is a sweet seedless citrus hybrid of a sweet orange and a mandarin.
Chase is originally a native of San Francisco. What prompted him to move to Australia? "Growing up in America, we didn't talk about Australia much. More than half of the people I knew had never been to Australia. I was the same until I got approached by a good friend and boss who asked me, "Can you help us make the best Japanese restaurant in Australia?". During my first visit to Sydney there I toured the city's fish market and its best restaurants and I was so blown away by how much was going on in Sydney. I fell in love so fast I never thought twice about taking up his offer."
Kiyomi opened December 23rd 2014 and it is busy this Sunday night. Located on the lobby level of Jupiter's Casino, it sits next to Jupiter's Italian restaurant Vivo and like Sokyo, it opens with a bar area and then expands to a long rectangular shaped room although in Kiyomi's case, it is smaller seating 120 people.
Chase comes from a restaurant family. His father is a chef. "My daddy taught me a lot about being a chef. It's really hard work, but dad loves what he does and is so passionate. My dad was a Master Sushi Chef and was always very creative. He now focuses on organic and healthy cooking, and has even opened an all organic restaurant Vivivy in Mt. Shasta (Northern California). He now does healthy ramen and options like gluten free ramen at the Exploratorium in San Francisco. My style of cooking is different from him because I think of the culture I am in and want to cook what the people want and like. Then I slowly push the boundaries of their palate."
Service is fantastic from our Canadian waitress and she pours us some soy from a tiny little teapot. This is a "Nikiri" house made soy flavoured with bonito and a few other house touches. Mr NQN orders the edamame. I try one but leave these to him as I want to conserve stomach space. Tight dress and all...
Old Yamazaki $18
Mr NQN's choice is the Old Yamazaki with Kakubin Whisky, cherry bitters and a spray of Aquavit Green Fairy Absinthe (and no odd effects were observed as a result of the Absinthe, certainly not at these light levels but I did brace myself to carry him back to our room ;)).
Hiramasa Kingfish, Miso Ceviche, Crispy Potato $19
Our first bite is the hiramasa kingfish that comes out with slices of miso kingfish ceviche with paper thin slices of red onion, green chilli, lime zest and tiny little shavings of crispy potato. It's the perfect dish to get the appetite started (not that mine needs any help - I wish!) with fresh, crunchy, spicy flavours.
Tai Noir, Shio Kombu, Salsa $19
The next course is the tai nori which are like Japanese tacos with the taco shell made out of deep fried nori squares that are filled with raw snapper. All of the fish used at Kiyomi comes from the Sydney Fish Markets where Sokyo's fish comes from and these are flown to the Gold Coast. It's a relatively mild flavoured dish with a light, micro fine tomato and green onion salsa on top with a sprinkling of shio kombu at both ends.
Crispy Rice, Spicy Tuna $20
I love crispy rice sushi and this is one of the best versions that I've tried. A rectangular log of rice is crispy deep fried and topped with spicy tuna tartare and then a slice of tuna on top. It's given an aromatic boost with truffle oil so that it has a spicy, truffle flavour to this crunchy tuna. Let's put it this way: if I saw this at a cocktail party I'd tell the waiter to leave the tray with me and I'd eat them all.
Moreton Bay Bug tempura, grapefruit, sambal, mayo, vinegar $24
We order something from each section and there are five tempura dishes to choose from. I like the sound of the sambal with the Moreton bay bugs. This ends up being quite different from what I envisaged though. The moreton bay bugs (seafood like lobster for non Aussies, not an actual bug) are taken out of the shell and topped with grapefruit, onion and green papaya and is served with a spicy mayo and a pepper vinegar. I was expecting the sambal to be more incorporated but it is really just in the spicy mayo. I preferred dipping this in the flavoursome pepper vinegar instead.
Chicken, Yuzu honey, Celeriac, Yakitori Sauce $24
Our next course is done on the Binchotan charcoal grill. It's grilled chicken thigh basted with yakitori sauce and paired with celeriac puree, watermelon radishes and dabs of honey yuzu. The chicken is best when paired with both the celeriac puree and the honey yuzu to give the chicken, a creamy, sweet tartness.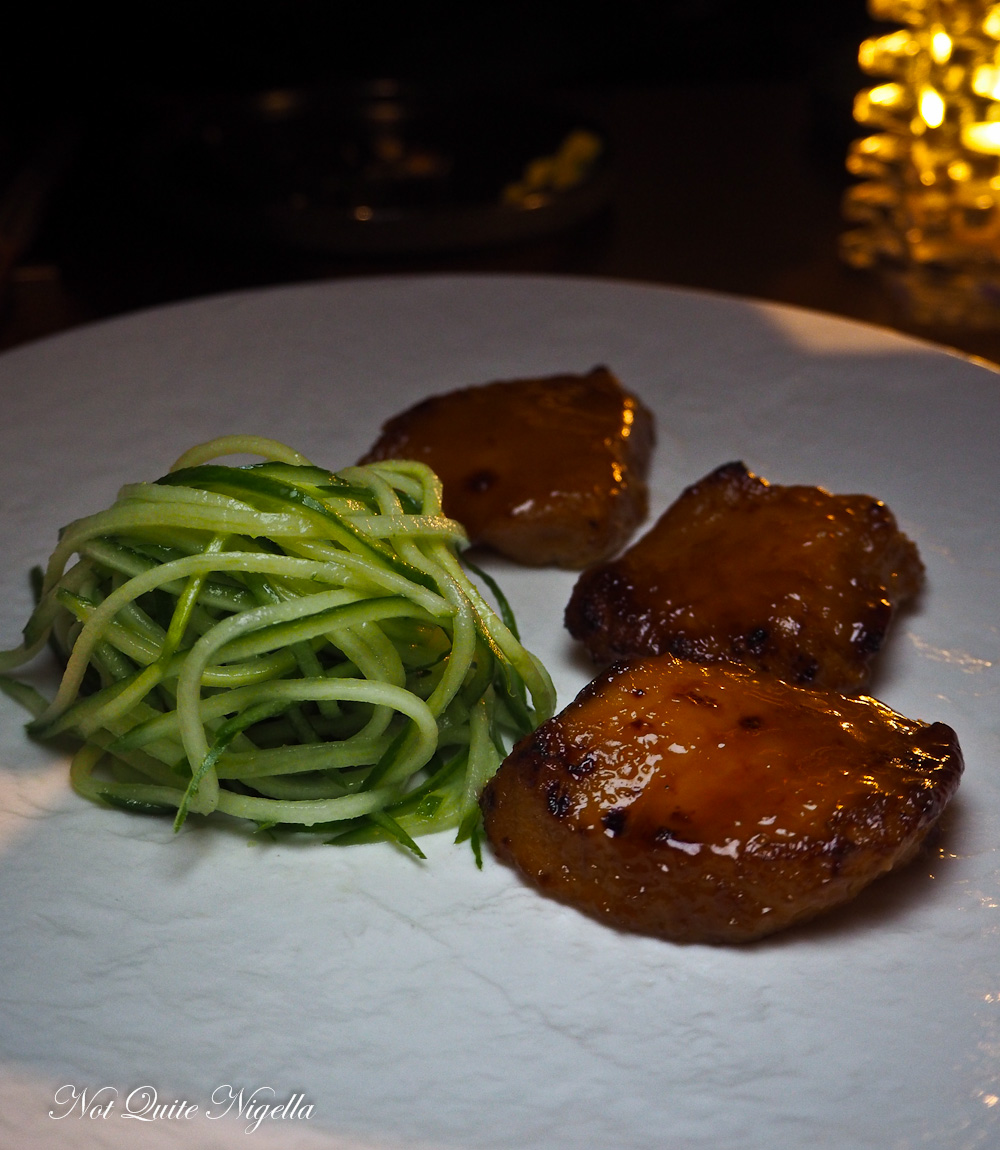 Dengakuman, Toothfish, Caramelised Miso, Cucumber $37
They explain that this dish is named after Dengakuman, a cartoon character that teaches Japanese children to eat vegetables. The toothfish is glazed with miso giving it a sweet and salty intensity and the texture of the fish is succulent and moist. The cucumber gives it a crunchy freshness to cut against the richly salted miso.
Wagyu Roll, Yakiniku Sauce $20
My other favourite sushi of the evening is the wagyu roll. Filled with tender wagyu beef, finely sliced cucumber and Japanese mayonnaise, the roll is then draped with a thin sliced of wagyu that is then torched aburi style and then basted in yakitori sauce. It doesn't need a lick of soy and it is a full flavoured, moreish sushi. I've finished all four of my pieces before Mr NQN has even gotten through two I just adored this so much.
Queensland Roll, Spanner Crab, Soy Paper, Avocado $23
The Queensland roll features spanner crab and rice wrapped with soy or "mame" as in edamame paper giving it almost a wrinkled goat's cheese like appearance. On top is an avocado mousse and arare rice crackers to give it crunch. It's lovely and delicate although being served after the full bodied Wagyu roll doesn't do it any favours as the subtlety almost gets lost after the wagyu.
Mango Shiso $13
Mr NQN's eyes lit up at the sound of the mango shiso dessert made with fresh in season mango, a light mascarpone and yogurt cream, pale green shiso meringue daubs, toasted milk powder and a scoop of pure mango sorbet decorated with tiny shiso leaves. It's light and refreshing like all of the food here but the caramelised milk powder and mascarpone give this dessert a touch of richness.
Mochi Ravioli $10
We weren't quite as taken with the mochi ravioli. There's nothing wrong with the way that it is made, the mochi is soft and pliable and slightly stretchy but the frozen strawberry milkshake is a little tart for an item usually filled with something super sweet like red bean.
Goma street $14
The goma street is made up of glossy Valrhona dark chocolate, sandwiched with caramelised white chocolate mousse with black sesame praline and black sesame ice cream. It's one of those dessert where you have the very best intentions of only sampling a little bit of and then find yourself spooning bite after bite ending up with bits of black sesame in your teeth and you just don't care!
So tell me Dear Reader, since it's my birthday today I'm giving the daily question over to you - tell me something interesting about yourself! And to all the mums out there, a very Happy Mother's Day for this Sunday!! :)
NQN and Mr NQN were guests of Jupiter's Casino
Kiyomi
Lobby level, Jupiter's Casino
Broadbeach Island, Broadbeach QLD 4218
Tel: +61 (07) 5592 8100
Open for dinner from 5:30pm Tuesday to Sunday
http://www.jupitersgoldcoast.com.au/dining/Pages/Kiyomi.aspx