Quick, easy, and delicious - this Fire Chicken Buldak or bulgogi recipe has it all. Skinless chicken fillets are marinated in an easy Korean marinade. This tastes just like the chicken bulgogi from your favourite Korean BBQ! Pair it with ttebooki or chewy rice cakes and melted cheese for the best restaurant style experience at home! This is a pushy recipe Dear Reader!
Fire Chicken or Buldak is SO easy to make and I promise once you'll make this, it won't be your last! It's a very simple dish using gochujang or Korean red pepper paste, nashi pear, chilli, sesame oil and chicken thighs. You don't use a lot of added oil in this and it has SO much flavour to it! Bulgogi was said to originate from the Northern areas of the Korean peninsula and harks back to the Goguryeo era (37 B.C. to 668 A.D.) where it was originally called maekjeok and was served on skewers after being cooked over a Hwaro grill. The name Bulgogi literally means "fire meat" with "bul" meaning fire and "gogi" meaning meat. It comes from the Pyongan Province in North Korea although it has been heavily adopted in South Korea too. Usually cuts of beef are used in Bulgogi but chicken is also popularly used too and that where the name Buldak comes in (Bul meaning fire and Dak meaning chicken).
Tips for making restaurant quality Fire Chicken Buldak
1 - Chicken bulgogi is best using boneless chicken thighs but is also tasty using chicken tenderloins. You can also keep the skin on if you prefer.
2 - A little bit of chicken goes a long way thanks to the tenderising process where we flatten and slice the chicken. I use a sheet of cling wrap otherwise bits of chicken tend to flick everywhere when you hit it with the meat mallett.
3 - Don't cut your chicken too thick. The thinner and more pounded the chicken is the better it is and the quicker it cooks.
4 - The main ingredient of this marinade is Gochujang, a Korean red pepper paste. It can be bought at Asian grocery stores in a red tub. Once opened, always keep the film on the sauce to prevent the gochujang from drying out. Store it in the fridge.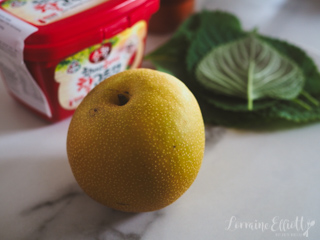 Nashi or Korean pears
5 - Korean meat recipes often using nashi or Korean pears in the marinade. The fruit sweetens and the calpain enzymes tenderise the meat further. I have also used apples in place of nashi pear and it still works flavour-wise.
6 - Korean pepper powder or gochugaru is a chilli powder with a vibrant, dark red colour, a moderate amount of heat and a light smokiness. You can also use your favourite chilli powder for this dish.
7 - Make sure to fry the chicken in batches to ensure that the temperature stays constant. I do this is 2-3 batches depending on the size of the pan.
Perilla or shiso leaves
8 - How to serve Chicken Bulgogi? If the weather is hot we eat this ssam style wrapped with soft lettuce or perilla/shiso leaves that we grow in the garden along with potato salad. But in autumn or winter I LOVE this with ttebokki and melted cheese. You can buy ttebooki at Asian grocery stores where it sits on the shelf or in the freezer. Ttebokki has a wonderfully chewy texture, sort of like mochi and they call it Korean pasta. All you have to do is boil it for 5-7 minutes, drain and then mix with the sauce.
I love this balduk chicken and while it is best fresh it also develops flavours nicely over time. Since daylight savings I've had to cook things earlier in the day to shoot them and then reheat them up for dinner and this dish reheats surprisingly well especially if you're just waiting for a few hours. I cooked it, took pictures and then went out to meet someone quickly. I collect clothes from my favourite designer and there was a top I was after for a long time that I saw pop up on facebook marketplace.
The girl that was selling it was very friendly and offered me a few pick up options. We decided to meet at IKEA at 5pm. I turned up at 4.55pm and she messaged me saying that she would be 5 minutes late. Resisting the temptation to buy some pickled herring and Daim bars I waited at the exit and then I got a funny feeling. "It's Ikea Tempe right?" I messaged her and she said, "Yes by the exit". Then she told me that she was waiting for me there.
I looked around. I couldn't see her. She sent me a picture of the entrance and I said to stay put and I'd find her. When I reached the entrance it had different colours to what I was looking at. I asked the greeter who said, "Hmm that looks like Ikea Rhodes"
"Are you at Ikea Rhodes?" I asked her and she responded she was. In the most unsurprising plot twist of all, we were at different locations. When I asked her if it was Ikea Tempe it turns out she had only lived in Sydney for a short time and she didn't know that it was a suburb. We ended up having to meet another day but at least I had this tasty dinner as a consolation waiting for me!
So tell me Dear Reader, have you ever gone to the wrong location? Do you cook your dinner ahead of time and then reheat it or do you cook it fresh every night? And have you ever tried Korean Balduk?
Did you make this recipe?
Share your creations by tagging @notquitenigella on Instagram with the hashtag #notquitenigella
Fire Chicken Buldak
An Original Recipe by Lorraine Elliott
Preparation time: 15 minutes plus 20 minutes marinating time
Cooking time: 10 minutes per batch
Serves: 4-6 people
150g/5ozs. gochujang red pepper paste
170g/6ozs nashi pear, cored and cubed
90ml/3flozs water
1.5 tablespoons Korean red pepper powder or gochugaru (can also use regular chilli powder)
1 tablespoon soy sauce
5 cloves garlic, peeled
2.5 tablespoons/50g/1.7ozs sugar
2 teaspoons sesame oil
2 teaspoons chicken stock powder
1kg/2.2lbs chicken thigh fillets
1 teaspoon oil
2 tablespoons toasted sesame seeds
1 large green chilli, sliced (optional)
1 large perilla or shiso leaf, finely sliced as garnish (optional)
500g ttebokki (Korean rice cakes or pasta)
200g/7ozs tasty cheese, grated
1 tablespoon finely chopped chives
Step 1 - First make the marinade. Place the gochujang, nashi pear, water, chilli powder, soy sauce, garlic, sugar, sesame oil and chicken stock powder in a food processor and blend until smooth. Set aside.
Thermomix directions: place the gochujang, nashi pear, water, chilli powder, soy sauce, garlic, sugar, sesame oil and chicken stock powder in the TM bowl and set to 15 seconds, speed #7. Set aside.
Step 2 -Take each chicken fillet and cover with cling film and flatten with a tenderiser. I use the flat side, then remove the cling film and then take the textured end to the really thick areas. Slice into 1/2 inch wide strips. Mix the chicken strips with the marinade and sit in the fridge for 20 minutes.
Step 3 -Then remove chicken from the fridge and heat up a large non stick pan on medium heat and add the sliced chilli. Add a small amount of oil (around 1 teaspoon), you won't need much and fry the chicken-do this in 2-3 batches so that it doesn't stew. You want this around medium heat because on high heat is spits a lot. Cook for around 10 minutes until chicken is caramelised lightly on the outside and cooked through on the inside. You can also grill (broil) the chicken for 7 minutes on each side if you prefer. Season if needed (it should be well seasoned so may not need any).
Step 4 - While the chicken is cooking boil the ttebokki in a large pot of boiling water for 5-7 minutes. Drain and rinse under cold water. Add to the pan and mix with the sauce adding more sauce if needed. Spoon into a ceramic or metal serving dish and cover with grated cheese. Grill for 4 minutes until melted and browned. Sprinkle with chives and serve immediately.
Healthy serving suggestion: serve chicken (no cheese or ttebokki) with soft salad leaves or perilla/shiso leaves.