This skillet chicken is a complete meal in one. With mushrooms, peas and onion this has a gorgeous white wine and cream sauce and is flavoured with fresh herbs. Apart from being absolutely delicious, the other best thing is there's very little to wash up! This is a delicious roast chicken without an oven and you don't need to turn on an oven to make this!
We have a tiny kitchen in our apartment with a single sink so I love making recipes that require little prep space and require very little washing up. This is all about a knife, chopping board and skillet. I mean if I was into camping or the outdoors I'd even suggest this recipe for then! ;)
I do however have a couple of tips for making this a tender, tasty chicken and for helping it cook faster and they are super easy!
Dry brine for tender, tastier chicken: Whenever I cook a chicken I do one thing and that is to dry brine it. The day before I have to cook it I lay the chicken on a rack or on a plate with a few paper towels underneath it and pat it dry with a paper towel on top. Then I sprinkle salt all over the skin of the chicken and keep it in the fridge uncovered. This tenderises the chicken and crisps up the skin without doing any real effort. You can do this 2 days in advance or flip the chicken halfway through to make sure that the skin all over is dried out. The salt also seasons the chicken perfectly.
Butterflying the chicken also makes the chicken cook quicker as it opens up the chicken. I like butterflying the chicken in this skillet chicken recipe because this recipe is all about ease. Butterflying a chicken is quick and easy and all you need is a pair of poultry scissors or sharp scissors. It also makes is very easy to portion up once cooked too.
How to butterfly a chicken:
1 - Lay the chicken breast side down. Feel for the backbone and neck.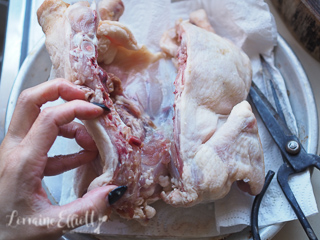 2 - Take a sharp pair of scissors and cut down each side of the backbone and neck. Turn the chicken over and that's it!
Note: save the backbone for stock or I fed it to Teddy. He too is a very big fan of this chicken dish because then he gets a delicious neck and backbone! LOL
I've mentioned before that Teddy is a very confident dog. He runs with big dogs and he runs with small dogs and no dog or human is a stranger. It's like he is Centennial Park's official welcoming mascot.
But with his confidence, comes a darker side. The side where he thinks he rules the world or at least that everything is his. Yes my dog is entitled and no I don't know what to do about it.
At the park there is this tiny little brown poodle puppy. Her name is Chica and she's SO adorable. She's a delicate little girl, half the size of Teddy (who is already small) and she has a bright orange ball. And Teddy is a big fan of that ball and once he gets it in his mouth there's almost nothing you can do to get it back. You literally have to outsmart him (which is sometimes possible) or outrun him (impossible). We have spent so much time chasing after him to retrieve Chica's ball that whenever we see her at the park we groan.
Thankfully the park area is large so we can separate them and while Teddy always comes by to say hello and make an attempt at stealing a ball, Chica's owner realises that the white fluffy terror is on his way and covers her ball with his feet and we all breathe easy. The shame is that I want to play with and pat Chica but with this little white terror there's no way I can go near her!
So tell me Dear Reader, do you turn on the oven less during summer? Do you dry or wet brine? And have you butterflied a chicken before?
One Skillet Chicken