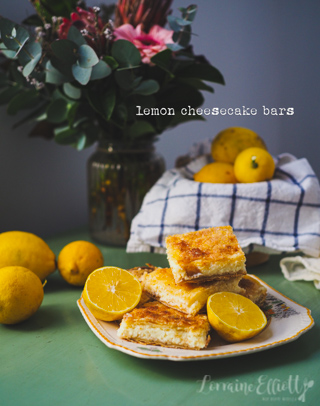 Lemon lovers will ADORE these incredible lemon cheesecake bars! Made with puff pastry, a creamy vanilla and lemon cheesecake filling and the most delicious lemon sugar topping these are highly addictive and one of the best desserts I've made this year! This is a pushy recipe Dear Reader - you HAVE to try these!
When I first made these lemon bars I left them to cool on the bench before popping them in the the fridge. Once they were chilled I cut a slice and took a bite. Holy heavens it was AMAZING. I crunched down on the wonderful lemon sugar crust, the crisp layers of buttery pastry and the creamy cheesecake filling aromatic with vanilla and I was instantly besotted. The pastry was still crisp even after overnight refrigeration, no doubt assisted by the wonderful lemon sugar crust. I would call it a distant American cousin of the French kouign amann pastry. Even Mr NQN who doesn't like pastry remarked on how good it was and how much he liked the crispy pastry before devouring a whole square. "You made these?" he said which is kind of rude. I mean I make nice desserts all the time but he really thought that I had bought them from a pastry shop.
This lemon cheesecake bar recipe actually comes from allrecipes but I've adapted it to make the quantities clearer, for Australian ingredients, to ensure that the whole thing bakes properly and to balance the lemon to sugar ratio as people either loved or hated the sourness level. The original lemon cream cheese bars use unbaked American crescent dough that is used to make homemade croissants. We don't have that here but we do have butter puff pastry which works perfectly in this.
These lemon cheesecake squares are also an excellent low waste recipe. Not only are lemons in season right now but if you're using lots of lemons for honey lemon drinks which are so soothing and warming, this recipe uses up a lot of lemon zest! Find more delicious lemon recipes here.
Tips For Making Lemon Cheesecake Bars
1 - Take your cream cheese out a few hours beforehand and leave it to come to room temperature on the bench.
2 - If you're in America you can use crescent roll dough sheets. In Australia use butter puff pastry sheets for this recipe. Regular puff pastry uses vegetable fat but the butter version tastes so much better and the butter flavour really makes these pop! Interestingly, Pillsbury crescent dough doesn't contain any butter (it also uses vegetable fat) so if you're in America and can find butter puff pastry try that as I think you'll prefer the taste of the butter puff pastry better! :)
3 - Thaw your butter puff pastry in the fridge. Butter puff pastry goes softer much quicker at room temperature than vegetable fat puff pastry.
4 - Make sure that the top sheet of pastry covers the filling completely.
I can never get enough of lemons, they're one of my favourite ingredients and I had plenty as Valentina gave me a big bag of her home grown lemons that are beautiful and full of juice with thin skins that makes them so easy to juice. I have really given up on commercial lemons. Sometimes the pith is almost a centimetre thick and it's dry inside with barely a tablespoon or two of juice. My vege box lemons are great but I only get 1 lemon every fortnight so I do need to augment my supply.
We actually have a lemon tree of our own. When we moved in we saw that there was a Meyer lemon tree planted but it was a small, new tree so we had to stave off our excitement. We've been doing a lot of work on our garden. I mentioned before that when we moved in there were concrete blocks under the grass and the seller had basically put some grass turf on top to sell the house. Mr NQN painstakingly dug those out but we found that the grass still needed more sun so we had a tree lopper remove one of the trees and trimmed back another tree as grass needs lots of sun to grow. Mr NQN was so funny when the tree loppers were here. He felt self conscious standing there watching them while they worked so he helped them carry the branches out.
Now the garden is bathed in sunshine and I can see things starting to flourish even in winter. One day Mr NQN came in excitedly holding his hand behind his back.
"Guess what I have?" he asked before revealing one large Meyer lemon. Our first lemon of the year! It's not exactly a huge bounty like Valentina's tree and last year we only got a total of 2 lemons but I'm hoping for 3 this year! You've got to start somewhere haha!
So tell me Dear Reader, do you have any tips for lemon trees? What do you grow in your garden?
Did you make this recipe?
Share your creations by tagging @notquitenigella on Instagram with the hashtag #notquitenigella
Lemon Cheesecake Bars
An Original Recipe by Not Quite Nigella
Preparation time: 15 minutes
Cooking time: 35 minutes
Serves: 9 squares or 12 bars
2 sheets butter puff pastry, thawed in the fridge or 500g/1.1lbs crescent dough sheets
500g/1.1lb cream cheese, room temperature
1 cup/220g/7.7ozs caster or superfine sugar
30ml/1floz lemon juice
2 tablespoons finely grated lemon zest
2 teaspoons vanilla bean paste
Pinch of salt
1 egg
2 tablespoons/30g butter, melted
3 tablespoons/45g white (not caster) sugar
2 tablespoons finely grated lemon zest
Step 1 - Preheat oven to 180C/350F fan forced. First line a baking tray with parchment and dock one sheet of puff pastry all over with a fork. Bake for 15 minutes until golden.
Step 2 - While it is baking, make the filling. Place the cream cheese, sugar, lemon juice, lemon zest, vanilla, salt and egg in a food processor and pulse to combine. Do not overbeat, stop when the ingredients are incorporated. Thermomix directions: Place the cream cheese, sugar,lemon juice, lemon zest, vanilla, salt and egg in the bowl and set to 30 seconds, speed #4.
Step 3 - Line a 20x30cms/8x12inch rectangular baking tin with parchment and using a serrated knife, trim the baked puff pastry to fit the base of the tin. Spread the cream cheese filling over the pastry base. Then trim the sheet of unbaked puff pastry to fit on top making sure that it covers the filling completely. I usually seal them together on the bench before lifting onto the filling. Brush the top all over with butter-it will seem like a thick layer but trust me, it will work out. Mix the sugar and lemon zest together and then sprinkle on top of the butter. Bake for 30-35 minutes or until golden. Cool on the bench and then refrigerate and then slice up into squares or bars.