Caramel slice is a classic Australian slice and possibly one of the most popular slices. This caramel slice will be the best one you have ever tried (pinky swear!) and uses a surprise but easy to find ingredient to give it a bit of extra deliciousness. This is a pushy recipe Dear Reader!
One of the best caramel slices I've eaten came from a cafe on the Central Coast called Lords of Pour. I don't know what their recipe is but at a guess I could taste cornflakes or something crunchy in the base (if you enjoy Afghan biscuits you'll know how amazing cornflakes are in cookies or biscuits!). I could also taste or smell browned butter in it and I filed it away in my mind to make at a later stage.
At a MUCH later stage I decided to make this just because I got the strongest craving for caramel slice. Sometimes you just need a square of a dense, caramelly treat in the afternoon. I played with the proportions of the base, caramel and chocolate topping because it's all about balancing these three elements so that it is moreish but not overwhelmingly sweet.
Three Important Tips for making the BEST caramel slice:
A classic caramel slice has three components: base, caramel and chocolate.
Base: to give slices an extra flavour advantage brown the butter. I always keep some in the fridge to save me time and browning the butter adds such a beautiful nutty aroma. I add a pinch of salt to this too as you want each separate layer to be tasty in itself.
Caramel: Make sure to cook the caramel on low-this is super important. The caramel takes patience and takes around 30 minutes to cook. You are looking for the texture change, not a colour change with the caramel. If you cook the caramel on medium or high heat it will burn and you will get little brown flecks in your caramel from where it catches on the bottom of the pot. I also add some salt in the caramel to help balance the sweetness.
Scored cuts in the chocolate layer
Chocolate: I add some coconut oil to the chocolate to make it easier to cut. This doesn't really affect the texture of the chocolate and a little coconut oil flavour is nice. Cutting the chocolate without it breaking can be a challenge but the easiest way for you to easily cut this caramel slice up is by scoring the chocolate layer on top while the chocolate is setting. This involves running a knife along the top of the slice and scoring lines into the chocolate layer while the chocolate is unset. I leave it to rest for 10 minutes or so at room temperature and then score it. I also let this slice set at room temperature. When you refrigerate the slice the chocolate becomes hard and brittle and shatters easily. I left this out for a couple of hours while I ran errands and when I got home it was perfectly set.
Speaking of cutting and knives, I had to laugh because I found myself in a position that I never thought I'd be. One day you're having fun, going to parties and eschewing having kids and then suddenly you've become a person that has got a favourite knife or knives. Let me introduce you to my favourite knives Dear Reader. They're the ones that I reach for several times every day and I would be bereft without them.
This top wooden handled knife is great for cutting and yet has never been sharpened in over 10 years. I love the slightly worn patina of the wooden handle - hell there's even a nick at the top which I think is a slight advantage. And yet despite all of this this knife is used all day long and features in many photographs. The bottom black handled knife comes out when I make lunch. It's great to cutting avocado into cubes and I love how thin it is-it's the knife that I grab to to slide chiffon cakes out of the tins. These knives do not go into the dishwasher. Neither of them are expensive and I think they both came from the kitchen of an ex boyfriend of mine. But Mr NQN has been warned about these knives-they're strictly hand wash only!
So tell me Dear Reader, do you have any favourite treasures in your kitchen that aren't expensive or fancy but you love? And do you like caramel slices?
DID YOU MAKE THIS RECIPE? Share your creations by tagging @notquitenigella on Instagram with the hashtag #notquitenigella
The BEST Caramel Slice
Rated 4.75 out of 5 by 4 readers
An Original Recipe by Lorraine Elliott
Preparation time: 15 minutes
Cooking time: 1 hour 15 minutes
Serves: 16
For base:
150g/4.6ozs. butter
3/4 cup / 115g/4ozs. plain all purpose flour
1/2 cup/110g/4ozs caster or superfine sugar
1/2 cup/45g/1.7ozs. desiccated coconut
2 cups/60g/2ozs. cornflakes, finely processed
Pinch salt
For filling:
600g/21ozs. sweetened condensed milk
100g/3.5ozs. butter, cut into cubes
3 tablespoons/75g/2.7ozs. golden syrup
Pinch of salt
For topping:
250g/8.8ozs. dark chocolate
1.5 tablespoons coconut oil
Step 1 - Line a 20x20cm/8x8 inch square pan with parchment. Preheat oven to 180C/350F. Brown the butter. Place it in a saucepan on medium high heat and heat until it starts to bubble and foam. As soon as it smells nutty remove from the heat and pour into a medium bowl leaving behind any burnt bits at the bottom and set aside.
Step 2 - Place the flour, sugar and coconut in a large bowl and whisk until combined. Place the cornflakes in a food processor and blitz until very fine crumbs and add to the bowl. Add the melted butter to the mixture and stir until distributed and then press into the prepared tin. Bake for 15 minutes.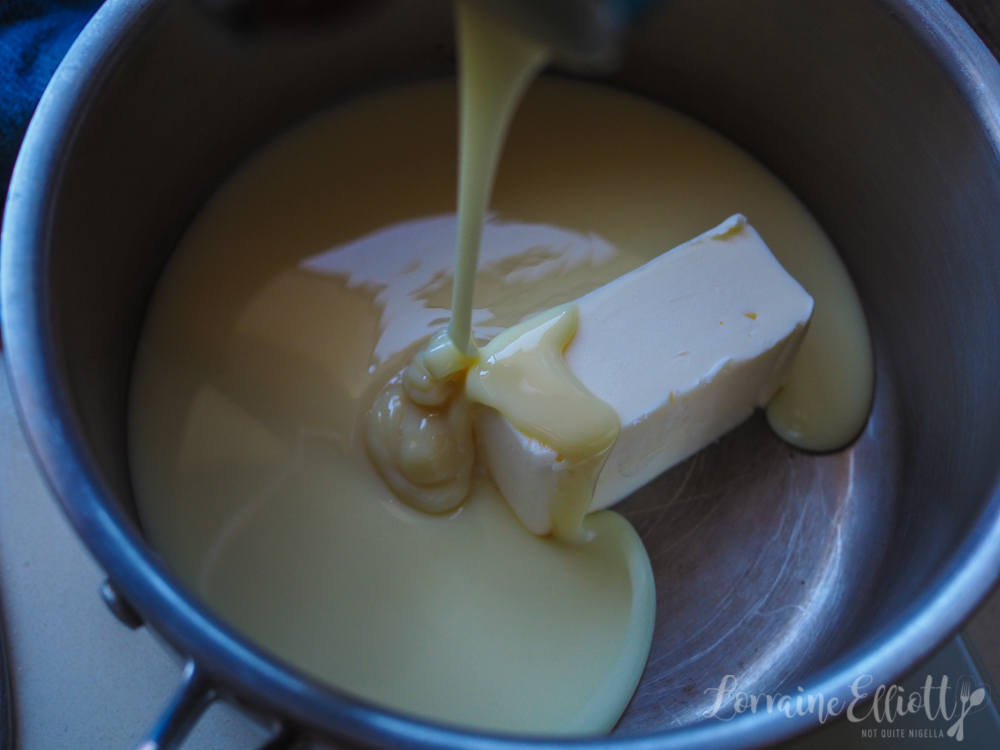 Step 3 - Place the condensed milk, butter, golden syrup and salt in a heavy based saucepan and heat on low heat. Stir while it is heating up as you don't want any of the sugar to catch on the bottom. It will become thicker and turn an ever so slightly darker colour-this will take around 30 minutes but the thickness is what you're looking for, not the colour (it will become darker in the oven). Pour over the base and bake in a 180C/350F oven for 20 minutes, rotating halfway until the whole top is caramelised (see pic below).
Caramelised top
Step 4 - Melt the chocolate and coconut oil in the microwave or a double boiler and stir until very smooth. Pour over the caramel topping and smooth out. When the chocolate starts to set score cuts in the chocolate to divide into 16 pieces - this make it easier to cut into squares. Leave it to set for a couple of hours on the benchtop. When set cut into squares and refrigerate. This will keep for a week or so in the fridge.