Nestled within Nakhon Pathom Province's Amphoe Sam Phran is the captivating Wat Samphran. Dubbed the "Dragon temple" Wat Sam Phran is a stunning 17 storey cylindrical pink temple with an enormous green dragon wrapped around the whole tower. This Buddhist temple is not on many guidebooks, doesn't really see a lot of tourists and yet its incredible façade beckons closer inspection. So is it worth a visit?
"Oh nooo, I think it will be closed by the time that we get there," I say to Mr NQN showing him my phone screen that shows that Wat Samphram closes at 5pm. I had the not so brilliant idea of visiting it during golden hour for slightly cooler conditions but for some reason I didn't see that it closed at 5pm. Seeing my disappointment Mr NQN doesn't want to rub it in by saying "I told you so." Instead he smiles consolingly saying, "Oh well, maybe we can get some photos from outside".
At 5:30pm we arrive at Wat Samphran, located 40kms west of Bangkok. As we were approaching by car we saw the dragon in the sky from a distance. Rising 80 metres and 17 storeys, it is a mesmerising sight. The dragon that coils around the structure spanning from its base to its pinnacle represents the transformative path of humans from sorrow to joy and from earthly struggles to spiritual transcendence. The extraordinary design came to the founder, a member of the Bhavana Buddho sect during a 7-day fasting meditation. It took 5 years to build.
According to Thai legend, the Phaya Naga a serpent-like being, sought spiritual empowerment from Buddha but was initially denied. In response, the serpent assumed human form, beseeching Buddha for guidance. Ultimately, Buddha granted the serpent's request, allowing it to become a unique white-robed monk amidst the traditionally yellow-clad brethren. The pink building is 80 metres in honour of the amount of years that buddha lived.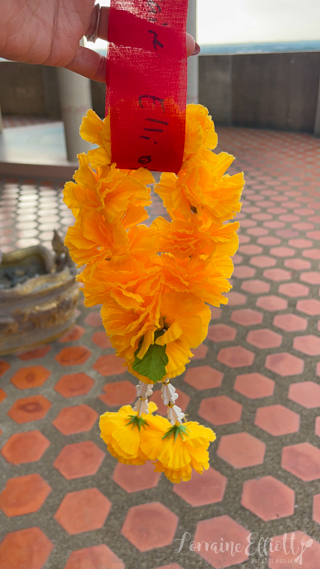 At Wat Samphran this Friday afternoon there are less than half a dozen tourists including one trying to send up a drone for a picture. So far it looks open and we wander in while our taxi driver waits in the car park. Beyond its striking pink centrepiece, Wat Samphran encompasses temples, meditation spaces, residential quarters and food carts. A woman points at an offering with a piece of thick red ribbon and some yellow marigold flowers.
"Write your name," she says smiling handing us pens. We add our name and slide some money into the donation box. "Hurry, it closes at 6pm," she says ushering us towards the opening of the temple. Although all their signs say that it closes at 5pm they let us in.
We look up at the building, the dusty pink exterior encircled four times by the thick body of the dragon, each green scale visible from the ground. There are many tiny wooden windows with gold panes and the cloud filled sky makes this feel even more dramatic if it were possible. At the very top of the tower there's a dragon's head. "Come, hurry" says a monk who gestures towards the donation box. We slide some more money into the donation box and walk up the stairs.
"We're climbing the dragon!" says Mr NQN excitedly. With bare feet we start walking up the circular ramp that twists around the building - this is the body of the dragon. The floor is concrete and coarse under my feet but large fans blow warm air towards you as signs tell us that we are at the "4nd heaven immortal happiness everyone". How many heavens are there?" I ask Mr NQN breathlessly.
I'm still carrying my flowers and ribbon and we see a small group of three people. "Is the end far?" I ask them and they point to the sign just behind them that reads, "To the 14th Heaven Immortal Eenal (SIC eternal) love." Fresh air engulfs us and I take a deep breath and peek out the window. But we aren't at the head of the dragon yet and we walk around the podium before ascending more open stairs. Finally we reach the dragon's head, mouth open in a snarl. A monk sits underneath the head on a small dais or podium and smiles and nods their head.
The view from the top
They point to a sign that directs us to walk around the offering dais three times. On the first circuit you pray for your father and mother, the second time pray for your mother's love for your father and the third time you pray for the children to love their parents.
After this we place the flowers on the tray and tie our ribbon with our name on it and before touch the dragon's well worn and cracked beard making a wish. Heeding the warnings around the 6pm closure and still surprised that we've been lucky to climb the belly of the beast to give our offering we rush downstairs.
Outside there are vendors selling drinks, ice creams and snacks. No doubt these are a welcome respite after the climb. We walk around for a bit as the sun starts to dip and the evening sets in. I think back to my wish and wonder if it will come true.
So tell me Dear Reader, do you always make a wish? What is your most often desired wish that you want to come true?
Wat Sam Phran
92 8, Sam Phran, Amphoe Sam Phran, Chang Wat Nakhon Pathom 73110, Thailand
How to get to Wat Sam Phran?
There are a few ways to get to Wat Samphran. You can get there by public transport although it is not the easiest route. Otherwise take a taxi or Grab car - expect to pay around 400THB one way. There is a large, free car park.
How Long Do I need for Wat Sam Phran?
Allow yourself at least an hour and a half to walk around and to get a blessing and some photos. You may also want to bring along some money for donations.
What is the best time of day to visit Wat Sam Phran?
The very best time is early on in the day. Wat Sam Phran opens at 9am. Otherwise try to aim for late afternoon a couple of hours before they close. Climbing to the top can be a challenge during the hottest part of the day aka around noon so bring water with you to climb the tower.