This recipe is brought to you by Legumes From Europe
This chickpea soup or Cisrà is a specialty of the Piedmont area of Italy. Traditionally this Piemontese soup it is made with tripe and chickpeas but this vegetarian version is made with chickpeas for a wholesome, easy and satisfying soup. It is given creaminess and body thanks to a clever step in the soup cooking method. This is a pushy recipe if you're looking for a delicious and hearty vegetable forward soup!
Cisrà is a dish with peasant origins that is sustaining and hearty. Apart from chickpeas the recipe uses less expensive cuts like tripe and pork rinds. There is also a version using pork ribs instead of tripe. There are so many version of Cisrà for every household. The broth used in Cisrà was typically beef broth and pork rinds were also added to the base. This is a lighter version without tripe and rinds. Some recipes use basil and marjoram, others rosemary while others call for pumpkin, leeks and cabbage.
The History of Cisrà Soup
Cisrà has ancient traditions going back to the 17th century and comes from the Langhe area of Piedmont. In ancient times Cisrà was usually served on November 2nd in the comune of Dogliani (60 kilometres southeast of Turin) during All Saints and All Souls Fair (Fiera dei Santi) where the deceased are commemorated. Cisrà was fed to weary pilgrims that made the trip from the Alta Langa to the foothill's fair before winter set in.
It was customary for families to leave a plate of this soup on the kitchen table so that the souls of the dead could warm up. Even today November 2nd is still marked in Dogliani with a large festival with hundreds of stalls. They say that "From 8.30 until exhaustion, the Cisrà will be distributed." Bowls of Cisra are donated by the priests of the church of the Battuti of Dogliani and each year close to 5,000 portions of the sustaining soup are given out.
Traditionally chickpeas or garbanzo beans would have been soaked overnight and the large vats of soup cooked over low heat all night but this version is a quicker version using tinned chickpeas that is still absolutely delicious. I got this recipe from the Legumes from Europe website. I did some work for them earlier this year and loved the predominantly Italian recipes on their website and this too was so good that I'm adding it to my repertoire for when we want something simple and vegetarian after eating a lot of meat. Feel free to add pork ribs or tripe if you like but I love keeping this mostly vegetarian save for the broth.
Chickpeas are a nutritional powerhouse and are rich in protein, vitamins, minerals and are high in fibre (which helps in weight management and to regulate blood sugar levels). Chickpeas also provide essential nutrients like iron and folate and they're mildly nutty tasting and super versatile across many different cuisines. I always have around 2-3 tins of chickpeas always in my pantry. I also save the chickpea water for making 2 minute vegan mayonnaise or vegan Caesar dressing.
Sometimes when you come back from a weekend away you need a bit of a reset. While eating out every night is fun and tasting dinners are an extravagant delight, sometimes you need something a bit simpler. And I had to thank my past self for making some of this Cisrà soup and keeping it in the freezer for us to have when we got back.
I opened the fridge door and grabbed the container of this soup. "Thank you past self," I said to myself more than anyone. I'm trying this thing where I try and be nice to myself instead of being a hard taskmaster where I berate myself if I make a mistake. What can I say, it's a journey.
"Huh?" said Mr NQN from the doorway. I explained that I was thanking my past self for the soup.
"Oh yeah I thanked your past self the other day," he said. "I needed sunscreen and I looked in the glove box and you had put some there," he explained. "And then my hands were dirty from lunch and I saw the wet wipes in there too." I laughed and told him that it doesn't count if I don't hear it!
So tell me Dear Reader, do you always have tinned chickpeas in your pantry? And do you ever thank your past self for things?
Did you make this recipe?
Share your creations by tagging @notquitenigella on Instagram with the hashtag #notquitenigella
Cisrà or Chickpea Soup
An Original Recipe by Lorraine Elliott, adapted from Legumes from Europe
Preparation time: 10 minutes
Cooking time: 40 minutes concurrently
100g/3.5ozs ditalini pasta (or your favourite short, small pasta)
Extra virgin olive oil for frying
1 large brown onion, peeled and finely diced
1 stick celery, finely diced
1 large potato (120g/4ozs), peeled and cubed
600g/1.3lbs tinned chickpeas, drained weight
1 litre/2.1pints beef stock
2 beef stock cubes extra
3 tablespoons tomato paste
Salt and pepper
Ditalini pasta
Step 1 - First cook the pasta in plenty of salted, boiling water until very al dente (around 6 minutes). Drain and set aside.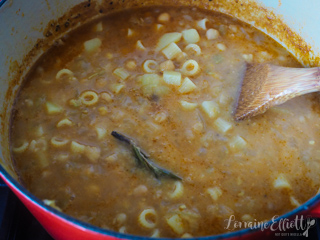 Step 2 - Heat the oil in a cast iron pot on medium heat and sauté the onion and celery until softened. Add potatoes and cook for another 3-4 miutes. then add the drained chickpeas, stock, stock cubes and tomato paste and bring to a boil. Simmer with the lid on for 15 minutes, then remove lid and simmer for another 15 minutes.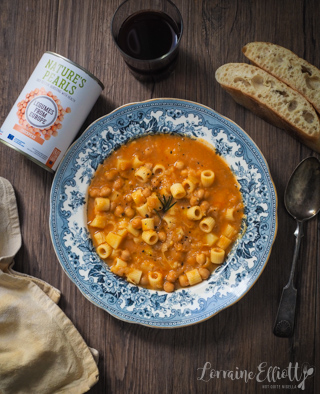 Step 3 - Take out half the soup and vegetables and puree until creamy and silky. Add this puree back into the pot along with the cooked pasta and rosemary. Season with salt and pepper. Serve with bread.