Mr NQN and I were having a conversation about bike riding. Those of you that have followed my not so successful bike riding adventures will know that I crashed quite spectacularly into the bushes in a park in Bangkok and ever since, have managed to manoeuvre out of any bike riding situations.
But being a bike pest Mr NQN has been urging me to give it another go and reluctantly after much rainchecking, I did so one weekend. All I managed to achieve was to go around the kid's bike track in Centennial Park. I wasn't quite ready to get back onto the adult's bike lane, mainly because I know that I'd be a nuisance taking up the whole lane and riding slowly.
"I think I need some L plates on my bicycle" I said.
"I think people can tell" Mr NQN replied.
I mean I do love the honesty but that much? Really? Ouch.
Which of course gives me a cue to make all sorts of references to competing in the Tour de France.
"There's no women's division" my husband of few words said, crushing my fantasy dreams.
"That's outrageous! There should be. I'm strong! I'm always taking doors off hinges!" I exclaimed. It's true, I'm not sure why but I once took a front door off its hinges and cupboard doors just aren't safe around me.
Still muttering about sexism, he helped me prepare dinner. It involved one of my favourite spring time treats: broad beans. They're around for a short season but a good one and some may be put off by the preparation needed. First the beans need to be taken out of their pods and then they are cooked very briefly and then slipped out of the membranes that encase them. They're delicious too - slightly sweet and mild in flavour. Choose firm, crisp bright green pods without big pockets of air inside.
I was inspired to make this by an appetiser I had at Wilbur's Place in Potts Point. As I was eating it, I kept thinking that we just had to buy some broad beans. And it was with the green beans in mind that I managed to put off another session of bike riding. See? They're good for you!
So tell me Dear Reader, which season is your favourite food-wise? And what do you look forward to most? And do you find ingredients like this too labour intensive?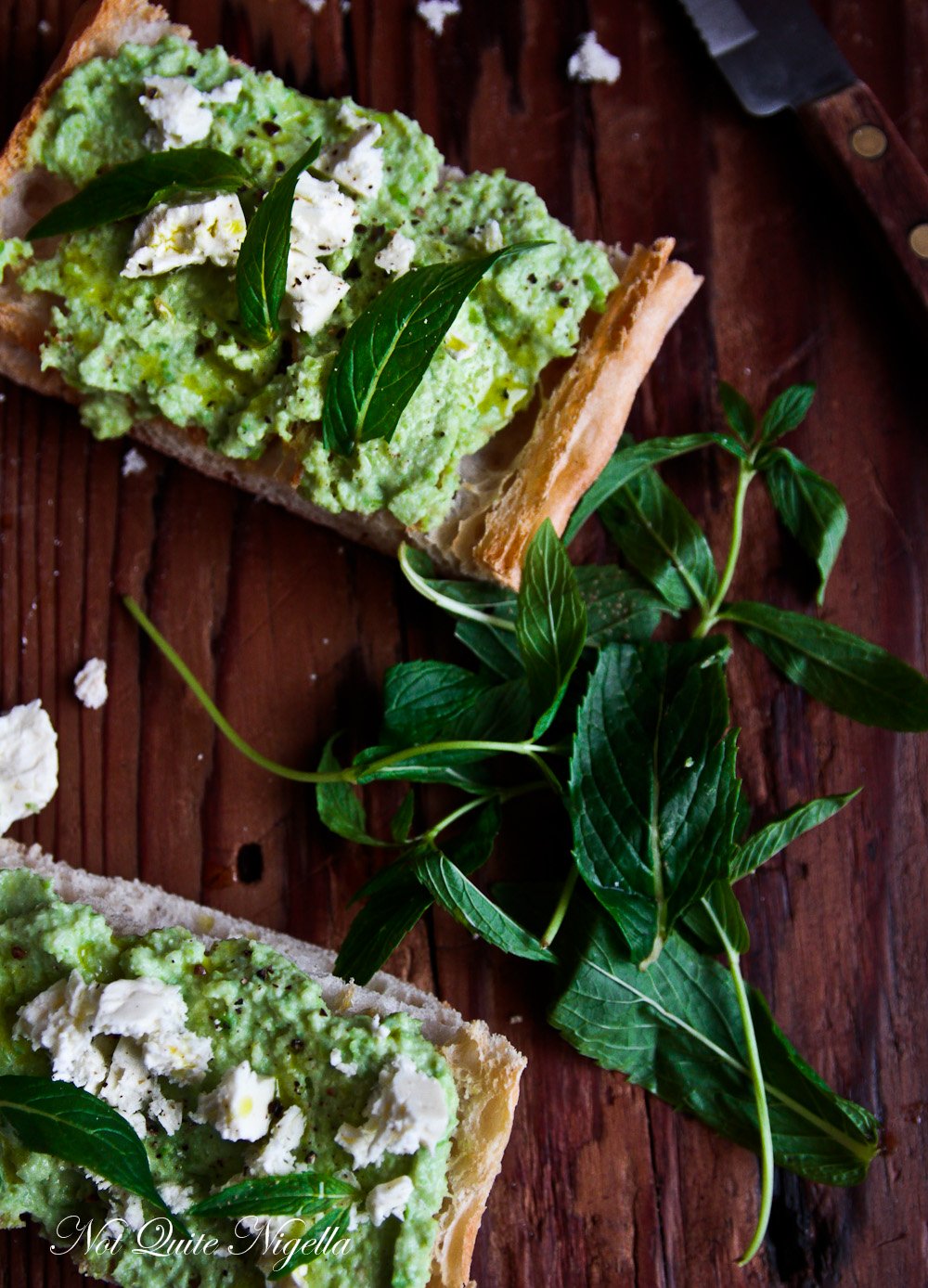 DID YOU MAKE THIS RECIPE? Share your creations by tagging @notquitenigella on Instagram with the hashtag #notquitenigella
Broad Beans, Feta & Mint on Turkish Toast
An Original Recipe by Not Quite Nigella
1 cup fresh broad beans, prepared as below*
1/2 cup green peas
3 tablespoons good quality mayonnaise
2 tablespoons lime olive oil (you can also use lemon)
A few thin slices red onion
100g/3.5ozs feta, crumbled
Fresh mint
Salt and pepper
1 loaf Turkish bread, cut into pieces
Step 1 - Process the beans, peas, mayonnaise and olive oil in a food processor. Add a little water if you need it to process.
Step 2 - Cut the Turkish bread into slices and grill. Top with the broad bean mix and onion slices and feta. Add mint, salt and pepper.
To prepare broad beans, remove them from their pods and boil for 2 minutes. Have an ice bath ready. Drain beans and run under cold water and then place in the ice bath. Then using your thumbnail or a small paring knife, pierce the skin and slip the inner bean out from the skin. This second step isn't strictly necessary if they are very fresh and young