Curious about how to make vegan mayonnaise? Well blow me over with a feather but it is even easier than the non vegan version, lasts for ages and tastes just like regular! In 2 minutes you could have your own batch of creamy, dreamy, spreadable vegan mayo!
I first tried this at Sidecar where my friend Tania was cooking. She made a garlic aioli using this recipe and drizzled it on to some polenta fries and I told her how delicious they were. She then mentioned that it was actually vegan mayonnaise.
I've seen vegan aioli popping up more and more on menus. I guess chickpea water which is the thing that replaces the egg isn't as temperature sensitive as raw egg. I find some mayonnaises really eggy and this also obviously doesn't suffer that fate. I think my favourite version of this is with a clove of garlic added and some Sriracha. And now I know that I'm never too far from mayonnaise (a condiment I have an unhealthy addiction to).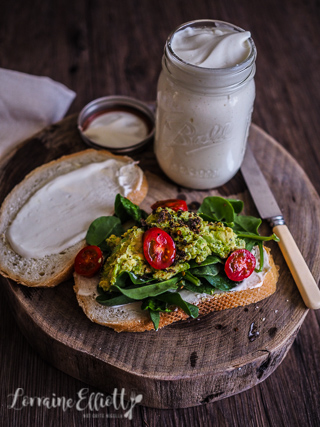 Apart from this vegan mayonnaise I have some other interesting things in my kitchen, as part of the series where I show you any new additions to my kitchen hosted by Sherry from Sherry's Pickings.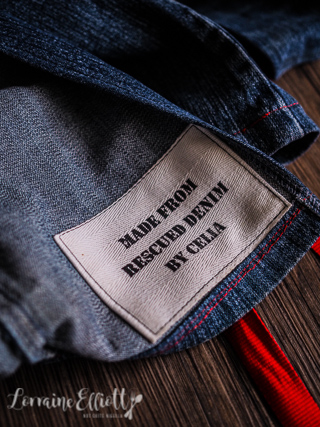 The first item is an apron made by my friend Celia. She buys vintage jeans from the op shop and transform them into denim aprons and tea towels! Isn't it gorgeous? She made the straps shorter for me (because I'm not exactly tall) and I love the red grosgrain ribbon and double pocket at the front! If you want to make one yourself, here is the link to Celia's apron pattern.
One night Mr NQN and I had an argument and it was all over popcorn. He sent me a picture of a bag of popcorn and perhaps requested I demanded that he bring some home. The convo went a bit like This
Mr NQN: Popcorn Sends picture of popcorn
Me: Yum. Are you bringing me some?
Mr NQN: No, it was just to show you
Me: Whaaaaat???? You can't do that. I NEED to eat this!
My excuse is that sending me a pic of popcorn is like waving a red flag in front of a bull. So the next night he brought home the popcorn as well as a peanut butter flavoured rice crisp ball. They were both from a Korean grocery store near his work. Ironically after all that fuss it wasn't popcorn but puffed grain and it was ok but a bit boring but I loved the peanut rice crispy balls.
The next item is a brinjal pickle. Recently I ate my way around Maitland and Morpeth and I ended up bringing home some delicious souvenirs. One of them is this James and Rose Brinjal Pickle that I bought from The Cunning Culinarian in Maitland. It's honestly one of the tastiest spreads I have ever tried. I don't usually love brinjal pickle, I mean it's fine but this adds so much flavour. It's made locally too!
Lastly, I also was sent some gorgeous "Australian Spirit" pralines by Koko Black. Whenever I go overseas I want to bring presents that are uniquely Australian. Of course Vegemite and Tim Tams are the first thing that come to mind but they're both easily available in a lot of countries. These pralines are filled with four different Australian spirits: Four Pillars gin, Starward whisky, The Rum Diary and Melbourne Moonshine and they are heavenly...
So tell me Dear Reader, have you ever tried vegan mayonnaise? What Australian themed gifts do you usually give people from overseas?
2 Minute Creamy Vegan Mayonnaise