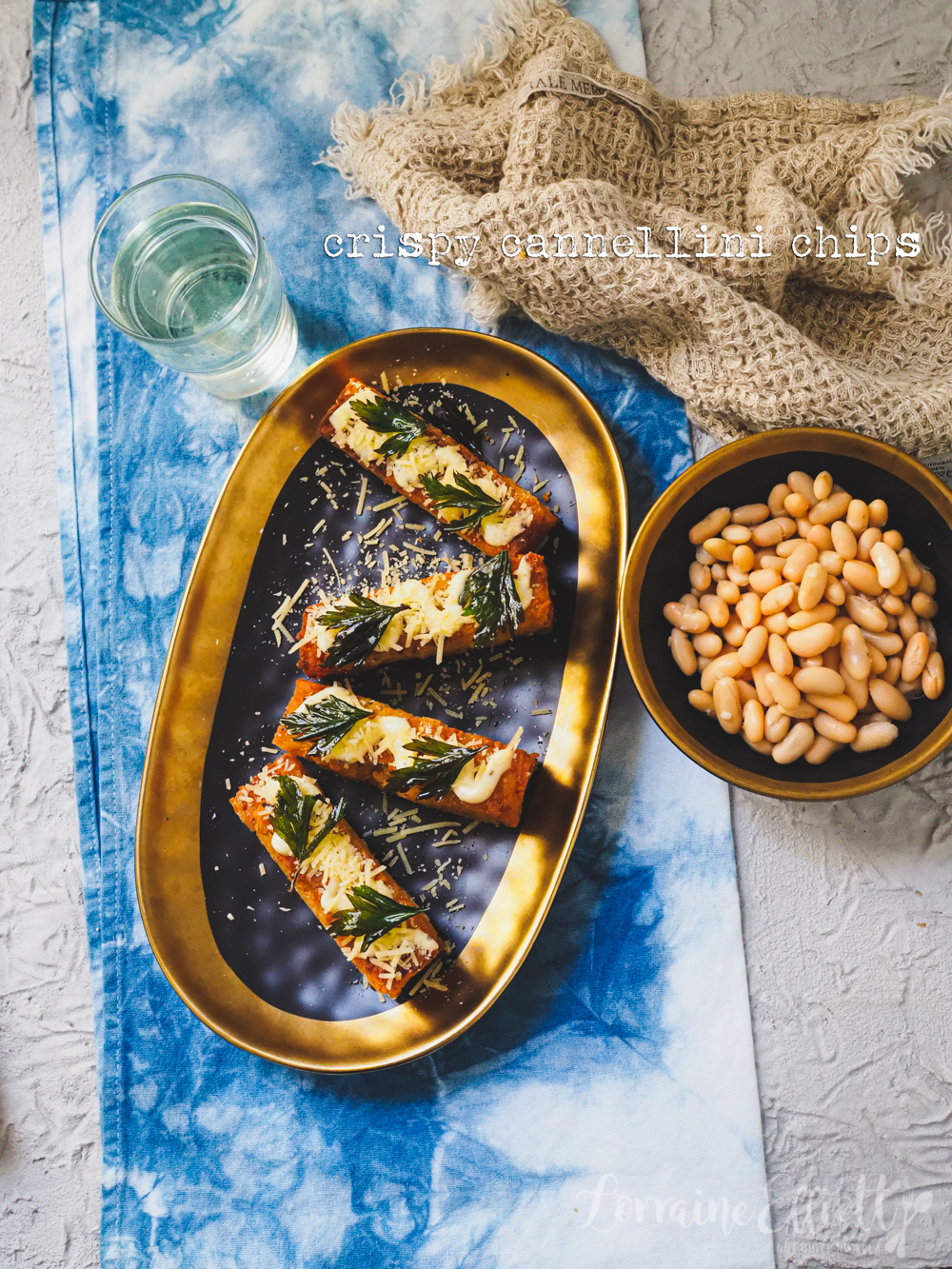 These cannellini bean chips are a revelation! If you love crispy, chunky fries or chips then give these chips a try! They're ridiculously moreish and crunchy golden. These chips are made using a humble tin of cannellini beans and risoni that is cooked together and then sliced up, fried and then topped with grated parmesan and truffle mayonnaise. They taste like they came from a restaurant. This is a pushy recipe Dear Reader!
This recipe is brought to you by #LegumesFromEurope
These cannellini bean chips are like a cousin of the polenta chip. But while polenta chips need a lot of flavour added to them, these cannellini bean chips have plenty of flavour. They do involve frying so there's that but I promise that these are definitely worth it. We found them totally addictive and after polishing off a whole batch, I made a second lot using the rest of the packet of risoni!
Cannellini beans are one of my favourite tinned beans because they have a mild flavour and creamy texture and I always have tins of these in the pantry along with chickpeas. I am not one of those people that has enough forethought to soak beans so I always have a vast amount of tinned beans. This is my first time using cannellini beans like this and this recipe turned out deliciously good. These crispy cannellini bean fingers remind me of the crunch that you get with potato pave, the moreish slender fingers of layered potato that you get in fine dining restaurants. I've tried making potato pave and it's a lot. Like way too much work a lot. Like let's-just-order-it-in-a-restaurant a lot.
This recipe is from the Legumes from Europe recipe collection and they asked me to try some recipes to share with you Dear Reader. The others are the White Lasagne and Scallops with Borlotti Bean puree and Salsa Verde. I liked the idea of making fries using cannellini beans because of their nutritional properties. Cannellini beans are also known as white kidney beans and are high in fibre, protein, antioxidants and minerals like iron, magnesium, and potassium. They are also low GI ( with a GI rating of 31 it is one of the lowest glycaemic beans) and contain both soluble and insoluble dietary fibre. Legumes are not just good for you but they're also a sustainable crop that require less water and fertiliser than other crops and can actually help improve soil health. Choosing tinned legumes from Europe supports sustainable agriculture practices and reduces food waste by providing a long lasting and easily stored product.
I was curious to see whether these would work as I love crispy chips and fries but I'm not going to lie, I did not think that these would work. I had to add another cup of stock (otherwise the risoni would be hard). I wasn't sure if they would set or become firm enough to slice up because of the stock but lo and behold after popping them in the fridge for a couple of hours they were super firm! Sure there was frying which I don't usually do but you can't really get it that crispy crunch chip-like quality unless you do. And the parmesan and truffle mayonnaise on top (I made it a squiggle rather than the dollop suggested) made these so utterly moreish!
I served a platter of these for Valentines Day along with scallops and salad. I'd like to tell you that we ate it at the dining table all dressed up but Your Honour it was a Tuesday after all. So we ate this in front of the television while wearing workout gear while watching a true crime series (Black Bird! So good!) and halfway through the show Teddy and Milo fell asleep on me on either side. I couldn't have asked for a better Valentines Day!
So tell me Dear Reader, what did you do on Valentines Day this year? Do you have a favourite bean (or am I a weirdo for having a favourite bean)? And have you watched Black Bird?
DID YOU MAKE THIS RECIPE? Share your creations by tagging @notquitenigella on Instagram with the hashtag #notquitenigella
CRISPY Cannellini Bean Chips
Rated 5.0 out of 5 by 6 readers
Adapted from chef Danny Russo
Preparation time: 25 minutes plus 2 hour setting time
Cooking time: 25 minutes
Serves: 6 (2 fingers each)
50ml/1.7ozs. extra virgin olive oil
120g/2ozs. brown onion diced finely
2 cloves garlic, finely chopped
250g/8.8ozs risoni pasta
3 cups/750ml/26flozs vegetable stock, hot
400g/14ozs tin Cannellini Beans
80g/3ozs. parmesan grated
1/2 cup/75g/2.6ozs. plain all purpose flour
Handful parsley leaves, pat very dry
150ml/5flozs truffle mayonnaise
100g/3.5ozs parmesan grated
Step 1 - Line the base of a 20x20cm/8x8inch square tin and spray the sides with oil. Add extra virgin olive oil into a large thick bottomed saucepan and sweat the garlic and onion until softened and nicely caramelised. Add risoni and mix through well. Drain and rinse cannellini beans and add to saucepan and stir well through risoni mix.
Adding beans and risoni to the pan
Firm set after refrigeration
Step 2 - Gradually add warmed vegetable stock adding a ladle at a time and cook out the liquid, like a risotto. Don't allow the liquid to evaporate too fast or the pasta will catch on the bottom of the pan. Keep adding the stock until finished, and liquid has been absorbed and pasta is al dente. Take off heat and add 80g/3ozs of grated parmesan, mixing until it has been incorporated into the mix and reserve the rest of the parmesan for serving. Pour risoni mixture into prepared tin and smooth out so its completely levelled out. Set aside to chill. Cover and refrigerate for 2 hours. You can do this a day or two ahead of time.
Step 3 - Portion into 10cm long x 2cm wide /4x1inch fingers. Place the flour into a shallow bowl and roll the fingers gently in the flour. Heat a heavy bottomed pot with 1 inch of oil and once it reaches 180C/350F fry the fingers in lots of 4 or 5 for 3-4 minutes until golden brown on the outside then turn over. Allow to cool and drain on paper towels. In the same oil fry the parsley leaves. Allow to cool and drain on paper towel. Pipe truffle mayonnaise on top and then sprinkle with grated parmesan and parsley leaves to finish off.