Zucchini flowers are a real treat and if you happen to be growing them and are looking for delicious ways to cook them then please try this zucchini flower pizza. This bianca or white pizza is topped with mascarpone stuffed zucchini flowers, baby zucchini and pistachios. Use fresh pizza dough or a ready baked base to make your own pizza at home. This is a pushy recipe Dear Reader!
In the last few months, whenever I get zucchini flowers in my vege box, they always go to making this zucchini flower pizza. These pretty orange blossoms always feel like an extra special treat to get and they're so pretty that I always want to make something special with them. Zucchini flowers are sometimes used as a topping on pizzas (I've seen them in Rome a bit) and are often combined with anchovies. However zucchini flowers on pizza are not usually stuffed. These zucchini flowers are filled with a wonderful, creamy mascarpone filling and honestly it is next level incredible.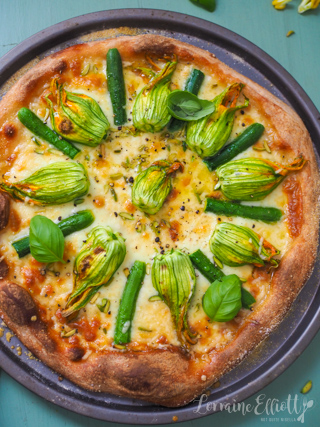 This Zucchini Flower pizza is versatile!
Instead of mascarpone, you can fill the zucchini flowers with cream cheese or goats cheese and ricotta.
You can also add a drizzle of basil pistachio pesto instead of fresh basil and pistachios.
I like making this with fresh dough but if you find that hard to get, your favourite prebaked pizza base is also good too and is a great time saver.
Feel free to add brown anchovies on this if you want an extra pop of flavour.
During summer when zucchini grow prolifically, pick the flowers before they turn into zucchini and try making this zucchini flower pizza as it uses 8-9 zucchini flowers!
Can You Eat The Whole Zucchini Flower?
Yes, the whole thing from the ends of the zucchini flower to the stamens. I tend to remove the stamens because they only bake for 5 minutes and I love the soft, melting texture of the filling without the added texture of the stamens.
Tips For Harvesting and Buying Zucchini Flowers
1 - Cut the flowers at the stem with a sharp knife and leave about 3cm/1inch of stem attached to the flower.
2 - Female zucchini flowers have a fatter green base than male ones. When harvesting make sure to leave some male ones to pollinate the female ones. Cut them in the morning when they are open and chill straight away.
3- Wrap the flowers in damp paper towels and place in a lidded container in the crisper.
4 - If you are buying zucchini flowers, look for Italian green grocers as they are not usually available at the supermarket. Look for ones with bright coloured, firm petals that are not wilted.
5 - Zucchini or squash blossoms are usually in season from spring to summer.
6 - Use zucchini flowers within a day or two of cutting or purchase as they will wilt and shrink with time.
7 - There is usually no need to wash zucchini flowers especially home grown ones.
When this zucchini flower pizza comes out of the oven it is so damn moreish especially with the stuffed zucchini flowers on top. It's one of those pizzas that you won't see on at a pizza restaurant because it's fiddly so it's really only one that you can make at home. I was having a moment eating this and savouring every bite when Mr NQN asked me a question. He had been reading about when SARS first became a thing in 2003.
"Oh yeah I remember, and now 10 years later COVID," I said.
"2003 in not 10 years ago," said Mr NQN.
"Hang on, whaat?" I responded putting down my piece of pizza because in my weird maths brain 2003 is about 10 years ago and not TWENTY YEARS (heeeelppp!!).
"I need a moment to process the maths," I said, slightly devastated. Yup there's no other way to say it but 2003 is 20 years ago although I still see it as 10 years ago!
So tell me Dear Reader, do your brain do the same with dates? Do you cook with or grow zucchini flowers?
Zucchini Flower Pizza