North Sydney is a corporate jungle they say. But one in which you are literally spoilt for choice for lunch. If you prefer your turkish bread with a side order of Italian opera (CD, not live!) in a snug little rectangular shaped cafe, Primavera is your kind of place. My friend Lulu and I arrive at 12.45pm in an attempt to beat the 1pm lunch rush and its already a bit tight in the small room with only two tables to spare.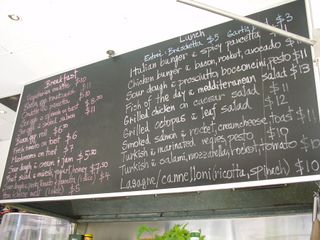 The prices in this chic little espresso bar are very reasonable with main lunch meals reaching the heights of $13 for the fish of the day with most items hovering around $10. Breakfast is also served throughout the day which Lulu takes them up on when she sees "Mushrooms on Toast". Having spied what I thought was a smoked salmon rocket salad I order this-its actually Turkish toast spread with cream cheese under a pile of smoked salmon, rocket, capers and pesto.
Our friendly waitress takes our orders and brings us water and 15 minutes later our meals arrive. Mine is a mountain of rocket salad atop 4 large triangles of turkish toast with cream cheese. The rocket is seasoned with drizzles of pesto and blanketed with two enormous slices of smoked salmon on which there are thin slices of spanish onion, capers and ground parmesan. The mushrooms on toast are fat little garlicky monsters with a delicious aroma sitting on top of buttery Turkish toast.
My smoked salmon mountain is a little difficult to eat, either one attacks the mountain with a knife and fork or you abandon the cutlery altogether and construct a sandwich using your hands. Either way, its incredibly filling and great value. A bit of aioli on it to add some moisture wouldn't have gone astray but I'm not really complaining.
The clock strikes 2pm and by now all of the office mice have disappeared.
Primavera Espresso Bar
Shop 3, Little Spring St
North Sydney NSW 2060
Phone (02) 9955 2492
Monday- Friday from 7am
Saturday 8.30am-2.30pm
Closed on Sundays and Public Holidays