Newtown's King Street has got to be one of the busiest eat streets in Sydney with what seems to be an unlimited amount of places at which to eat. It's also quite easy to have an average meal at Newtown, the main consolation being that because of the demographic and student population, the bill at least won't make you wince. But there are warm gems to be found along the eat street among the vintage stores.
A dear reader first told me about Oldtown in Newtown. She mentioned that it was run by a mother and daughter team Ella and Elisa who produced home style, comforting Italian food which seemed like the perfect tonic to the deluge of rain of biblical proportions that we've been getting lately. They were inspired to call it Oldtown after flicking through a book of Roman newsprints that the daughter Elisa had bought for her mum Ella in Italy some years ago. Photocopies of the newsprint features on the tables.
We were meeting up with Celia, Pete and Tania our frequent partners in crime and @lokified and his wife @SoKaleidoscope who live in the area. And because we love a get together, even a virtual one we skyped in friend Meilu from Idaho for a few minutes. For once Mr NQN and I are the first to shuffle in closing rain drenched umbrellas which gives us plenty of time to check things out.
The interior is warm and cosy and they are friendly and show us to our table near a display of colourful cookbooks, preserves and a picnic basket. They pass us the menu where the first page shows locally brewed craft beers. The rest of the menu shows a comforting range of pasta dishes, salads and antipasti and when everyone arrives they tell us that if we like the sound of any of the dinner special board items we can ask if they are available as some are available for lunch today.
Oh my kingdom for burrata (meaning "buttered" in Italian), that divine mozzarella type cheese which we split open reveals a river of ritagli thickened cream. Here it is paired with salad and toffeed figs, balsamic glaze and some garlic crisps. Figs are such a rare treat this late into winter but the mix is a fantastic one with the creamy filling dressing the leaves beautifully while the figs add a subtle, sweet flavour to the dish.
The mini arancini come out in a paper cone, hot and filled with pumpkin risotto. They're piping hot and absolutely worth every bite-although I did wish we had ordered two lots because I immediately wanted another.
The antipasto platter is impressive with plenty of goodies to fill us up. The platter has an olive tapenade, a sun dried tomato dip, caper berries, olives, bocconcini, grilled zucchini topped with a garlicky basil pesto and 18 month Spanish prosciutto and salami Calabrese. The bread has an addictively strong garlicky hit.
We are told that the basil comes from the Camdenville Paddock community garden which along with the Kids Edible Gardens are recipients of any edible waste from the restaurant. In return the Kids Edible Gardesn have given Elisa and Ella a small edible garden where they use the vegetables and herbs to decorate the plates.
The duck liver pâté was a creamy pâté paired with sweet balsamic onion jam on bread with crispy fried sage which gave the rich pate a nice contrast.
The vodka smoked trout was a bow tie pasta cooked in a creamy sauce with small pieces of smoked trout and asparagus and reminded me so much of a meal that I had in Rome. The sizes are large and even cavernously hungry Mr NQN  can't finish it.
I tried some of the wagyu beef lasagna which the menu tells us is a family recipe with layers of slow cooked wagyu bolognese, bechamel sauce and lots of mozzarella in a high, thick slice of lasagna. It's comforting and good and goes well with the garlic bread which provides a strong garlic hit.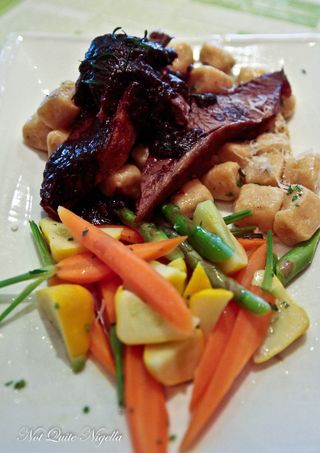 I tried a little of the beef brisket which was a generous home style plate with tender beef brisket. It was a dinner special but the sound of it along with their home made pumpkin gnocchi was hard to resist. It comes with a serve of carrots, asparagus and squash.
My order was the drunken salmon which was a Tasmanian salmon fillet marinated in Pinot Gris oil with gree peppercorns and a halved finger lime which you scrape out the tiny lime caviar beads and top the salad. For some it was a bit too acidic while others loved it. I thought it was great as a salad to contrast the richness of the other dishes which is how I ate it.
This was a flavoursome dish with bow tie pasta with home made pesto sauce (the same as on the antipasto plate) but with goat's cheese and pine nuts. It packs flavour and the toasted pine nuts add a nice crunch.
This was a wagyu scotch fillet served sliced and topped with a chilli salsa with handcut potatoes and smokey aioli. I just tried a little of it was good especially with the chilli salsa but I wished that the potatoes were a bit more golden and crispy.
Dramatically presented, the gnocchi came as a choice of beetroot or spinach gnocchi with gorgonzola, walnuts and wilted radicchio. This was with beetroot and had lots of strong flavours and aromas from the rich, aromatic gorgonzola to the bitter wilted radicchio leaves and the sweet balsamic reduction which came with a pot to the side. It's not for the faint hearted or those that don't want a strong or rich aromas.
Pete had his eye on the ricotta cake since the beginning of lunch so we had to have a slice. The daughter Elisa explains that it's the famous Papa Pasticceria ricotta cake and the reason why it is on the menu is because she craved a slice and while she was there she decided to buy a whole cake! It's a creamy, light and not overly sweet ricotta cheesecake with a hint of cinnamon. Here they serve it with berries in a wine sauce.
I ordered the freshly filled cannoli with a rum ricotta filling with a crunchy cannoli outer and the ends dipped in chocolate.
The chocolate caramel tart is from Brasserie Bread with a layer of chocolate ganache atop a thick caramel filling. It's plated prettily with a sweep of caramel and two curls of ice cream and some toffee shards.
To finish, Celia and Tania order some honeybush tea and it comes in a large teapot with little native violet blossoms in the bottom. These little flowers are also from the Kids Edible Gardens. And it's ends up being one of those lunches where nobody wants to leave-and not just because it was pouring outside!
So tell me Dear Reader, if you were to run a restaurant with somebody, whom would it be with? Your mother, father, sibling spouse or friend and why? Is there someone you definitely wouldn't run a restaurant with? ;)
Oldtown in Newtown
503 King St, Newtown NSW 2042
Tel:(02) 9557 4339
Monday Closed
Tuesday to Thursday 5:00-11:00 pm
Friday, Saturday and Sunday 9:00 am - 11:00 pm