There are friends that are always there for you thick or thin, There are some that will willingly jump into the car and eat dinner after you've eaten a substantial lunch and afternoon tea. I have a few of these wonderful friends and among them are Louise and Viggo. Even after we'd snacked at a market that morning and eaten two lunches, they were willing to come along for the ride for dinner.
Dinner was at The Botanist, a botanical themed eatery in Kirribilli. It's very subtly signposted, we almost drove past it but as Louise had been before she told us where to stop. Opened by the same people from Bondi Hardware, there are similarities between the two. There are plenty of share plates, sliders, cocktails but it's all really quite reasonably priced too which was something that struck us about Bondi Hardware. The botanical themed extends to the decor and cocktails though rather than the food. It's fairly busy this Sunday evening.
The Flower Doctor $18
Due to the amount we had eaten, we order just a few things to share. Service is friendly and attentive although the orange juice that Mr NQN ordered was fizzy and way past its expiration date. This was quickly replaced and taken off the bill. Louise orders a Flower Doctor cocktail which is made up of Botanical gin, elderflower liqueur, lemon juice, honey water and orange blossom water. She reports that it is a very strong drink, almost too strong for her.
King crab sliders (4 for $20)
There are four types of sliders: beef, pulled pork, chicken and Alaskan king crab and we're told that they were popular in that order. Still we rarely see crab sliders so we decided to order two of those and two of the pulled pork ones. The king crab was a mix of king crab and prawn and had a pronounced fishy taste which you don't tend to get in either crab or prawn. It is also very finely textured, like a blue swimmer crab rather than the large, fleshy chunks of Alaskan king crab. It's served with a kohlrabi remoulade but it really needs a bit more mayonnaise and perhaps chives.
Pulled pork  sliders (4 for $20)
The pulled pork comes with braised red cabbage and apple sauce and are the preferred choice of the two sliders. The pork is soft and melting and the red cabbage and sweet apple sauce are a good accompaniment. Viggo thinks that they need a strong sauce to tie it together like a barbecue sauce and he might be right there. Which gets us onto the topic of sliders-Mr NQN isn't so keen on these bite sized burgers. Louise interjects that it's because "You're starting to go somewhere and then it's all over" whereas for me, they're just the right size.
Italian sausage, potato & rosemary $20
Our pizza was next and it was a tomato less pizza which has a creamy white cheesy sauce on the bottom and little dots of Italian sausage and the aromatic hit of rosemary. This needed a bit of salt added to it, the aroma hit was strong but the flavour didn't quite follow up until the salt was added.
Braised beef cheeks with potato puree & braising juices (GF) $20
This was wonderfully comforting, the braised beef cheeks cooked until they were gelatinous and fell apart. They were served on a bed of potato puree and sweet braising juices. It's a sizeable serve given how rich the dish.
Pan-fried haloumi on fattoush salad (V/GF on request) $17
The pan fried halloumi served on fattoush salad is such a simple idea but rewarding too in its simplicity. The salty, squeaky cheese is soft against the tomato, onion and crouton salad and it's a simple but popular combination at the table.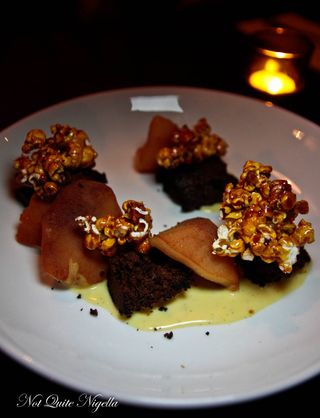 Roasted quince with gingerbread $12
The dessert menu is on the blackboard towards the back and there are two choices: a buttermilk panna cotta with passionfruit or the roast quince. We choose the latter and it arrives with four segments of soft roasted quince, some fantastic gingerbread cake which is heady in spice and dark as molasses and some caramelised popcorn. I enjoy this combination, particularly the dark gingerbread and the crunch from the popcorn.
So tell me Dear Reader, are you a fan of sliders? Do you think that they're too small or just right? And how many meals do you eat in a day?
The Botanist
17 Willoughby St, Kirribilli, NSW 2061
Tel: +61 (02) 9954 4057