Over the past few years my friends have been sprouting up little'uns faster than I can count. And as a consequence of this, I'm asked if I can recommend any places that are kid friendly but also adult friendly. Many places are of course mutually exclusive. the fancier it looks, the less welcoming they are to enfants and normally stylish mums can find themselves sacrificing good cuisine and avoiding scowls from fellow diners and waiters. There was one place that was said to be kid friendly yet with good food too: Giovanni Pilu's new restaurant in Terrey Hills called Cavallino. And Liss from Frills in the Hills was just the gal to go there with along with her three little girls, Eloise (7), and 5 year old twins Laura and Olivia. They would be the test of kid friendly chic.
On the former site of Il Piemonte, it's all very swish outside, with stone work and wooden detailing and a horse emblem of course as Cavallino means Little Horse (a synergy with owner Pilu's own Ferrari perhaps?). The greeting is very friendly and to the left there is the bar and lounge with more horse themed decorations.
Cheese fridge
To the right is the large 180 seater dining room which sits in front of the large pizza oven where four pizza makers are constantly throwing dough, sprinkling toppings and placing pizzas inside and taking them out of the large oven. There is a pizza with French fries on it but we think better of it and order more "regular" fare. There's an all Italian wine list and whilst there are mains which include meat, the big menu is the pizza menu with seventeen varieties of pizza.
The Produce Trolley
"Who wants to have a look at them making pizza?" Liss asks and the girls jump and down. The girls are definite foodies and they happily eat  all sorts of foods.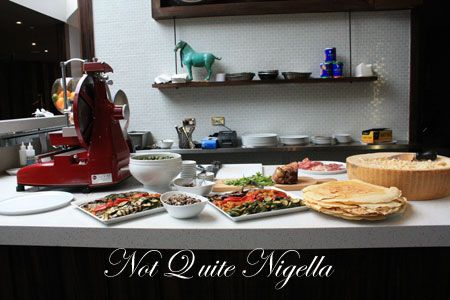 The antipasto counter
At the front there's also the antipasti section where a huge wheel of reggiano sits with crumbled reggiano inside it. A staff member puts together an antipasto plate and Liss points out the cheese fridge. When she last visited she was busy looking at the cheese fridge filled with imported Italian cheese and Pilu came out and they talked for a while. There's no sign of him here today though.
The girls watch them making the pizza
Fresh tagliolini pasta with blue swimmer crab, pantelleria capers, cherry tomatoes, garlic and chilli $25
All the pasta is said to be made fresh daily. The fine taglioni reminds me of soft egg noodles and the amount of fine flakes of crab is generous and well dispersed throughout the dish. It's not huge, about the size I could eat although Mr NQN (who is absent anyway) would want more. The capers from Pantelleria, south of Sicily are not as vinegary as regular capers and I await a sharpness that doesn't come and perhaps that is because the capers are packed in salt rather than brine.
Panzanella Salad $8
The Panzanella salad or Tuscan bread salad with truss tomatoes, cucumber, Spanish onion, basil and olive oil. The salad is pretty and the pieces of torn bread are soaked in dressing. I've tried panzanella salad with more crunchy bread where the bread has been more half soaked which to be honest I prefer but that's just me.
Ghiotta $23
Tomato, mozarella, ham, mixed mushrooms, porcini, black truffle paste and reggiano. This pizza is rich with the black truffle paste and mozarella and ham. The base is thin and the pizzas are large and man sized which is good value for $23.
Spettacolo $23
The spettacolo pizza comes topped with fresh sliced tomatoes, mozarella, rocket and proscuitto de Parma. The fresh tomatoes means that the vase goes quite soggy but this pizza is the favourite of the girls.
I grab a hand from two of the girls and the other one grabs my skirt and we all leave without a scowl from a waiter or fellow diner.
So tell me Dear Reader, do you find ever get scowls from waiters and if so, why?
Cavallino Ristorante
1 Yulong Ave, Terrey Hills NSW
Tel: +61 (02) 9450 1777