The Cupcake craze has definitely taken Sydney by storm. When you think of how many specialist cupcake bakeries there were a couple of years ago compared to now, the humble cupcake has been uplifted from an add on at a bakery to a baked good wortht of its very own store. Shopping on Oxford Street in Paddington one afternoon I stumbled upon a new addition to the cupcake scene, The Cupcake Bakery. Finding myself without camera I made a note to revisit it soon and scarcely a week later and the lure of a new cupcake is too strong and we find ourselves, camera in hand, ready to partake of these cupcakes.
The front display shows about 8 different types of cupcakes ranging from carrot cake, chocolate, sticky date, vanilla, chili chocolate and lemon & poppyseed. But what we're really interested in after an afternoon running around under the hot Sydney summer sun is a Cupcake Sundae. We have a choice of two sizes, regular $8 or large $12 and when she shows us the two containers, we choose regular due to the cute ceramic ice cream container (the large being housed in a glass bowl). I choose the Sticky Date Delight: scoops of vanilla and caramel ice cream with warm stick date cupcake topped with fresh cream, caramel sauce, toasted walnuts and finished with a maraschino cherry.
We go out to the back tea garden and relax in the shaded courtyard. Looking upwards there are grapevines woven through the roof trellis and flowers threaded through the side trellises, a nice respite from the buzzing hum of Oxford St.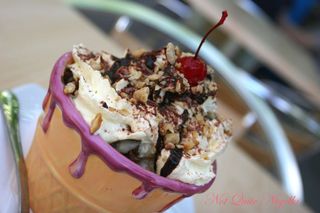 Our Sticky Date Delight sundae arrives and its as pretty as a picture. We almost don't want to destroy it by eating it but it looks terrifically tempting too so we dig in. Underneath a huge mound of whipped cream on one side is a warm sticky date cupcake next to a scoop of vanilla and caramel ice cream. There's lashings of chocolate topping (not caramel as on the menu), toasted walnuts and the promised maraschino cherry which completes the sweet retro look. The cupcake itself is delicious, a soft warm cupcake with swirls of brown sugary caramel which goes beautifully with the cold creamy ice cream. The whipped cream needs a little sugar in it and caramel topping would have suited it better but the toasted walnuts are a great crunch. Its so delicious its gone within minutes.
We go to the counter to pay and choose some cupcakes to takeaway. We choose the carrot cupcake (primarily for the adorable mini carrot on top) and the chocolate cupcake with vanilla buttercream icing. The carrot cupcake is soft and good but is light on the carrot and walnuts and doesn't have any pineapple in it. The cream cheese icing is soft and sweet and perfectly suited although there are tiny flecks of butter still in it.
The chocolate cupcake is dense and perhaps not as fresh and less sweet with a bittersweet dark chocolate taste to it. The buttercream is incredibly sweet and the two don't seem to go as well together as the carrot cake and the cream cheese icing. Service is a vague and a little unsure, indeed we could've walked out without paying. Nevertheless, the sundae was a definite winner and I'll use any excuse to pop into a tea garden to escape the shopping hoards!
The Cupcake Bakery
438 Oxford St Paddington
NSW 2021
ph: +61 (02) 9332 3700
mob: 0430 216 424
email: info@thecupcakebakery.com.au
Monday-Wednesday 7am-7pm
Thursday & Friday 7am-8pm
Saturday 8am-7pm
Sunday 9am-6pm