Bread is often called the staff of life and not usually a delicacy. However when the bread in question is given a light touch and is made by a skilled artisan, then it does qualify as a delicacy. At Neu's Delicacy in Bondi Junction, Manuel Neu is a baby faced bread baron. Originally from Germany, he is in the business of baking German style breads. And thanks to lovely reader Jaqi for letting me know about Neu's!
Manuel tells us that there is a difference between French style sourdoughs and German style ones . French sourdough, which are the types that you see here are wheat based with a crunchy, thicker crust where German sourdoughs usually have a rye component and have a thinner crust on top. There are regional differences even within Germany as breads in Hamburg are comparatively lighter than the heavier breads in Munich.
Neu's as Manuel pronounces it "it's a noice bit of bread" (think Kath and Kim) started baking their own breads in late 2011. As per the German tradition the bakery is named after the family name. Previously, their business consisted of importing par baked breads from Germany. Par baked imports are more common than you would think. This is when bread is baked 80% done and then frozen and imported and these are then finished in the destination country and bake until done. It is how Luneburger imports their bread and there are many French pastries and breads that are imported in this same fashion.
Neu's decided to change tack and hire a baker master from Germany. Jurgen walked in and the shopfront in Bondi Junction changed from a cafe to literally just a shopfront as they needed more space to bake the loaves that they sell all over in markets throughout Sydney.
Their best seller is the rustic sourdough which is made with 50% rye and 50% wheat and in total they sell 1,500 loaves a week, all made with Australian ingredients with the exception of the salt and lye for the pretzels. In total there are twelve types of breads, seven of those containing rye. We try a range of the breads here including the pumpkin, sunflower seed baguette with shredded apple and soy beans (Mr NQN's favourite), a big crumbed wheat tomato and a chilli ciabatta (the latter having a lovely spicy hit). I really enjoy the rich brown Munich malt as it has a dense crumb, moist centre and lovely aroma, although I would love more spice in the English raisin bread.
We try the wurzelbrot or root bread which resembles a twisted tree root which has a light flavour of cumin. There is also a 50% wheat 50% rye carrot loaf with shreds of carrot and a multitude of nubbly seeds (sunflower, linseed and soya bean) and the classic rustic sourdough that we take home. They're breads filled with weight and goodness and not flyaway, light samples, yet the inner is not dry and have an appealing moistness to them.
Manuel tells us "the moistness in the bread is achieved through the resting time of the dough. When your dough is resting you give it time to acidify – means the glue or gluten in our flour has time absorb more water. Flavour also develops during the resting time."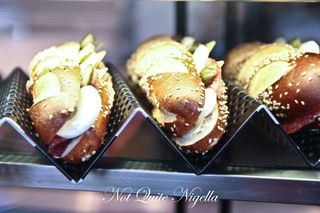 Apart from the loaves, there are also ready made sandwiches including two interesting ones which comes in pretzel rolls and one is what Manuel calls a classic German sandwich with salami, egg, gherkin and cream cheese in a pretzel roll.
Apart from these, are the item that my eyes hone in on, the Berliner donuts. These are filled with raspberry jam and come winter, the store will sell egg nog custard centred Berliners! You'll be able to find me at the front of the queue for that one ;)
So tell me Dear Reader, what is your favourite type of bread to eat?
Neu's Delicacy
23 Bronte Road Bondi Junction NSW 2022
Tel: +61 (02) 9369 2222