Rhubarb Fool has got to be one of those funny names that the English come up with for their food -a bit like Spotted Dick or Toad in the Hole. It sounds all very jolly and naughty and it seems fitting that I would use the recipe from the very jolly and naughty English rose Nigella.
Rhubarb is ridiculously cheap nowadays, indeed I bought 3 bunches of it for $4 from the local Harris Farm store. I do wish they'd offer to tree lop them as carrying 3 large bunches of top heavy greenery is hard work for a weakling like me.
I found that I didn't have to reduce the syrup at all. In fact I got a very small amount of syrupy liquid (1/2 cup or so) just by putting it in the oven, certainly nowhere near 500ml as Nigella mentions. Also I found that presentation wise, if you have another bowl apart from the one you want to serve it in and you dollop a spoonful of the cream and then a spoonful of the pureed rhubarb and then fold once and no more and then dollop this beautifully contrasting fruity cream into your serving glass then its not as combined as it easily verges into a pink cloud. Unless of course you're going for that look in which case fold away!
DID YOU MAKE THIS RECIPE? Share your creations by tagging @notquitenigella on Instagram with the hashtag #notquitenigella
Rhubarb Fool
Ingredients
Serves 8
1 kg rhubarb, trimmed and coarsely chopped
Instructions
Step 1 - Preheat the oven to 190°C/Gas Mark 5.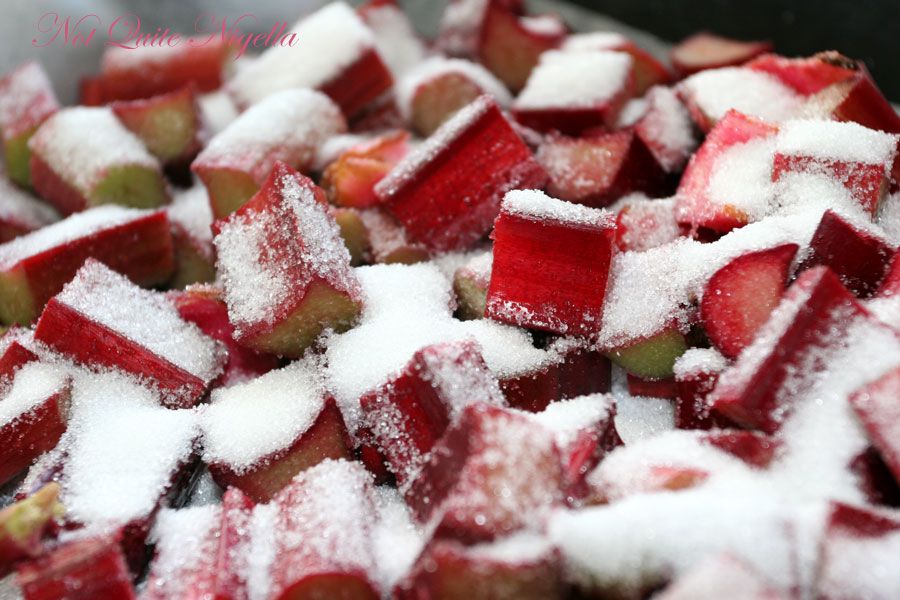 Step 2 - Mix the rhubarb and vanilla sugar together in an ovenproof dish. Do not add water. Cover with foil and bake for 45 minutes to 1 hour or until the fruit is completely soft.
Step 3 - Drain in a colander, or sieve, and pour the juice (you should have about 500ml) into a saucepan, then heat and let bubble away until reduced by about half.
Step 4 - Pour into a jug and leave to cool; do not, however refrigerate as the syrup might crystallise and lose its fabulous puce clarity.
Step 5 - Puree the fruit until totally smooth, then cool and chill this as well (I found that it became much paler in colour when pureed until smooth).
Step 6 - Whip the cream in a large chilled bowl until lusciously thick but not stiff.
Step 7 - Carefully fold in the rhubarb puree, then some of the reduced juice, so the mixture is streaked, rather like raspberry ripple ice cream.
Step 8 - Put the juice in a glass jug so that people can add more, if they want, as they eat. Or frankly, you could instead use half the amount of rhubarb juice in the pan for reducing and use the remaining 250ml for adding to champagne for a fabulous, blush-pink summer drink.
By Nigella Lawson from Forever Summer