These striking green and pink beauties are the perfect little sweet tart. An East meets West tart it is made of crisp, short pandan flavoured pastry and a pandan frangipane filling. On top are batons of rhubarb!
I love the contrast of textures and flavours in this tart. It's like a more exotic or interesting cousin of a regular fruit frangipane tart and the pandan essence adds such a gorgeous aroma to the frangipane. It's great for a lunchbox or dessert too.
As a compulsive feeder, I always worry that people don't have enough food. If Mr NQN skips a meal which he sometimes does while at work because he has so many meetings, I think he's going to waste away. Rationally I know that he won't but I can't help think that he will. I also feel like no meal is complete without dessert. When I go out I leave him food and then check on him by messaging him, "Have you eaten yet?". Sometimes I slip into the mother role which both concerns both of us!
Recently Mr NQN's brother Manu stayed at our apartment and looked after Teddy while we were away. He was glad to be able to get some time to himself as he has moved back in with their mother Tuulikki who is well meaning but is a real worrier.
While we were away we had the google nest camera connected to Teddy's crate to see if he was sleeping there. That also meant that we could talk to Teddy if we needed to but we've never done it before. "Hey should we test it out on Manu?" I asked Mr NQN. "Should we pretend to be your mum?" I asked and Mr NQN eagerly agreed. We didn't know if it would work or if Manu was home.
Mr NQN pressed the talk button and I blurted out in Tuulikki's sing song voice, "Manuuuu!! Manuuu!! Have you eaten your tofu??"
The only problem was that I couldn't stop laughing and we had to have several attempts at it. I lay on the floor writhing with laughter and then we heard a voice back. He hadn't freaked out that this voice came out of nowhere and said, "Yes I've eaten my tofu Tuulikki!!".
So tell me Dear Reader, do you worry about things? Have you ever tried pandan before?
DID YOU MAKE THIS RECIPE? Share your creations by tagging @notquitenigella on Instagram with the hashtag #notquitenigella
Pandan Rhubarb Tarts
An Original Recipe by Lorraine Elliott
Preparation time: 45 minutes
Cooking time:
Pandan Pastry
1 1/4 cups flour
2 tablespoons sugar
1/2 teaspoon salt
113g/1 stick butter, cold and cut into cubes
4-5 tablespoons ice water
1 tablespoon pandan essence
Pandan Frangipane
125g/4ozs. butter, softened
125g/4ozs. sugar
2 eggs, room temperature
125g/4ozs. ground almonds
2 tablespoons pandan essence
1 tablespoon flour
8 sticks rhubarb
75g/2.7ozs. sugar extra
Step 1 - Place the flour, sugar, salt and butter in a food processor and pulse until you get fine crumbs. Mix the water and pandan essence and add to the flour mixture (try 4 tablespoons and then add the extra 2 tablespoons if needed) until it forms a dough. Knead until the colour is consistent and roll into a ball and cover in cling film and rest for 1 hour.
Step 2 - Roll out until thin and line 8 large tart tins. Allow to rest for 30 minutes in the fridge. Preheat oven to 180C/350F and line with oiled foil and fill with ceramic baking beads (or dried beans or peas). Bake for 20 minutes until crisp. Cool.
Step 3 - To make the frangipane, whisk the butter and sugar together and then add the eggs. Switch to a spatula and mix in the almonds, pandan essence and flour. Spoon into the cooled tart cases.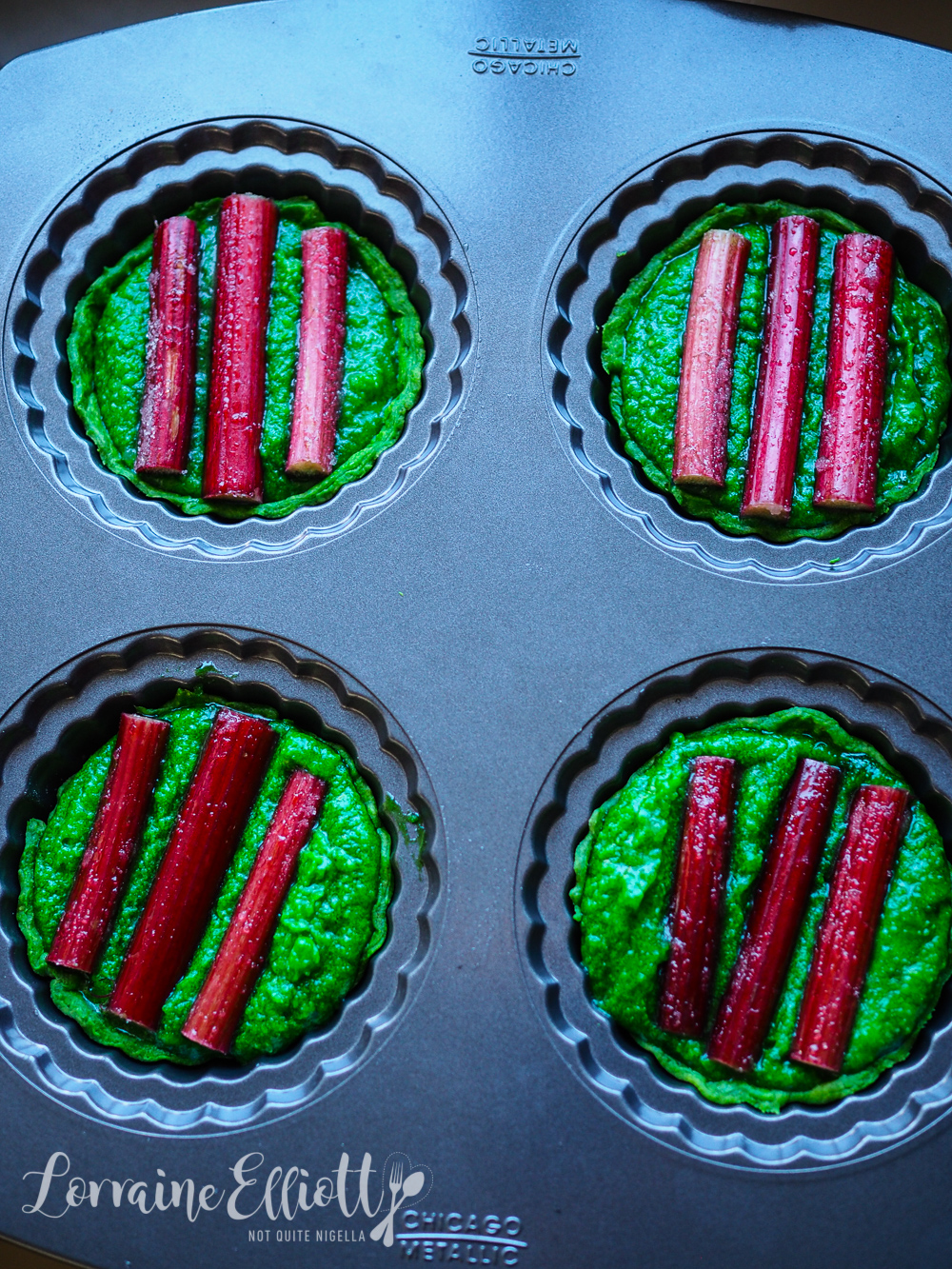 Step 4 - Cut the rhubarb to fit the tart cases and sprinkle the tops with the extra sugar. Bake at 180C/350F for 20-25 minutes.