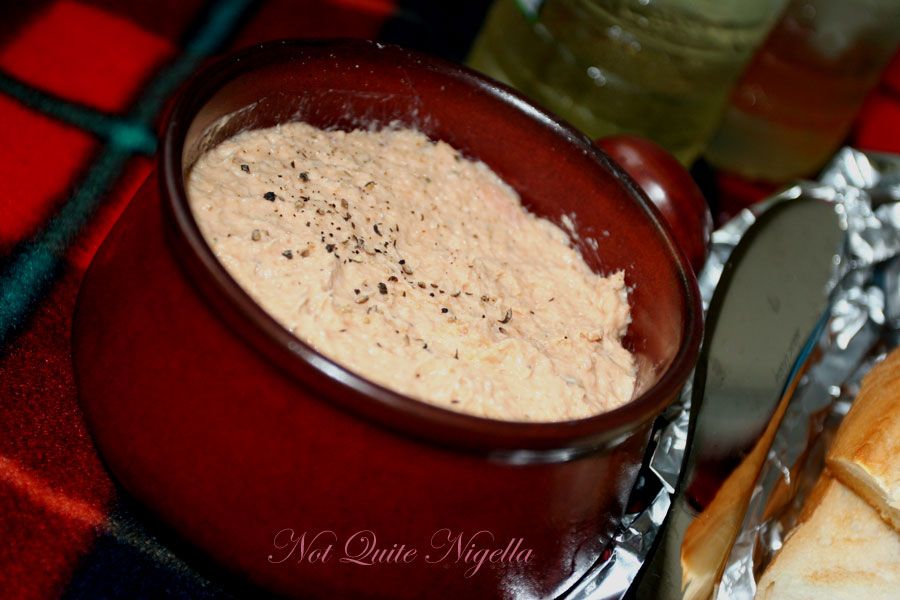 One thing that helps lull you back into the rat-race after the bliss of Christmas holidays are the January Domain concerts. Its been a while since I went to one but it used to be a regular yearly thing to see either the Symphony, Opera or more recent addition Jazz, for free and flinging your picnic blanket onto the lush green grass of the lawn. Its always a battle to get there and back as driving is not really a great idea and it inevitably rains but that, I keep saying to friends and family, is all part of the charm. And perhaps they'll believe me one day...
I have many memories of eating pâté with water crackers, not the fantastic kind you get from DJs but the tinned kind, but when you're young, do you really know the difference? Now that I am "grown up" I am a big fan of trout or salmon pâté and will any excuse to make this rather than buy the version from the supermarket, no matter how excellent it might be. For this recipe I used smoked salmon as that was just what I happened to have in the fridge which I lightly steamed to get the same texture as smoked trout.
DID YOU MAKE THIS RECIPE? Share your creations by tagging @notquitenigella on Instagram with the hashtag #notquitenigella
Smoked Trout Pâté
2 smoked trout fillets , approx. 125g total weight
50g of Philadelphia cream cheese
1/4 teaspoon cayenne pepper
Step 1 - Put all the ingredients into a blender or food processor and blitz until smooth and pâté like
Step 2 - Spoon the mixture into a vow (I used a small terracotta dish of about 12cm in diameter), scraping out any mixture remaining in the processor with a spatula. Cover the bowl with clingfilm, and place in the fridge to chill.
Recipe by Nigella Lawson from Nigella Express