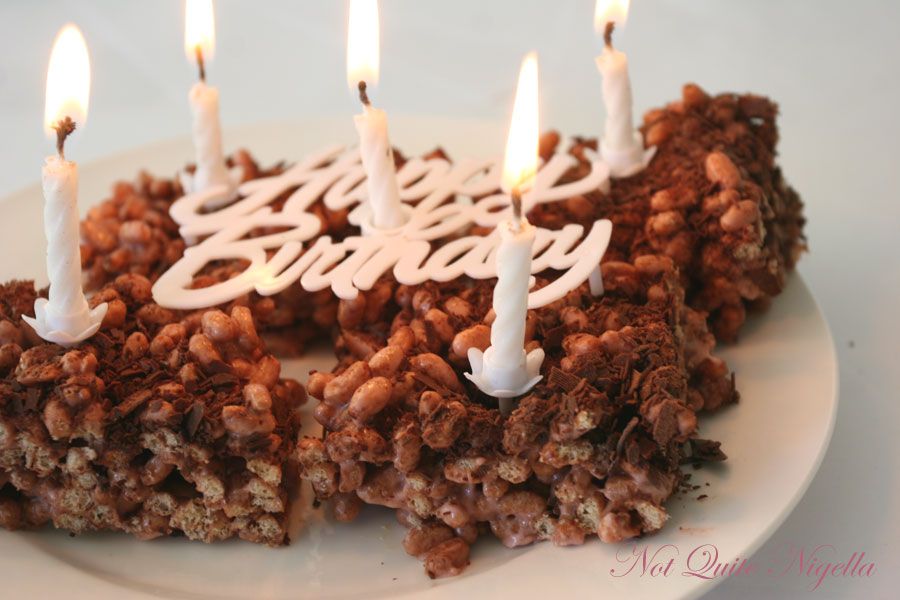 I love LCMs, embarrassing as it is to say. I particularly liked the Shrek ones with the green chocolate bits on top. There, I've said it. Now that I've confessed my liking for these sticky, chewy treats I can go onto getting on with my life unburdened of my secret. When I happened upon these in Nigella Express, I felt the need to make them, mainly because the Shrek ones had sold out at my Coles.
I didn't use Rice Crispies but instead an Organic version of Coco Pops. Of course I don't have those charming little green chocolate bits on top so some Charbonnel & Walker Hot Chocolate flakes had to do, a much welcomed present from my sister in London every year. The strawberry marshmallows somewhat obscured the chocolate taste, or at least interfered with it, so I had to add some chocolate flakes to the mix as well as on top. And I am not sure what voodoo Nigella is working but my CSI latex gloves were well and truly stickied out and didn't help a jot when I tried to smooth these over.
DID YOU MAKE THIS RECIPE? Share your creations by tagging @notquitenigella on Instagram with the hashtag #notquitenigella
Marshmallow Crispy Squares from Nigella Express
300g mini marshmallows (I use normal sized ones and it was fine)
Edible glitter or sprinkles (optional) I used chocolate flakes
Step 1 - Melt the butter in a large, heavy-based saucepan over a low heat.
Step 2 - Add the marshmallows and cook gently until they are completely melted and blended, stirring constantly.
Marshmallows starting to melt down
Half melted marshmallowy goo
Completely melted
Step 3 - Take the pan off the heat and immediately add the cereal, mixing lightly until well coated.
Step 4 - Press the mixture into a greased 32cm x 23cm tin; you may have to put on vinyl CSI gloves and press it down into the corners, as it will be very sticky. Flatten the top and then scatter over the edible glitter or sprinkles, if so inclined. I have to say that this is easier said than done, the gloves ended up with a gooey mess all over them so I wasn't really able to flatten it as much as I would have liked.
Step 5 - Let the marshmallow crispy squares cool completely in the tin and then cut them into 24 squares.
Makes 24 squares
Recipe by Nigella Lawson from Nigella Express