This is the vanilla custard slice recipe that I've been working on on and off for 4 years now. I've sampled hundreds of them, baked countless versions and now Dear Reader I'm so excited to bring to you my fluffiest, lightest most vanilla-ey vanilla slice of them all of time! And this is definitely a pushy recipe!
Vanilla slice is a thing that you see a lot in old skool types of bakeries. It's made with puff pastry layers and a thick layer of custard in the centre. Sometimes disparagingly called "Snot blocks" because of their bright yellow colour and jellied texture they can be the most delicious or underwhelming treats. Its French cousin is the Napoleon or Mille Feuille. In New Zealand they call them custard squares.
Custard powder or eggs? I've tried making a vanilla slice with custard powder and I'm afraid it never quite does it for me. I don't like the texture of the custard powder. The secret of my vanilla slice custard is a rich egg custard that is strong in vanilla bean but also is given an ethereal lightness from whipped cream while gelatin gives it stability so that it doesn't fly away like a cloud and it slices properly
The passion fruit and coconut icing is based on my favourite easy coconut frosting combined with passionfruit and shredded coconut. In fact this whole vanilla slice is inspired by the lightness of the cult Denheath custard square from New Zealand.
So let's talk gelatine. You use it here to set the custard so that it sits perfectly and slices well but it is also used in other recipes as a glaze (see my hot cross buns).
Gelatine is made from animal hooves and skins so it is not vegetarian. If you're looking for a gelatine substitute, try agar. Agar is typically used in equal amounts to gelatine (so for this recipe 2.5 tablespoons agar powder) but the result will be a slightly different set from gelatin as it is firmer rather than wobbly or creamy.
Always leave your vanilla custard to set overnight. Do not freeze jellies or gelatine products as freezing breaks up the bonds formed and when thawed, your jelly will leak and lack structural integrity.
Gelatine is a really confusing ingredient and while I used to buy gelatin leaves, I got so many questions about the recipe using gelatine powder so I switched to gelatine powder. And guess what? Now I get questions about gelatine leaves. I'll go through each type for this recipe:
Powdered gelatine: This is the type you'll find typically at the supermarket (gelatin leaves are more found at specialty cooking stores).
After sprinkling the gelatine powder on the water, it sets slightly and becomes cloudy
Once heated, it becomes translucent
How to bloom powdered gelatine: use water from the tap (that is to say not hot or cold) and I use a wide, shallow bowl because the more surface area the better to sprinkle the gelatine powder. The key is to sprinkle the gelatine powder evenly on the surface of the water. The water absorbs the gelatine, swells slightly and wrinkles and sets a little. Then place in the microwave for 20 seconds on high and then it will turn liquid.
Sheet or Leaf Gelatine: there are advantages to using leaf gelatine, generally that it produces a clearer and purer flavoured jelly. Within leaf gelatine there is bronze, silver, gold, titanium and platinum types and it can get very confusing with some being better to setting certain liquids. But for the purposes of this recipe just remember this:
1 tablespoon powdered gelatin = 3 sheets leaf gelatin
How to Bloom Gelatin Sheets: Use tap or cold water and soak the gelatine sheets in a bowl of water until soft. Squeeze gently to remove additional water and you can now add this to a warm liquid to dissolve. If you use warm or hot water the gelatine sheets will melt into the water and will be nearly impossible to strain out.
Can you go from set to liquid? Gelatine is thermo-reversible so it can go back and forth. The setting temperature for gelatine is similar to the body temperature of the animal from which it was obtained around 37C/99F.
How To Slice your Vanilla Slice! This is the million dollar question. I use the sharpest serrated knife I have to cut through the pastry (the Victorinox serrated knife is indispensible for this task). The top pastry is the only one you really have to worry about. OR you can cut up the pastry into 9 squares first before placing them on top and icing them so all you have to do is slice up the custard and the base.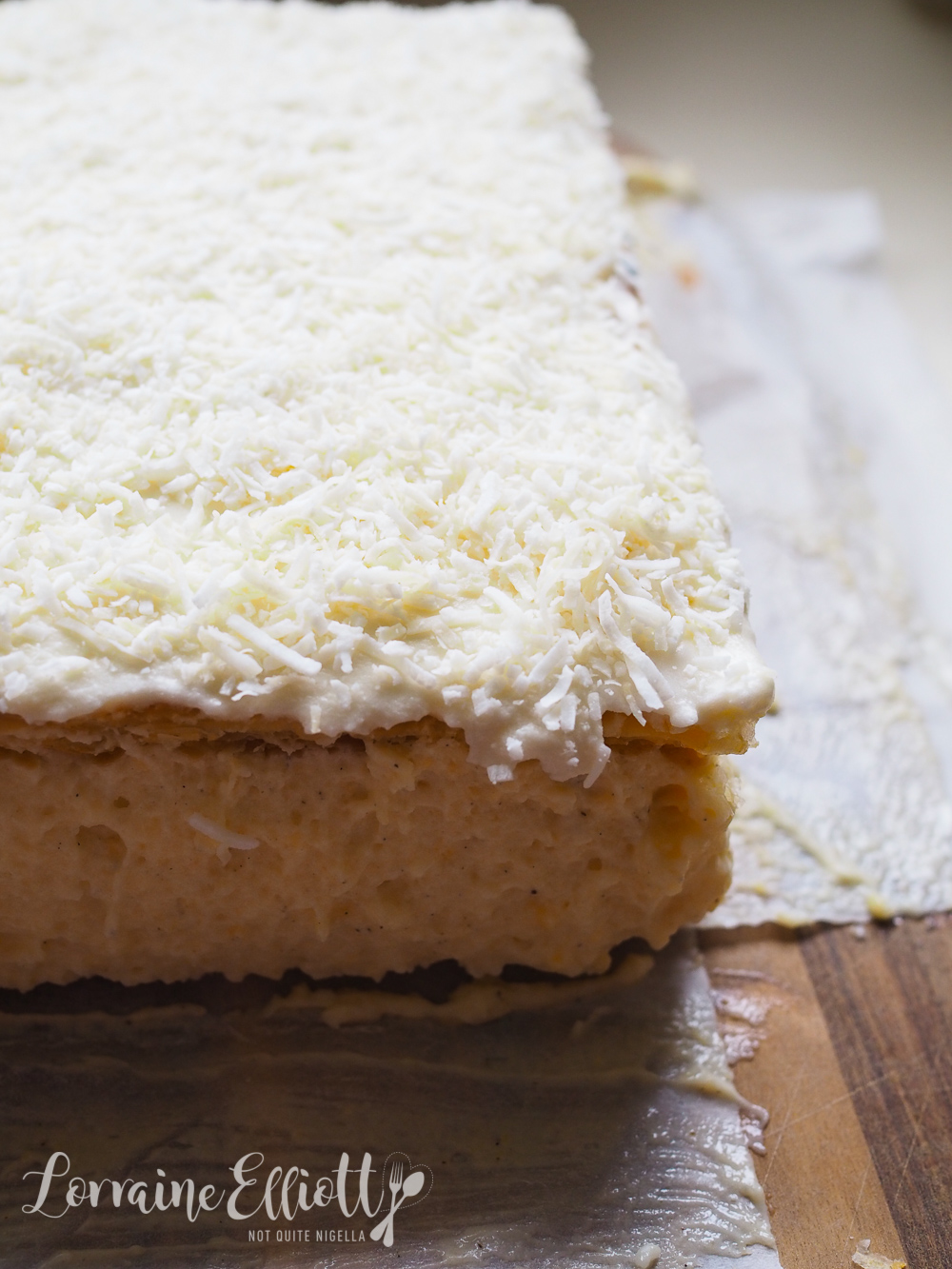 Some of the vanilla slices that I've eaten have ranged from wonderful to woeful. Then there was the time where I had the very worst vanilla slice of my life. We were travelling and came upon a cafe. I had never seen so many rules in my life.
"Do not use mobile phones"
"Do not run in store"
"Do not touch displays"
"Wait to be seated"
"We don't accept bankcard"
"No substitutions"
We were lured by the sandwich board sign which read "Try our famous vanilla slice-Grandma's recipe". Being big fans of grandmother's recipes we followed the trail which led us here.
It was a second hand store mixed with a cafe but we remind ourselves that sometimes the best things don't come in sleek or charming packages. There are two ladies sitting at one booth who have finished off some scones and a woman by herself sitting at a table reading a fiction novel and finishing off a bowl of salad.
What was formerly a shop has been converted into a cafe and to demarcate the food prep area from the eating area are cupboards perched on top of each other. A man comes out from behind the cupboards.
"Mmmay we sit over there?" we ask nervously.
"Okay," he says giving us an unsure look to try and gauge what kind of people we are. He's probably eyeballing us and comparing us to a checklist of qualities he wants in a customer. That is:
"No troublemakers"
"No noisy people"
"No men with long hair"
"No gum chewers"
"No loose women"
"No substitutions"
He stops by our table and gives us two glasses of water. Then he pops two tubes of hand sanitiser on our table in a small wicker basket lined with a doily and raises his eyebrows as if to say "Yes, I'm dead serious". He was clearly ahead of his time with this pandemic.
With our newly minted germ free hands we take a look at the menu. Things are incredibly cheap here and a sandwich is $3.00. However we are here to try the vanilla slice.
"I can't wait for the vanilla slice," I tell Mr NQN trying to break the silence.
There is the sudden ping of the microwave and then a few minutes later another ping and then another. The shrill ping is clear as there is virtually nothing separating us from the kitchen. I'm suddenly alerted to the fact that there are no telltale cooking smells and sounds. No sizzle, no sauté, no frying, no boiling and no aromatics. Just the microwave and its constant ping.
Our vanilla slice arrives. I am stunned. I've never seen a vanilla slice like it in my life. It's golden yellow, not even that highlighter yellow that some come in. This one is dark, especially at the sides where it is cut and the cut edges have a light brown dry edge.
"Maybe it will taste ok?" I say trying to avoid the inevitable. Mr NQN's eyes widen.
I take the little cake fork and dig it in. The puff pastry is wet and tough as damp cardboard and I manage to wrestle a corner off. I taste it. I would estimate that there is probably about four times the amount of custard powder that it needs, giving it that hard plastic look and complete lack of jiggle.
We pay after just eating a corner. He is friendlier now-I suppose we've shown that we aren't troublemakers because we've paid and we used the hand sanitiser as instructed.
"Let's just pretend that NEVER happened," I say to Mr NQN and he nods in agreement.
So tell me Dear Reader, do you ever want to walk out of an eatery and if so, do you? Do you like vanilla slices?
DID YOU MAKE THIS RECIPE? Share your creations by tagging @notquitenigella on Instagram with the hashtag #notquitenigella
The Fluffiest Vanilla Slice
Rated 5.0 out of 5 by 28 readers
An Original Recipe by Lorraine Elliott
Preparation time: 30 minutes plus cooling time for custard and overnight setting
Cooking time: 30 minutes
2 sheets butter puff pastry
600ml/21flozs. full cream milk
6 egg yolks
300g/10.6ozs. caster or superfine sugar
4 tablespoons cornflour or fine cornstarch
1 tablespoon vanilla bean paste extract or paste
2.5 tablespoons gelatin powder (or 7.5 sheets leaf gelatin)
125ml/4flozs. water
500ml/17.7flozs. cream
Icing
180g/6ozs. icing sugar
2 tablespoons thick coconut cream
45g/1.7ozs. butter, softened
2 tablespoons passionfruit puree
50g/1.7ozs. shredded coconut
Step 1 - Preheat oven to 220C/440F and line two trays with parchment. Dock each sheet of pastry with a fork and bake for 15 minutes or until golden and crisp and cooked on the base. Set aside to cool. Line the base and sides of a 20x20cms or 8x8inch square tin with parchment (with extra parchment so you can lift the sides of the parchment to remove the slice easily). Then trim each square of pastry to fit your tin and place one square inside.
Step 2 - Make the custard base (you'll need to leave this to cool completely). Heat the milk in a saucepan until almost boiling. Meanwhile whisk the egg yolks and sugar together in a jug and then add the cornflour. Add a little of the hot milk into the eggs and gradually add more so that it is well incorporated. Slowly stir to form a custard on low medium heat (try not to over stir), just try to avoid it sticking to the base of the saucepan. When it is thick and coats the back of a spoon add vanilla and transfer to a bowl and cover with cling film touching the surface.
Step 3 - Sprinkle the gelatin powder on top of the water and then microwave for 20 seconds or until liquid. Cool for 1-2 minutes and then stir it into the custard (make sure that the custard and gelatine are around the same temperature or lumps may form). Whip the cream until you get thick peaks and then add the custard gelatine mixture and whisk until it becomes a fluffy, cohesive mixture. Pour into the prepared tin and smooth over. Then cover with the other square of pastry. Chill for 2 hours.
Step 4 - Make the icing by placing the icing sugar in a food processor/ Add the coconut cream and puree and then add butter. Stir in the passionfruit (don't blend or the seeds will grind up). Spread on top of the slice and then sprinkle with shredded coconut. Allow to set completely overnight. Carefully remove from the tin and cut into 9 squares using a sharp, serrated knife.