There are some occasions where it's always nice to give favours or little gifts to guests. Weddings are one where they are almost expected and they can range from anything from Fauchon chocolate purses to a more modest favour of a homemade bookmark. They're meant as a little thankyou for guests but often they can take on a life of their own. I know, because I spent hours scouring the stores for the item that I felt that guests would want.
For our wedding we gave our guests heart shaped tea infuser favours and for my kitchen tea, I gave out little stacks of home made macarons. This was all Before Blog so I'm afraid I didn't capture any photos of these although I do remember they were chocolate and strawberry flavoured. Other occasions where I've been given favours are baby's birthdays or christenings. The only dilemma in doing this rather thoughtful gesture is that it adds on another thing for the hostess to make. A situation encountered by a friend of mine recently. She had a baby and she was tearing her hair out about what to give people. She wanted something cute but also something handmade and most importantly, something that was easy.
The heart shaped tea infuser that we gave to guests. Pic from StyleHive
It came to me quickly. I remembered this fantastic Marshmallow Hot Chocolate Stick idea on the blog Hmm...Food...Good. It was Hot Chocolate on a Stick and it was fabulously, triflingly, deliciously easy! I opened up my drawers to reveal the silicon ice cube trays I bought from Aldi a couple of months ago for a mere 79c on sale thinking that they'd make great chocolate molds little realising that they'd be even better Hot- Chocolate-On-A-Stick molds. You can also buy heart shaped silicon ice cube trays at Ikea for 99c a tray. Did I mention what a cinch it is to make these? It is literally melting chocolate and spooning it into the molds and then popping some mini marshmallows on top and while it's setting, sticking skewers in. I was on a roll, excitedly I opened up my ribbon box and found the pink baby ribbon that I had bought and forgotten about years ago.
I like my hot chocolate very chocolatey so I used two sticks per cup of warmed milk but it also depends on the size of the cup and the size of the chocolate mold you happen to be using. All you have to do is heat up some milk and pour it into a cup and swirl one or two of these sticks in. It was such a bonus that these were to aid my mummy friend who was stressed and they may have been passed onto other friends that also needed de-stressing. And may I suggest the heart shaped ones for part of a Mother's Day present? ;)
So tell me Dear Reader, how do you combat stress?
Marshmallow Hot Chocolate Sticks
200grams milk or white chocolate (approximately, it depends on how big your ice cube trays are)

3/4 cup mini marshmallows (or if you're making a smaller amount, 3-4 mini marshmallows per stick)

Skewers
You will also need a silicon ice cube tray, ribbon and cellophane chocolate bags for wrapping
**Buyers tip: Cellophane chocolate or candy bags can be bought at large news agencies in a variety of sizes. Ikea sells heart and other shaped silicon ice cube trays.
Melted chocolate filling in molds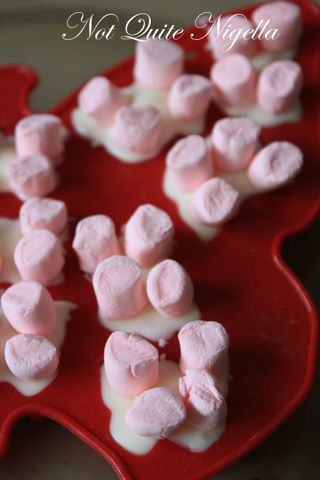 Top with mini marshmallows
Step 1 - Melt chocolate in a double boiler or in a microwave using 60 second 50% power bursts until it is smooth stirring each minute. Place the silicon ice cube tray on a plate and using a small spoon carefully spoon in the chocolate into the molds trying to avoid air pockets. Fill them up. You generally want a good block of chocolate for a hot chocolate. While the chocolate is setting, carefully put the mini marshmallows on top-as many as you can fit without crowding it.
Unmolding the chocolate once set
Step 2 - When the centre of the chocolate no longer looks glossy you can place the skewers in the chocolate as they should stand up upright (if the chocolate hasn't start to set, the skewers won't stand up). Leave to set and when completely set, unmold and wrap in cellophane bag and tie with ribbon.